Best Poker Books That Are Worth Reading in 2023 – Top Picks By a Pro

Poker books are a dime a dozen. And with so many pieces of literature to sift through, it can be challenging to find the ones that are worth your time and money.
But, If you don't know where to start, don't worry, because you've come to the right place. We've done the research so that you don't have to.
On this page, you'll find the top ten best poker books that are worth reading, plus a few fun reads you should check out.
While some of these have come out quite a while ago, they still make for a good read. So, without wasting any time, let's take a close look at the best poker books you should read in 2023.
Essential Poker Math, Expanded Edition – by Alton Hardin
Mathematics plays a massive role in poker, and if you want to master the game, there's no avoiding this aspect of it.
Without math, you'll be more guessing than playing the game.
This is why you shouldn't overlook or avoid learning it. With more than 150 pages of new material than the original version, the Expanded Edition of Alton Hardin's smash poker hit book is the ultimate piece of poker literature.
In the first part of the Essential Poker Math, Expanded Edition, Hardin will introduce you to the most simple poker math fundamentals.
This includes odds and probabilities, pot equity, pot odds, expected value, and several other essential aspects.
After this, he'll draw you deeper into the more complex concepts such as pre-flop and post-flop tactics, semi-bluffing, bluffs, and hero calls.
As you master all of this, you'll also get a glimpse into the more advanced tactics and poker combinatorics.
Considering all of the above, this isn't a book you should skip through or read when you're not focused on the topic.
Each subject requires maximum concentration, and you should ideally read it to build up your game from the ground up without missing any steps along the way.
Focused on covering all of the poker fundamentals, the book certainly provides good value for both beginner and more adept poker players.
If you're looking to build a strong base for mastering No-Limit Texas Hold'em math, look no further, as this book can provide you with a lot of valuable information.
The Mental Game of Poker – by Jared Tendler
Written by Jared Tendler and with Barry Carter's help, The Mental Game of Poker is still a book that is talked about a lot in poker circles, even though it came out a decade ago.
The first thing you'll notice when reading this book is that it's very well written, and everything is to the point. The chapters are well-arranged and edited, and there's no filler content that would draw you away from the important topics.
So, what exactly can you expect from the best poker book that focuses primarily on the mental side of poker success?
The Mental Game of Poker is divided into several big parts – understanding how your game suffers because of tilting, effective learning methods, the role of emotions in poker, and the best strategies for eliminating mental game issues when playing poker.
Aside from these complex topics, the book also shares with you some simple but very effective pieces of advice. One of the ones that stuck most with us is how warm-up during your pre-game routines can help you reach a healthier mindset and make better thought-out decisions.
Overall, regardless if you're a low or high-stakes poker player, this book can provide you with a lot of value.
The concepts it covers and analyzes are universal and are something every poker player should know. Although even the best poker books age and become obsolete with time, this can't be said for The Mental Game of Poker.
The Theory of Poker by David Sklansky
It's written more in the style of a poker textbook and requires time and concentration to take in. If you have the time to study the game and want to get a unique and very interesting take on poker, Sklansky's Theory of Poker should be on your list. 
The Myth of Poker Talent – by Alexander Fitzgerald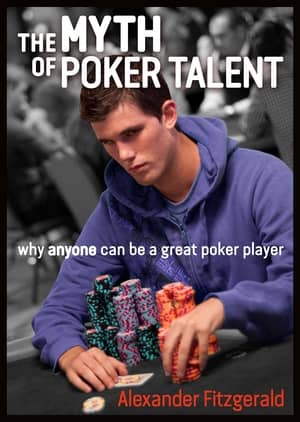 Alexander Fitzgerald rose to prominence in the mid-2000s, achieving great success in both online and live poker tournaments before going completely broke suddenly.
So, is it a good idea to listen to tips from a player who lost it all due to lousy poker tactics? In fact, yes, Fitzgerald's book is something every up-and-coming poker player should read. 
Questioning conventional poker wisdom, Fitzgerald focuses on identifying and improving mistakes instead of acting as if he knew everything it takes to be one the best poker players in the world.
He argues that hard practice and embracing the potential of failure is much more important than raw talent. 
In this book, Fitzgerald draws from personal experiences that encompass both great success and catastrophic failures.
He doesn't shy away from covering the essential topics that can make or break every player. From poor bankroll management to bad backing deals, the book treads a fine line of being an autobiography and a poker strategy guide.
If you get into it, don't be put off by the book's off-track beginning, as this piece works cumulatively. It builds upon a foundation to expand to more advanced poker subjects as you get nearer to its end.
All in all, on a little more than 320 pages, The Myth of Poker Talent is a very well-structured and comprehensive guide that does not only cover tips for playing poker. More importantly, it guides you on how to be a poker player.
Reading Poker Tells – by Zachary Elwood
Speaking of the psychological part of the game, one of the reasons why Elwood completely nails his work is that he knows how to explain the exact psychology behind specific behavior. Not only this, but he also covers in-depth how this psychology manifests through observable tells at the poker table.
One of the biggest reasons why Elwood does such an effective job luring you into every sentence and topic is that he knows when to acknowledge the limits of his advice.
His work is well-researched, and he often cites other noteworthy authors that have covered this topic. When reading, you'll never feel that he's overstating the value of his tips.
The tips he shares with the reader aren't out of this world, so if you already know how to read other players, you won't learn anything that'll blow you away.
But, for the younger generation of players and those who primarily play poker online instead of live, Elwood's book is undoubtedly one of the most helpful pieces of poker literature out there.
If you want to improve your reading skills at live poker tables and acquire all the necessary tools you to win when playing other poker pros face to face, this is one of the best poker books around.
Excelling At No-Limit Hold'em – by Jonathan Little
Jonathan Little's first poker book we'll highlight in this guide, Excelling at No-limit Hold'em, compiles contributions from many notable poker pros, coaches, and writers to provide a varied and valuable piece of poker literature.
Since the book isn't written solely from one perspective but features the input of a number of influential people, it has everything you would look for in a poker book, from the most basic practical tools to more advanced GTO tips.
Backed up by Pocarr, it includes advice from Jon Van Fleet, Richard Hoadley, and several other coaches and writers working on this platform.
When reading this book, you have to set your ego aside, as these experts will point out your shortcomings but also help you overcome all of them and push your poker game to the next level.
The book's footer reads: "How to Succeed Beyond Small Stakes", and this book will help you achieve exactly this.
Regardless of your poker experience and level of understanding, you can find great value in Jonathan Little's work.
With that in mind, because of its format and structure, this book can serve as a reference piece you can always come back to when you want to focus on a specific part of your game.
It works like a poker encyclopedia, and it doesn't matter how you switch up the chapters and what part of it you want to focus on first.
Treat Your Poker Like a Business – by Dusty Schmidt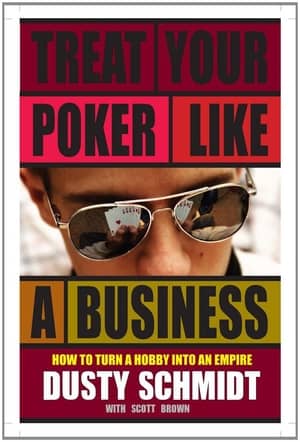 The book is divided into two parts – the business part and the tactical part.
Going by the title, it comes as no surprise that the business part takes up 75% of the book.
Going over the business part of the book, Schmidt heavily emphasizes the importance of volume. Focusing on your time as your most valuable asset, he underlines that you should always target volume, as whenever you're not playing poker, you could be missing an opportunity to win big.
Of course, this may sound like too much pressure for some players. For type A-personality people, this is a mindset that can help propel them to greatness.
Like many top poker books, this work has also aged a bit since it came out in 2009. So, even though there are many great pieces of advice you can draw out from it, you shouldn't blindly follow everything suggested inside
Modify the text according to your personality and playstyle. It can help you develop a stable work ethic and teach you how to push through when you're unmotivated.
With all of the above in mind, is this book right for you?
The answer is a resolute yes. It can prove especially useful for players who are just starting or looking to turn their hobby into a more stable career.
However, even advanced poker players can find a lot of value in this book. This is because Schmidt, a known grinder, devotes a substantial part of it to addressing the lack of motivation that can set in for those who are getting tired of the grind.
Applications of No-Limit Hold'em – by Matthew Janda
Slightly younger than the previous book on our list, the Applications of No-Limit Hold'em by Matthew Janda is possibly the best poker book covering the game's theoretical side. It's thorough, complicated, and requires the reader to focus intently to understand every topic at hand.
Plus, it involves a lot of math.
If you find all of this acceptable, then you're looking at the most practical and useful guide on unexploitable No-limit Hold'em.
There are a few sections that stand out in particular and offer tremendous value. He shares with the reader his techniques for estimating pre-flop ranges, explaining it in a very useful and entertaining way.
Not just that, but his optimal strategies covering multiple bet sizes and balancing ranges make this book a rollercoaster that keeps you wanting for more with each passing page.
Janda finishes off his masterpiece by going over some examples at the end of the book, covering both players' ranges in multiple decision points in one poker hand.
There are many mind-blowing conclusions he comes to during his work. Even on some topics that he doesn't cover that thoroughly, he intrigues you enough and leaves the door open so that you must delve into the research to find out more about what he is writing about.
Applications of No-Limit Hold'em is a book every poker player should have in his library. That said, don't go into Janda's work expecting a slow and close-minded book.
You can't skim this piece to get useful information, but you must dig deep into every page and focus on what the author is saying. If you're ready to do so, the effort will be well worth it.
Secrets of Professional Tournament Poker – by Jonathan Little
Secrets of Professional Tournament Poker by two-time WPT winner Jonathan Little is a confident and in-the-face book. It focuses on every subject directly and doesn't beat around the bush when addressing specific problems or techniques.
Unlike the previous book we talked about, this one doesn't go into the game's complexities and theoretical parts.
Instead, it mostly focuses on fundamentals and aspects on which beginners should focus.
It should be noted that this book can be detrimental if you don't understand what you're getting yourself into. This is because it contains a lot of advice and concepts that could lull you into thinking that you've figured everything out, which can be dangerous for beginners. 
Jonathan's book was so successful that he published Secrets of Professional Tournament Poker 2 & 3 shortly after. So, if you plan on getting this book, you can look forward to an entertaining trilogy that'll keep you hooked for quite some time.
Before purchasing this book, the key takeaway you should have in mind is that the advice and tips he shared with you may have aged a bit since the book was written, but his work still offers enough value to be a good read.
Modern Poker Theory – by Michael Acevedo
An impressively comprehensive book, it covers useful advice for both cash game and MTT players, although it's probably more adept for the latter.
Starting with the fundamentals, Acevedo guides you through many different scenarios to cover some very advanced game elements. 
A GTO (Game Theory Optimal)-focused approach is something that puts most players off from reading such a book. Simply put, graphs, charts, and complicated math equations don't make for an engaging read, even for the most-dedicated poker students.
Yet, this is probably the most beneficial aspect of this work. 
Acevedo doesn't only dissect the most critical formulas of poker math but also goes through the effort of covering the principles behind his equations. That way, even if math is not one of your strong suits, you can still understand the logic behind the formulas through easy-to-grasp examples and simple explanations.
Most importantly, even though the topics he covers in his book are very in-depth and complex, you don't have to be a poker expert to understand them.
This is because everything is nicely explained, concise, and stripped of any unnecessary information or empty words. 
As its title says, this book will cover everything you need to know about modern poker theory. So, if you want to investigate this game's mathematical side further, Acevedo's book is the ultimate piece of literature.
Best Poker Books to Read for Fun
In addition to the already-listed books, there are many more great reads from the poker niche. Here are a few top picks from this category that don't just focus on the strategy but rather talk about interesting personalities and bring interesting stories from the poker world
Molly's Game – by Molly Bloom
Molly's Game, by Molly Bloom, is much more than an average poker book. Although we didn't include it on our top list, it's one of the best poker books you can find if you are after an entertaining read.
It's a poker story told from a young woman's perspective in her failed attempt to pursue the American Dream. 
Molly Bloom has lived a turbulent life herself. In her youth, she pursued an Olympic skier career and later became an entrepreneur, speaker, and author. She knows how to deliver a gripping story in her career piece, Molly's Game.
The book was so well-received in poker circles and garnered a very positive reception among the general audience. So much so that a few years later it was turned into a poker movie starring Jessica Chastain.
One of a Kind: The Rise and Fall of Stuey 'The Kid' Ungar – by Nolan Dalla
Known for his great success totaling at 5 WSOP bracelets and his heavy addiction to drugs, Stu Ungar is one of the most interesting personalities that have ever played this game.
With that in mind, a book on his life, especially a well-written one like The Rise and Fall of Stuey Ungar, is a must-read for every fan of the game and of poker history.
Without becoming tedious or too heavy, the book walks a fine line covering all of the events that have marked Stu's life and poker career.
It's estimated that Ungar won close to $30 million during his career, but due to years of reckless spending, betting, and drug addictions, by the time he died, he didn't have enough in the bank to pay for his own funeral in 1998.
Of course, as it was written several years after his death, it doesn't offer an in-depth analysis of all significant topics. Ultimately, it is a heartfelt biography that gives the deserved respect to one of the all-time poker greats.  
The Biggest Bluff: How I Learned to Pay Attention, Master Myself, and Win – by Maria Konnikova
Maria's Konnikova poker book titled The Biggest Bluff is certainly one of those rare and very unique poker books you will truly enjoy.
This is because it doesn't present the topic from the perspective of a poker pro. Instead, it's written from a complete outsider's angle without any poker knowledge, following her rapid rise in the poker world.
Even though today we recognize Maria Konnikova as one of the new poker breakout stars, the book is more about her journey than the destination. It focuses on her intensive dedication to poker and quest to become as good as she can in as little time as possible. 
The book aims at both beginners and advanced players, though it might be a bit more challenging to understand for those who aren't deep into the psychological aspects of the game.
Although it came out very recently, in 2020, it's already one of top poker books and certainly one of the most entertaining ones to read as well.
Hold'em Wisdom for All Players – by Daniel Negreanu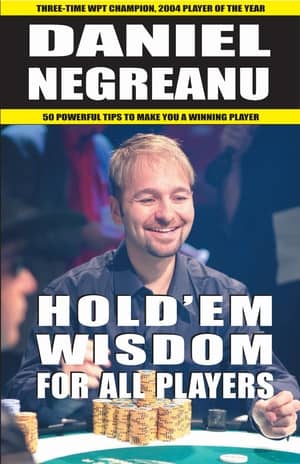 There's no doubt that Daniel Negreanu is one of the most charismatic players to ever sit at the poker table. As one of the biggest poker earners and a player with a very strong presence in all entertainment outlets covering poker, Negreanu is a recognizable face, even for those who aren't dedicated to following the pro poker scene.
But, what's also notable regarding his poker success is that he's published numerous books on various topics regarding the game he's so proficient in.
But his Hold'em Wisdom for All Players is arguably one of his most entertaining books. With close to 180 pages, this is not a book with a specific story, but instead, a collection of short essays that provide analysis of important Hold'em Poker aspects.
Each of the 50 separate essays focuses on a different situation and how to play it. Many of these are presented through specific examples.
Although the tips and tricks Negreanu shares in this book are geared more toward beginners and intermediate players, even the more skilled poker pros can draw useful advice.
This is because Negreanu shares wisdom on many different topics, including one titled "Dealing with Bad Beats," which is something every poker player goes through and can be hard to recover from.
Poker Brat: Phil Hellmuth's Autobiography – by Phil Hellmuth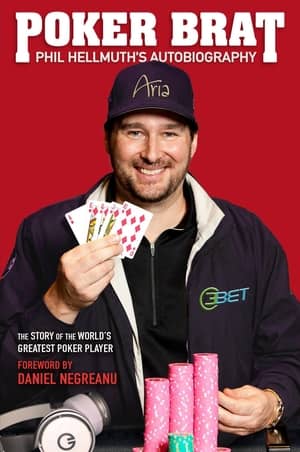 Aptly titled according to Phil's long-time nickname, his Poker Brat book first hit the shelves in 2017 and has maintained its position as one of the most exciting poker books ever since.
Known for the inability to control his temper when losing, Hellmuth is a very polarizing personality in the poker world. 
The book covers many interesting details from his poker life. It even briefly mentions the UltimateBet scandal in an appendix to the autobiography. While this part may not be so gripping to today's readers, the scandal was very much in the public light when this autobiography came out.
Aside from details on his professional life, the autobiography also delves deeper into his personal life and inner thoughts. It's a fascinating insight into Phil Hellmuth as a husband, father, and overall a regular guy who is aware of his shortcomings but unable to fix them.
But, not to get too tender towards the end, Phil Hellmuth switches it back to poker trash talk, stating that he fully expects to win another 10 WSOP bracelets before he retires.
And, the bottom line is, Phil indeed does have a lot to brag about. Whether you love him or hate him, Phil Hellmuth's biography is a fascinating read.
Latest posts by Ivan Potocki
(see all)