Sammy Farha Net Worth – How Wealthy Is the Poker Icon?
Nicknamed Mister Cool, Sammy Farha is one of the most recognizable and iconic poker players ever to sit at the felt table.
A constant talker at the poker table, he's also extremely fun to watch. That aside, Sammy Farha has had a very successful poker career and many notable wins.
Thanks to this, he has built up a reputation as one of the game's legends and has a nice net worth to go along with it.
So, what is Sammy Farha's net worth, and what are his biggest career wins? Read on to find out how Sammy Farha earned his money, what his playing style is, and other interesting poker-related activities!
Sammy Farha Net Worth – How Much Is Sammy Farha Worth?
The estimated net worth of Sammy Farha is valued at around $100 million. This makes him one of the wealthiest poker players in the world.
But, when talking about his total poker winnings that contributed to his net worth, this number is surprisingly low.
More specifically, Sammy Farha has earned just under $3 million playing poker.
As for the remainder of his massive net worth, Sammy Farha has managed to create it through various business activities.
He is a self-made millionaire with a degree in business administration from the University of Kansas.
Sammy Farha's Early Life
Sammy Farha was born in 1959 in Lebanon. When he was a teenager, war broke out in his home country, so he moved with his family to the US.
He has been interested in social games and gambling in general since he was in school.
During his studies, he learned to play games like pool, pinball, and Pac-Man, among many others.
He was so skilled at these games that he regularly earned his allowance by playing against other people for cash.
After graduating from the University of Kansas, Sammy Farha moved to Houston. This is where he first came in touch with poker, well into his twenties.
After playing the game for a few months, Farha decided to go to Las Vegas and test his luck in poker. On this first trip, he more than tripled the bankroll he took to Sin City.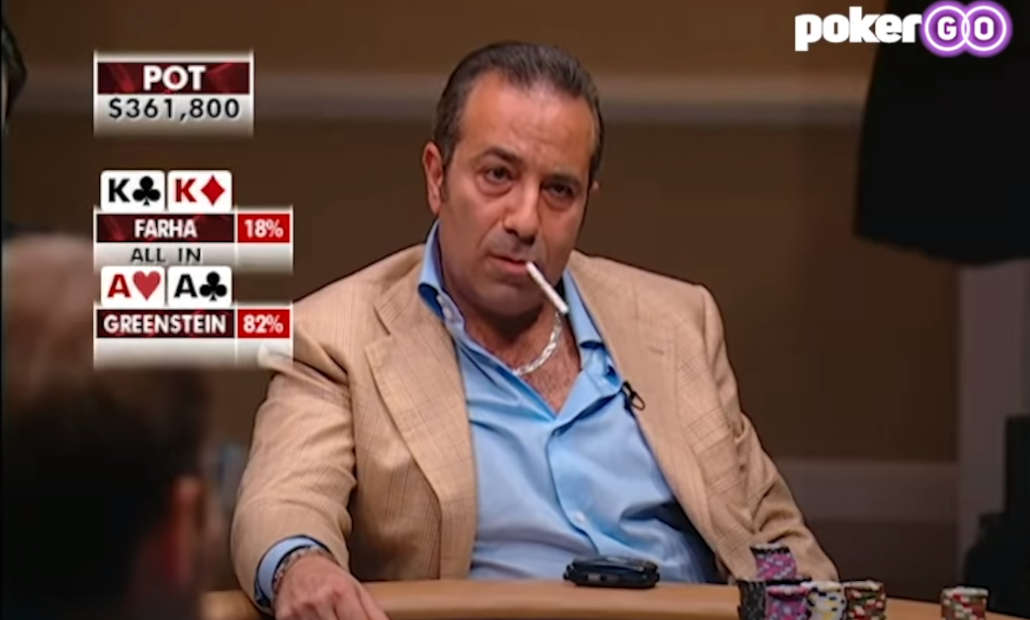 During the 1980s, he continued playing poker and going to Vegas occasionally, winning more each time and further fueling his passion for the game.
By 1990, he realized he was good enough at poker to make a steady living by playing it. He decided to quit his mundane day job and become a professional poker player.
Initial Success at WSOP
There's not much information available on Sammy Farha's early career results and winnings. But, one thing's clear.
This is that the Lebanese-born US professional mostly stuck with major events right from the onset of his career. He rarely participated in poker tournaments held out of Sin City.
The first major result of his career came in 1996, nearly six years after he started playing poker professionally. This was when he won the $2,500 Pot Limit Omaha event at the 27th WSOP.
After a drought early on in his career, Farha made the big scene in style by winning his first WSOP bracelet.
Following this achievement, Farha again laid low in terms of any significant results, as he didn't achieve any notable success until 2002. That year, he finished third in another Omaha event.
The year after, at the 2003 WSOP, Sammy Farha collected the most lucrative prize of his career when he finished second, behind Chris Moneymaker.
This was the legendary event that Chris Moneymaker entered through an online tournament, only to go all the way and shock the poker world by taking first place in a total entry pool of 839 players.
But, focusing on Farha's 2003 WSOP run, it also provided a few memorable moments. The most distinct one was when he lost a huge pot to Barry Greenstein early on and was left with only about 10% of the stack.
After this, Farha was thinking about dropping out of the tournament, but Greenstein himself convinced him to remain in contention.
Later Career and Further WSOP Bracelets
The period after the 2003 WSOP loss is the most successful interval of Sammy Farha's career.
It marked nearly a decade of great success in which won several multiple-hundred thousand prizes and took first place at several prestigious tournaments.
In 2006, Farha added a second WSOP bracelet to his collection. The same year, he finished fifth in the NBC National Heads-Up Poker Championship, in an event stacked with poker legends like Daniel Negreanu, Barry Greenstein, and Chris Ferguson.
After a few years of solid results, Farha won another WSOP bracelet in 2010. Following this success, he slowed down a bit and didn't record any even wins in prominent competitions.
From 2014 to 2021, he only played occasionally, without any in-the-money finishes in big tournaments in this period. In 2021, he finished 66th at the 52nd WSOP.
Sammy Farha's Five Biggest Career Prizes
Sammy Farha has seen some great wins in the previous three decades. Characteristically, as we discussed above, the bulk of his career winnings have come from WSOP wins.
For example, out of the top 20 prize wins in his career, 12 have come from various WSOP events alone.
But, to narrow this down a bit, here are the five most significant prize wins of Sammy Farha's poker career:
5. $125,000 – NBC National Heads-Up Championship, Las Vegas
Being one of the most prolific Omaha players in the world, Sammy Farha rarely played other poker variations in big tournaments.
However, at $125,000, one of his biggest career prizes came from a No Limit Hold'em event in the NBC National Heads-Up Championship in 2009.
4. $145,000 – WSOP, Las Vegas
Farha won his first WSOP bracelet in 1996, alongside the biggest prize up to that moment, at $145,000.
At this time, poker still wasn't as mainstream, so the number of entries was smaller, but the overall quality of the opponents was arguably more challenging. Farha faced players like Erik Seidel, Brent Carter, and Chris Bjorn.
3. $398,000 – WSOP, Las Vegas
Farha's second WSOP bracelet in 2006 didn't only make for one of his highest career prizes. It was also a substantial achievement poker-wise, as Sammy Farha defeated one of the best players of all time, Phil Ivey, in a heads-up game.
2. $488,000 – WSOP, Las Vegas
The second-highest prize win of Farha's career came hand-in-hand with the third WSOP bracelet.
And, in style with his previous results, Sammy Farha achieved this success playing Omaha, this time winning the $10,000 Omaha Hi/Lo Championship event to cash in $488,000.
1. $1,300,000 – WSOP, Las Vegas
Ironically, the biggest prize Sammy Farha took home didn't come from any of his three WSOP wins, but from when he placed second in the 2003 WSOP Main Event.
For this, he won by far the most rewarding payday of his career, at $1.3 million.
Although he had a good chance of capturing first place and a prize nearly double this, Sammy Farha had a turbulent tournament filled with unforgettable plays that he can be proud of.
Sammy Farha Poker Style
The first thing you'll notice while watching a game Sammy Farha is a part of is that he is a constant talker.
Very early in his career, Sammy Farha noticed that poker has a heavy social aspect to it. So, as every up-and-coming and ambitious player, he decided to use it to his advantage.
Unlike many modern poker players, Sammy Farha isn't actually a trash talker. He gets his advantage simply by making conversation with his opponents.
Because he has excellent observation skills and is very aware of everything that happens at the table, talking to other players helps him get a tiny edge that often decides the outcome in his favor.
More than just this, Sammy Farha doesn't shy away from being aggressive with his plays. Coupled with his trait of being very difficult to read through, his loose-aggressive style has proven to work very well.
Sammy Farha's Poker Legacy
With three WSOP bracelets, Sammy Farha has undoubtedly made a name for himself that will be remembered long after he stops playing.
He has made a huge impact on the game and is heavily responsible for popularizing Pot Limit Omaha. In fact, he won all three of his WSOP bracelets in Omaha events.
Apart from his playing career at the poker table, Sammy Farha has impacted the game and made a lasting imprint in several other ways.
He has made numerous appearances on various poker TV shows and series.
Most notably, he co-authored one of the best-ever poker books on Omaha poker strategy, "Farha on Omaha." In this great read, Sammy Farha goes over basic Omaha strategies combined with his own tactics and mindset.
Already well into his sixties, Sammy Farha isn't playing poker as much nowadays. He still appears at big tournaments occasionally, mostly sticking to WSOP events.
Still, his tremendous wins, aggressive playstyle, and charming and talkative personality make him an eye-catcher in every event he appears in.
Latest posts by here2play
(see all)