Find Best Poker Tools & Software
Poker is getting more competitive by the day, and together with poker training sites, dedicated software is the best way to boost your results.
Good poker software can turn a break-even player into a solid winner.
Even if you are not a winner yet, tools like solvers and trackers can quickly help you leave your losses behind.
That said, multiple tools will waste your time and money until you find ones worth their salt. Luckily, we are playing poker for a living ourselves and know well how to pick the best options.
Therefore, we created this guide to the best poker tools and software and listed the most valuable apps for you in 2023, so let's dive into it!
You can learn everything you need and significantly improve your game with these five tools, so let's dive deeper into each of them to pick the best option for you.
Holdem Manager 3 – Best Software For Analyzing Your Game
Tracking software is a must for any serious online player since having information on your opponents is vital. Even more so, almost all your opponents will be using software in your games, so you simply miss a lot of value if you don't.
So how Holdem Manager 3 can help you the most?
I am not even sure where to begin since it has so many valuable functions that it is hard to pick what to mention.
Here are the main things why we simply love HM3 software and think this is by far the best poker tool around:
Unbelievable HUD – HM3 has a top-class HUD that allows you to customize stats, have situational popups, and even a graphical interface to easily interpret information and make the best in-game decisions.
vsHero stats – this alone is a game-changer since you can see how different players play against you, and adjusting your strategy accordingly will significantly improve your results compared to using the same strategy against everyone.
Reports – this poker software is known for in-depth reports that you can set up for almost any imaginable situation. It helps you identify your own mistakes and see where your opponents are leaving money at the table to exploit them.
New filters – an updated version of HM3 software has a new addition of filters that let you see different situations using "and/or" rules and save you a lot of time when searching for a specific area of your game.
Holdem Manager 3 is stand-alone poker software that will help you in multiple ways.
With powerful HUD, vsHero stats, reports, filters, poker hands replayer, and customizable stats, you will quickly find how to improve your game and exploit your opponents.
On top of that, it has premium add-ons that can take it even further.
What else can you expect from the poker tool that costs just $100 for an unlimited version?
Grab a free trial and try it yourself!
---
Poker Tracker 4 – Most Intuitive Custom Poker Tracking App
Poker Tracker 4 is another amazing poker tool, so you can't go wrong with this software.
First and foremost, it is the most user-friendly tracker that works on MAC.
Nothing comes even close to PT4 options and functionality if you are outside of Windows operating system. That said, even if you are a Windows user, it is one of the best tracking tools available today, so check it out yourself.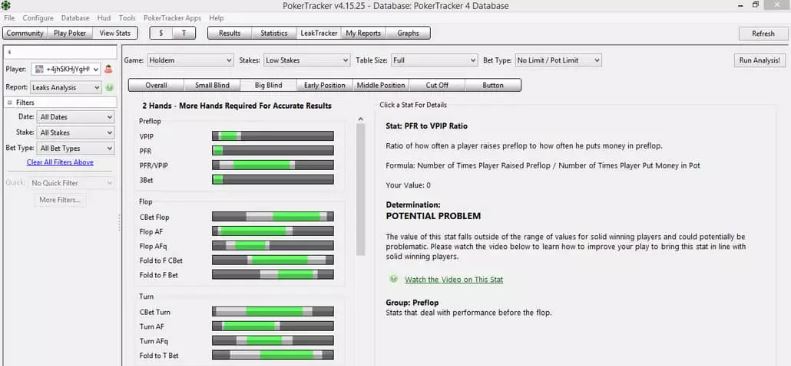 This is just a short summary of what you will find inside:
One of the best Heads-Up displays for playing
Option to build your own stats by combining multiple features
Unique stats tab for analyzing your results
Customizable reports based on various metrics
Powerful and intuitive situational filters
Unique "Leak finder" feature to identify your mistakes
Hand replayer & more
No one will argue that this poker software will help you improve your results. It is not even possible to compare a player using PT4 and someone playing without tracking software since later is leaving a ton of money at the table.
With just a $100 investment, it is hard to see a situation where it would not pay for itself.
While we have been playing poker professionally for over a decade and successfully using this poker tool, don't take our word for it.
Grab a free trial and try it yourself!
---
PokerSnowie – Best Real-Life GTO Trainer
With many GTO solver tools available on the market, it is not easy to stand above the crowd, but the PokerSnowie app does exactly that.
This is by far the most user-friendly poker software for learning GTO poker.
The company behind PokerSnowie spent years developing an Artificial Intelligence algorithm that learns on its own so that you would not need to repeat costly mistakes.
There are multiple ways you can use this poker software to improve your game:
You can play against AI opponents and receive real-time feedback
You can create a specific scenario for what you want to improve and learn only that
You can import your actual hands and analyze them to see where you made mistakes
You can see perfect preflop ranges and learn an optimal preflop strategy
You can get postflop range advice and strategy tips
You can customize your learning session for cash games and tournaments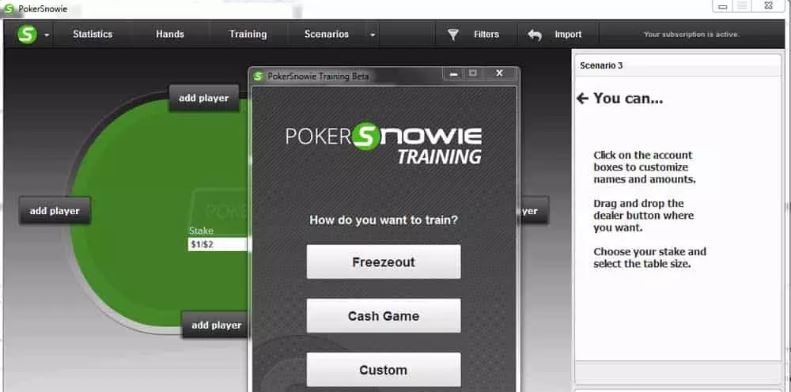 This is miles ahead of regular GTO poker solvers, where you can only do one thing at a time and need to spend an unbelievable amount of time to get simple answers.
PokerSnowie even has a great mobile app that lets you use the tool on the go or in live games if you want to check something between the hands.
Their paid subscription starts at $99/year for the intermediate plan and goes up to $230/year for the PRO plan, which includes everything mentioned above.
It is hard to highlight all the benefits this poker tool can give you, so you are better off testing it yourself!
---
By far not as complicated as previous tools, this push fold chart app can be extremely valuable for learning optimal tournament end-game.
With this poker tool, you can see:
Heads-Up shoving and calling ranges
Optimal shoving ranges for tournaments
Solved situations for up to 20bb deep
Different ranges for games with ante and without it
Positional ranges based on where you are sitting and how many players are left to act
Basically, you can see the correct range to play in any givin situation if you have lower than 20bb, which is where all of the most important tournament decisions are made. 
---
Equilab – Free Equity Calculator
Equilab is poker software used to calculate equity between various hands or ranges, so you would always know where you stand.
It is very useful for analyzing your hands, building ranges, and seeing how various hands stack against those ranges in the first place.
You can add your hand and check how it fares against a range you give to your opponent to see if you get the correct odds to call.
You can also compare range vs. range for more in-depth analyzes and build a basic understanding of poker odds and how much equity you have in various situations.
This poker tool will show you how a percentage of how often you will win, how often you will lose, and how likely the hand is to end in a tie.
You can analyze the equity of different hands
You can see how specific hand stacks against a range
You can see how equity is distributed in range vs. range situations
You can use equilab for preflop calculations
You can add community cards and analyze flop, turn, and river
This is extremely useful, so knowing that it is a free tool, you might want to try it.
Learn more about Poker Equilab.
---
Poker Software – How To Get The Most Of Your Poker Tools
There is almost no way to be a profitable online poker player without using any of the tools mentioned on this page. However, not all poker software is built equally, so you need to understand how to get the most value from the tools you use.
So before going further, let's divide available poker software into two  main categories:
Trackers – tools used for tracking stats, reviewing poker hands, and analyzing both your and your opponent's games
Solvers – software used to train and learn mathematically optimal strategies for any given situation
Trackers – A Must-Have Poker Software
Database software is the most useful poker tool with a wide array of functions.
To start, tracking software provides a HUD that shows your opponent's stats.
Knowing how the play, you can adjust your strategy and make much better decisions than playing in a vacuum, which gives a lot of value on its own.
On top of that, these tools track your hands as you play, so you can always return to them later and analyze your poker strategy.
Probably the most valuable function is various filters and reports that help you quickly identify and fix your mistakes.
This can also be used to break down your opponent's game plan and build an effective counter-strategy to beat them the next time they sit down at your table.
If you are seriously playing online poker, you must have trackers as a part of your arsenal, so don't make any excuses and grab a free trial of Holdem Manager 3 or Poker Tracker 4.
Solvers – Optimal Poker Tools For Mastering Strategy
Poker solvers are the best tools for learning Texas Holdem poker strategy and building an unbeatable game plan.
We can almost say that PioSolver, which was the first publicly available solver, changed poker for good.
Solvers give you a perfect solution for any situation based on your information input.
You can use these tools to master preflop strategies, understand c-betting on different boards, see how to adjust based on different stack depths, and anything else you can think of.
These tools took speculation out of poker since now you can mathematically calculate the right play in any given situation and ensure that you will be profitable.
The flip side is that it is impossible to remember all solved ranges since there is an infinite number of situations you can find yourself at the poker table. But you can grab a poker cheat sheet and have it handy to know which hands you should play.
On top of that, solvers often used mixed strategies meaning that you will have to check and bet with the same hand different percentage of the time.
Therefore, your best bet is to get a poker trainer and use it to build a solid understanding of how to play in different spots rather than trying to memorize various charts.
Our advice on using this poker software efficiently is to break down how you study.
If you try to learn everything at once, there is no way you will be able to remember it in the head of the action.
So your best bet is to break down your learning session by topic and cover it one step at a time.
For example, you can set up a training simulation with PokerSnowie to only learn BB defense ranges and play this situation until you have a solid understanding of what hands you should be playing and fold against different poker positions. Then you go to play and mostly concentrate on that spot.
After that, you can move to another common area you want to learn and take it down one by one, which will make your life infinitely better and give you a good chance to implement that knowledge in your games.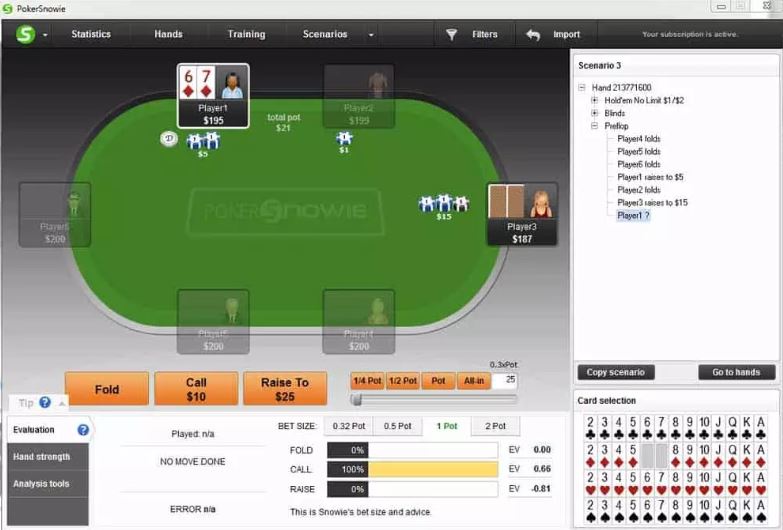 Get PokerSnowie FREE Trial and try it yourself!
On top of that, there are other useful tools such as equity calculators that will help you understand how one hand is dealing against another, or which range has an advantage on various boards, but the usage is pretty straightforward.
The same can be said about preflop ranges or push fold charts, which can be very valuable for training and solving tournament and-game situations.
Are there other poker tools not mentioned on this page?
Hundreds of them, and while most are rubbish, some do offer value when used correctly. We feel that poker software in our top five tools list does everything you need and does everything well.
So no matter which poker tools you pick, make sure to use poker software efficiently and structure your learning approach to get the most out of it.
FAQ – Best Poker Tools and Software