Upswing Poker Lab Review 2023
If you are someone just taking up poker in 2023 or are maybe thinking about finally turning your hobby into something more, you will be up against it.
Beating online poker is no easy feat, especially if you want to play at any respectable stakes, and it would be naïve to think that you'll get better by playing and learning from your own mistakes.
In case you haven't heard of Upswing Poker, this is the largest, most comprehensive, and probably the best poker training site in 2023.
There is a variety of content available on the platform for players of all levels and playing different formats and game variations.
Upswing Poker Lab was created for those new to the game and looking to learn and improve their fundamentals.
But it's much more than a quick beginners' course. As you'll learn from this Upswing Poker Lab review, this is a very comprehensive and detailed program that will give you excellent fundamentals, whatever your preferred format might be.
So, without further ado, let's dig into it and see what Upswing Lab is all about.
Upswing Poker Lab Breakdown
This poker course more than justifies its name, as it is an extensive platform built upon loads of background work and research.
The entire course is roughly divided into three main sections:
Intorductionary course titled "No Limit Simplified"
Main Lab courses
Preflop charts
The materials inside are further divided into sections and individual lessons covering particular aspects within each section, making it very easy to keep up.
Contents of the Upswing Poker Lab cover everything regarding Texas Hold'em, from cash games, over MTTs, and heads-up to live play.
With so many different topics, you'll come across different coaches.
Upswing Poker works with some of the best players in the game, and these people will share their knowledge and experience with you inside.
Some of the names you'll encounter as you go through the contents are:
Doug Polk (Upswing Poker founder)
Ryan Fee
Mike Finstein
Parker Talbot
Ryan Riske
David Yan, and more.
Let's now get into the meat and bones of this Upswing Poker Lab review and go section to section to give you a better idea of what to expect inside and why this is probably the best course for beginners and even lower intermediate players looking to improve. Take a look inside.
No Limit Simplified
The very first module of the Upswing Lab is called No Limit Simplified, and it's exactly what you'd expect it to be. This is a basic course intended for those completely new to the game, covering the main principles.
This particular module is a mix of articles and video lessons, and Doug Polk himself has mainly produced content.
In the first few lessons, you'll learn about terminology used in the game, four main types of hands, and main concepts such as:
After covering these main ideas, the module moves on to talk about basic strategic concepts, such as raising first in, playing from the blinds, navigating 3-bet spots, and more.
No Limit Simplified will teach you Texas Hold'em strategy fundamentals in about a dozen lessons.
You'll develop a very good understanding of the logic behind certain plays, which is a huge milestone for any player new to the game.
The final section of this module deals with some more general concepts, including:
Bankroll management & building
Tilt & tilt control
Poker software
Game selection
Mental game
Almost all of these concepts are explored in more detail in later modules. However, as a beginner's crash course, No Limit Simplified does a great job.
Main Upswing Poker Lab Courses
The term poker is very extensive as it covers many different game types and subtypes. So, to continue working with Upswing Poker Lab, you'll have an option to choose from several different modules, each covering a specific area of the game.
Cash Games at Upswing Lab
The Cash Games module of the Upswing Lab is much more extensive than what you might expect from a beginner's course.
The module is divided into four main sections:
General
Preflop & flop
Turn & river
3-bet & 4-bet pots

Each section is further divided into subsections featuring lessons, hand analyses, and play examples covering individual topics.
The General section provides an overview of many important topics, including the link to downloadable resources such as:
There is no stone left unturned in the Upswing Lab Cash Games module. This course provides everything you need to succeed as a cash game player, from discussing general topics, such as blockers, overbets, and deep stack play, to very specific ones, like playing paired flops.
Lessons are provided by many top-tier coaches and players in addition to Doug Polk, including the likes of Ryan Fee, Fried Meulders, Gary Blackwood, and Daniel Merrilees.
In many sections, the module relies heavily on the best poker software and solvers' output, meaning this is a very modern and up-to-date course that teaches you how to play cash games in 2023.
There are tens of hours of video lessons inside, so it will take time to get through all the materials.
The good news is that not only are these lessons very valuable, but they are also well presented, so you shouldn't struggle to stay focused.
As you move deeper down the rabbit hole, and especially as you start going through solver-based videos, things will become more complicated.
If you follow the steps, though, and go through the lessons as they are presented, you should be able to acquire and absorb the knowledge as intended, even if you're completely new to poker.
So, to sum it up, Upswing Lab's Cash Games module is certainly not meant just for beginners. It can be quite useful to very experienced players, which shows why Upswing Lab is among the best poker training sites. The theory covered inside goes well beyond the bare fundamentals.
Upswing Poker Lab Tournaments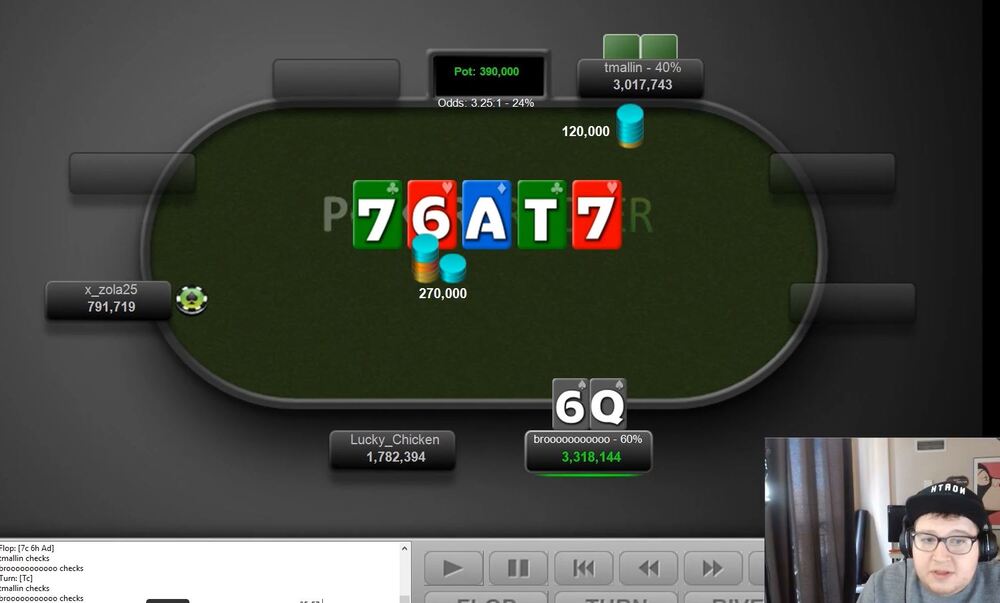 The MTTs module is intended for tournament players. It's not as extensive as the Cash Games one, but it is still a comprehensive course covering all the important basic concepts and goes well beyond that.
Topics and lessons are somewhat shuffled around, which may be a bit confusing for complete novices. However, if you saw the No Limit Simplified module, you'll have a good idea of how to go about exploring this one.
Generally speaking, topics covered inside include:
ICM (Doug Polk)
Advanced preflop play (Moritz Dietrich)
Big blind strategy (Ryan Fee)
Playing 10 – 25 big blinds stack (Parker 'tonkaaaap' Talbot
Bounty tournaments' strategy (latest addition by Hristivoje "ALLinPav" Pavlovic)
Flop play, etc.
As you can see, the MTT module was created by quite a few coaches, each covering a particular area of play in which they excel and really understand.
By structuring the module this way, the Upswing Poker Lab ensures you get the best value possible in every segment.
While each of these players undoubtedly knows a lot about every segment of tournament play, Upswing took its mission to deliver the best training content very seriously.
On top of theoretical lessons, you'll also get access to well over three hours of content produced by Stoyan Madanzhiev, the 2020 WSOP Online Main Event winner.
Madanzhiev breaks down his run through the tournament, reviewing many interesting spots and explaining the adjustments he made along the way as he approached the final table and once he made it to the final nine.
As far as beginner's MTT courses go, this one is up there with the best. The content could have been organized slightly better, but the quality of the presentation and the value of the knowledge contained inside are unquestionable.
Live Cash Games at Upswing Poker Lab
The Live Cash module of the Upswing Poker Lab is a very valuable addition to the mix and not something you'd expect to find inside the beginner's course.
Yet, the folks at the Upswing invested time and effort to include it, even if it's not as extensive as other modules.
The module is organized interestingly:
The Truth About High Stakes Poker – Doug Polk and Ryan Fee review some high stakes hands
Upswing approach to live poker – Ryan Fee and Mike Finstein talk about adjustments to make when playing in the live environment
Playing 3-bet pots live
Advanced strategies with Gary "GazzyB" Blackwood
This particular module represents a mix of strategy talk and some useful but also entertaining content as Doug and Ryan take the task of looking into some big high-stakes pots to break them down and find the ideas behind players' moves.
There is also a section with the analysis of live hands submitted by Upswing members, so you'll get to see some actual hands from games similar to the ones you play in.
This isn't the most comprehensive course for live cash games, nor is it meant to be that.
That said, the fact that there is a decent amount of material focused on live play certainly adds a lot of value to the Upswing Lab package.
For example, the Advanced Live Strategy section features nearly five hours of video lessons and covers general topics (RFI, big blind, etc.), but also some topics more specific to the live environment, such as:
Straddled pots
Isolating limpers
Deep stacks
If there is one thing missing from this module, it is a section talking about live play in more general terms and how to adjust to the environment.
As for everything else, you can combine the knowledge from this course with lessons from the much more comprehensive Cash Games module, as this is more of a supplement to it. After all, while different in some aspects, live and online poker is still the same game.
Upswing's Heads Up Module
The last of the four main strategy modules in the Upswing Lab is Daniel "dougiedan678" McAulay's Heads Up course.
While heads-up isn't the most popular format, especially among beginners, this is a very valuable module for several reasons.
First of all, you'll find yourself in heads-up situations all the time.
Even during the regular cash game and MTT play, many strategies explained in this course will be very handy since you often play hands against one player.
Secondly, for MTT players, understanding heads up is crucial, as winning that final skirmish at the end of a tournament can mean a significant difference in prize money.
McAulay's course is divided into several main sections:
Heads-Up 101 – covering fundamentals, such as preflop range adjustments and increased aggression, and bringing some examples
"Spotlight" lessons – covering specific lines and spots such as 4-bet pots and turn probes
Doug Polk's review of his recent match against Daniel Negreanu
This module is fairly short compared to the rest, partially because heads-up play is, by definition, something that players tend to take up at a more advanced level.
However, McAulay does an excellent job of covering some fundamental concepts and explaining how one-on-one play differs from the full ring or six-max.
By watching this module, you'll learn how to quickly adjust in heads-up situations and make life more difficult for your opponents.
Doug Polk's review of the most interesting spots from his epic match against Negreanu is a nice bonus and worth checking out, even if you aren't looking to improve your heads-up play specifically.
In case you don't know, Polk made a landslide victory in that match, banking $1.2 million when it was all said and done, and there were quite a few very interesting pots along the way.
Thanks to Upswing Lab, you get to hear more about the reasons for certain plays in these pots, which can help you grow as a player and improve the way you think about poker.
It won't make you a HU wizard, but it will give you a very solid idea of basic poker strategy, especially as a new player.
Upswing Lab Play & Explains
The Play & Explains section contains an extensive list of videos dating all the way back to 2018.
This is a great mix of content fitting for players of all preferences as there is the cash game and MTT footage from different levels and by different coaches.
As the module's name suggests, these are mostly videos of coaches in action. It's either them filming themselves playing in real-time or reviewing interesting hand histories and explaining things as they go.
Some of the content available in this section includes:
Ryan Riske's cash game play (200NL & 500NL Zoom live play)
David Yan's $215 MTT win (10-part series)
Ryan Riske's "Climbing the Stakes" series
Gary Blackwood's NL10 Zoom play
Member hand reviews and much more
As you can see, the content on offer is very colorful and relevant, no matter your stakes or bankroll.
Some of the footage is available in the courses already, but a lot of it is additional material you can resort to.
These videos are great to watch after going through a particular module and wanting to improve further your understanding of the theoretical concepts explained within.
For many players, especially beginners, seeing these theoretical concepts applied in real situations will help a lot.
Upswing Lab Preflop Charts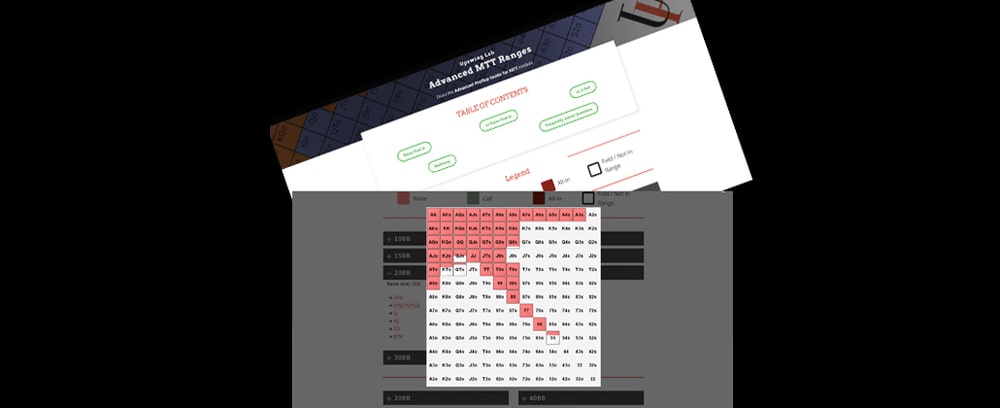 Upswing Poker Lab provides users with a wealth of valuable tools and information, and courses and lessons are just one part of it. You'll also get access to an extremely useful selection of preflop charts for different game formats.
The Preflop Chart Viewer tool is available for online cash games, MTTs, and live cash tables.
To use the tool, you simply pick out the game type you're interested in, and this will open a new window with an interactive chart that gives you all the freedom you need to explore different preflop ranges.
First off, you'll select the scenario, i.e.
Raise first in (RFI)
Against RFI
RFI vs. 3-bet
Cold 4-bet (on cash game charts)
Then, from the dropdown menu, you can select your position at the table and the position you're playing against, if applicable. Once you set the parameters, a preflop chart will be generated for you, giving you the full range of hands you should:
Fold
Call with
Raise
3-bet
Mixed options (raise or call, call or fold, etc.)
While it will take some time to learn all these different charts, they are a very powerful tool that can help you fully structure your preflop game and ensure you never find yourself in a situation where you don't know what to do.
Every imaginable hand and scenario is covered in the Upswing Poker Lab preflop charts, so it's just down to you and how much time and effort you're willing to invest into studying them.
You can also access these ranges on your phone with the Upswing Poker mobile app, which is a really nice touch. The app is available for Android and iOS, and it gives you a lot of freedom to study some poker whenever you feel like it.
GTO Charts for the More Demanding Ones
For those looking for more advanced preflop stuff, Upswing Lab also offers GTO-based charts. You get access to general ranges, MTT-specific ones, and the ones for heads-up play.
Charts are broken down by relevant categories, i.e., positions, situations, and bet sizes. You can click on the particular link, and it will show the hand chart.
These aren't as interactive as the ones available in the Viewer tool, but you can find all the necessary information.
To fully use them, you'll probably need to have at least a basic understanding of how solvers work, but you don't need to be a GTO poker wizard by any stretch of the imagination.
There are differences between the general and solver-based Upswing Lab charts, although they're not that big. Which ones you'll focus on studying is a matter of personal preference.
These days, poker has turned a lot towards GTO, so solver-based charts are more accurate and will probably be more useful in tough games.
For a beginner, though, it will probably be easier to learn using the Preflop Chart Viewer, and these ranges are more than good enough for most games out there.
Private Strategy Group for Members
On top of all the content you'll get when you sign up, all members also get access to the private Upswing Poker Lab strategy group.
With close to 4,000 active members and several coaches in the mix, this is another great resource for those hungry to take their game to the next level.
Inside the group, you can post your questions and participate in the discussions, sharing your thoughts and bouncing ideas with other members and coaches.
If you like this more hands-on approach to studying poker, you'll find the Lab strategy group really useful.
Value for Money: Is Upswing Poker Lab Worth It?
This Upswing Poker Lab review should give you a pretty good idea of what to expect inside. But depending on your general knowledge of poker, you might still not be sure if it is worth your money.
The course costs $99/month, but you can get it cheaper if you choose a longer subscription model. The yearly plan is the best value, as you'll get full access to everything in the Lab for twelve months for $699, so check it out.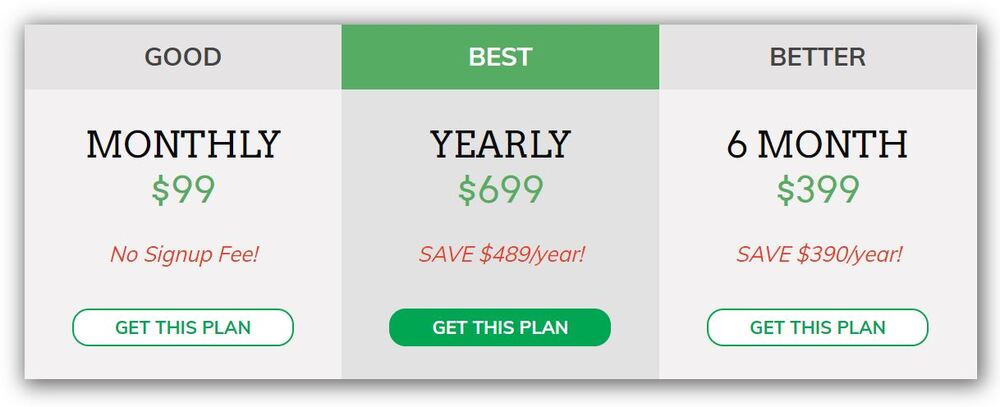 This can seem like a pretty hefty price for a beginner poker player or someone with a small bankroll, but you should look at it as an investment into your poker career.
The preflop charts alone are easily worth the money you'll pay for a monthly membership, as incorporating these into your game will immediately help improve your results.
There is no doubt that Upswing Lab is easily worth the price you'll pay as it is the most comprehensive bundle of courses you'll find out there, and you'll get access to lessons taught by some of the world's best poker players.
New content is constantly added to the mix, and the team behind the scenes is doing a great job of keeping up with the trends and creating fresh lessons, making them available at no extra cost.
At the end of the day, you can always sign up for a month and check it out yourself. Even if you decide not to continue after that, the $99 you pay will easily be worth all the content you'll get access to!
Latest posts by here2play
(see all)