With online poker getting tougher by the day, relying on your instincts may not be enough to stay on the winning side. That's why more and more players are turning to poker software to keep up, and Holdem Manager 3 is pretty high on the list of must-have poker tools.
If you're completely new to online poker and have no idea what Holdem Manager 3 is, don't worry because this in-depth review will tell you all you need to know.
In the simplest of terms, this is a program primarily used for collecting stats on your opponents.
It provides useful insights about how they play, information about the percentage of hands they play, how often they raise and 3-bet, and much more.
All of these stats are conveniently displayed for you in the form of a HUD (Heads Up Display), so you can access them at any point during a hand. Having this sort of info at your disposal can significantly improve your decision-making process.
While the software isn't free, you can get free trial of this tool after reading this review and seeing how it works.
Holdem Manager 3 in a Nutshell
Before diving into any individual program features, let's first take a look at what Holdem Manager 3 consists of and what you'll be getting by installing the software onto your computer. The main components found inside are:
HUD – Heads Up Display showing your opponents' stats
Post-game hand analysis – all hands you play are saved in the database, and you can review them at your convenience
Hand replayer – HM3 comes with a very nice hand replayer, so you will have a visual representation of every hand you want to analyze, and you can replay it at once or go one action at a time.
Hand filters – If you want to analyze any particular segment of your game, Holdem Manager 3 provides a variety of premade and custom filters to pick out only the hands that fit the area of your interest.
Essentially, the software provides everything you need to stay ahead of the opposition and improve your game. Most serious players have been using HM3 for a while now, so those who refuse to do it are often at a serious disadvantage.
I'm not saying that it's impossible to beat online games without poker software, as some have been able to do it, but as you move up the stakes, the more difficult it will become. Your opponents will have so much information on you, while you'll be playing in the "dark" for the most part.
Holdem Manager 3 HUD
The Heads Up Display (HUD) is the central part of Holdem Manager 3. This is where all the information from the database is displayed. While HM3 is running, every hand you play is recorded in the database, so the more hands you play against individual players, the more reliable the information becomes.
A wealth of information is collected in the background, but your HUD is fully customizable, so you can select what stats you want to be displayed on your screen.
That said, you don't want to overdo it, as having too many stats on the screen will make it hard to find the info you need when you need it.
Plus, the software offers a very nifty feature called "Situational popups." You can access these anytime by hovering over a player, which will open a new window where you can easily navigate to the particular stat group you're interested in.
It may take a bit to get used to these, but they are a preferred solution over having an overcrowded HUD.
Holdem Manager 3 also comes equipped with a Graphical HUD, which is a graphical representation of the most important opponent stats, such as:
Colored circles around the opponent represent these stats, so you don't have to strain your eyes to get this very basic information. However, it doesn't offer in-depth insights that you might need, especially in tougher games.
Nonetheless, it's a nice feature to have and a good option for situations where you don't have many hands in the database.
Game Analysis: Reports & Filters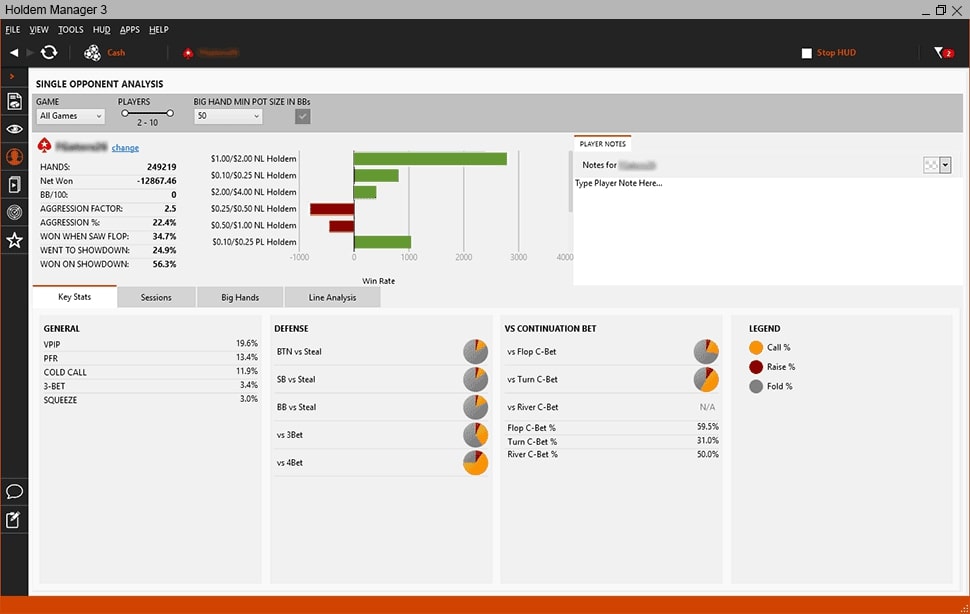 Holdem Manager 3 is primarily seen as an in-game tool, but it is also quite powerful for post-game analysis.
Every single hand you play is stored in the database, and as you put in more volume, that database will grow quite big. This means you'll have enough hands to perform meaningful statistical analysis of different spots.
Whether you want to check your play or that of an opponent you frequently play against, you can do it easily using different powerful options in HM3.
First, there are Reports and Situational Views, which are designed to help you pick out a particular segment of your play that you want to look at quickly and simply.
You can filter your games by many different features, such as:
Stack size
Stakes
C-bets
River play
And even hands against a particular opponent
Holdem Manager 3 offers great flexibility and makes your poker studying sessions much more enjoyable and time-efficient.
You can easily pick out the type of hands you're interested in, arrange them by different factors (pot size, wins, losses, etc.), and go straight to analysis. It's worth mentioning the software is quite quick to generate these reports, even when working with a large database, which is a big plus.
There are also various filters you can use if you want to look for very specific hands.
Holdem Manager 3 makes it easy to combine different filters using AND & OR functions, making it possible to zone in on highly specific situations if that's what you're after.
The software will also produce a variety of graphs and percentages for you, allowing you to easily spot any big problems in your game at a glance.
It goes without saying that the learning value is directly connected to the size of your database. The more hands you play, the easier it will become to find these highly specific situations. For players who put in serious volume, though, these reporting and filtering options can be truly invaluable.
Holdem Manager 3 Hand Replayer
Going through poker hands is an essential part of post-game analysis, and it is much easier to do when you can actually see the cards and the action. You can do all that and more with Holdem Manager 3 Hand Replayer.
By simply clicking any hand you want to view, you'll start the Replayer, which will load all the information about the hand:
opponents,
stack sizes,
and the HUD with relevant stats
So, you'll be able to see the hand just as it was when you played it.
You can also switch between the standard and big-blind view, so you can display all the stacks in big blinds if you prefer. For learning purposes, this is usually a more effective approach, and you will find it used in all of the best poker training sites.
You can load a bunch of hands into the Replayer at once as well and then go through them as you wish. The software quickly loads up hands, even when dealing with big samples.
If you like to keep things fresh and different, there are several card and table themes to choose from, and you can switch between them with a few simple clicks.
What Sites Can I Use Holdem Manager 3 On?
Holdem Manager 3 is a completely standalone software solution, so you won't need to install any additional programs with it. Although it heavily relies on a database, everything is included in a package, so there is nothing to worry about from a user perspective.
Once the Holdem Manager 3 download is completed, you'll be able to run the installation process and have everything ready to go in a matter of minutes.
But, one caveat is that the software will only work with sites that actually allow it. As of late, there have been some initiatives to prevent the use of this type of software on online poker sites, and some rooms have decided to ban it.
However, the good news is that there are still many sites where you can still use HM3 without any issues, including some of the biggest ones:
PokerStars
888poker
Ignition Poker
Winamax
Partypoker
iPoker Network
Boss Media Network
Merge Network
Winning Poker Network
For the time being, Holdem Manager is supported by more than 12 major poker sites and networks, and I don't expect that to change in the near future.
Holdem Manager 3 Prices
Unlike many other tools you might come across, Holdem Manager 3 comes with a one-time purchase price. Once you buy the software, you don't have to worry about monthly or yearly fees. The license is yours for life.
That said, there are a few options to choose from when buying the license:
Holdem Small Stakes – $60
Holdem All Stakes – $100
Holdem + Omaha Small Stakes – $100
Holdem + Omaha All Stakes – $160
The small stakes version works for cash games up to NL50 and tournaments up to $22 buy-in, while the full version has no limitations, and you can use them on anything from NL2 to NL10,000+.
As you can see from the list, there is also the version for Pot Limit Omaha, but this review focused on the Texas Hold'em side. If you are a PLO player, this is a very powerful tool to have, especially because the number of PLO players using the software is likely smaller.
Conclusion: Is Holdem Manager 3 Worth the Money?
A tool such as Holdem Manager 3 might not be necessary in a different world. But with online poker turning heavily towards a theoretical, math-based approach, it is virtually impossible to keep up with the competition without it.
You'll want this tool in your arsenal if you have any serious plans about poker.
The price you pay is probably worth it for the off-the-tables feature alone, as the ability to filter and analyze your hands will make you a better player. And having stats on your opponents and knowing their tendencies takes things to a whole new level.
Check out the free Holdem Manager 3 download, use the trial to see the software in action, and I am sure you'll agree after just a few days!
Latest posts by casino4you
(see all)