Doug Polk vs. Daniel Negreanu – An Epic Heads Up Grudge Duel to Remember
Over the years, we have seen quite a few rivalries in the poker world, ranging from ones that manifested purely on the felt, such as Tom Dwan vs. Dan Cates, to those going way beyond the sphere of poker alone, such as Daniel Negreanu vs. Shaun Deeb.
Daniel Negreanu managed to get himself involved in quite a few of these, being the vocal person he is, and back in 2014 started a feud with online poker legend Doug Polk.
Back then, Doug was one of the best online poker players and got offended at Daniel, claiming he could "easily" master and beat the $25/50 online ring games.
As time would tell, these games actually involved some of the very best players of the years to come, and Daniel was probably in the wrong, but that was not as important as the rivalry that this sparked.
As Doug moved away from playing as much and transitioned into content creation, he would often call out Daniel for many things, including his famous "more rake is better" comment.
In July 2020, Doug posted again on his Twitter, saying that he would challenge Daniel to a heads-up duel if the tweet got 1,000 re-tweets.
Sure enough, 1,500 Re-tweets came in, and Polk did as he promised, believing DNegs would not take him up on it.
The challenge to a heads-up battle was issued, and to the surprise of many, Negreanu decided to accept it, putting both his money and his reputation on the line but earning a lot of respect from his poker-playing peers.
It took some time for the challenge to start, and the two went back and forth on the format and took time to prepare, but on November 4, 2020, in the middle of a global pandemic, the Doug Polk vs Daniel Negreanu heads up battle began.
Who Was the Favorite?
The Polk vs Negreanu challenge was definitely not a fair fight between two equal opponents, and everyone in the poker world knew it.
The bookies gave Daniel Negreanu, one of the most popular and decorated poker players of all time, about an 18% chance to win the duel, with many believing even this to be generous.
The reason, of course, was that Doug was considered to be the best heads-up NLH player for a long time, while Daniel was never even a part of that conversation.
Negreanu images courtesy of PokerGO
While the six-time WSOP champion has had an accomplished poker career, his prowess in the heads-up format was limited at best.
Of course, there was a part of the poker community that believed that Kid Poker would take Polk to school, but that was never really going to happen.
As the challenge was set and the bookies laid out their odds, the two started preparing for the duel more seriously than most anticipated.
Doug and Daniel Prepare for the Challenge
As Doug Polk vs Daniel Negreanu challenge approached, both players decided they wanted to be in their best shape when the time came.
Doug had been retired from the game for some time and wanted to regain his skills and confidence, while Daniel decided he would learn the heads-up format to the best of his ability.
To that end, Polk challenged anyone who would play him across a variety of stakes, playing the likes of Bill Perkins and many others in the meantime.
While he kicked things off somewhat badly in his return to poker, he quickly started remembering what it takes to win and was up some thirty buyins across various levels quite quickly.
Image courtesy of paulphuapoker.com
Daniel, on the other hand, decided he needed some help, so he enlisted a team of "online wizards" to help him improve his heads-up game.
With his team, Daniel studied the "game theory optimal" (GTO poker) strategies and used poker solvers to dissect hands and learn how to play the way Doug does.
Of course, GTO is a highly complex field of study, and Daniel didn't have enough time to learn how to play GTO nearly as well as Doug.
However, understanding the concepts of it was surely going to help him come into the match with some chances.
Both players talked publically about the ways they were preparing for the challenge, which stirred up a lot of talk in the poker world and made for some amazing content.
The rules of the challenge were also set, with the two set to play a total of 25,000 hands of $200/400 heads up poker on the WSOP poker platform.
A provision was added to allow the player who was losing at the halfway mark, 12,500 hands, to end the challenge early.
Many poker players and fans of the game bet on each side, with Bill Perkins Tweeting he had $1 million riding on Kid Poker, half of which was a wager against Doug Polk himself. As time would tell, this was not one of the best wagers Perkins made in his lifetime.
The Challenge Kicks Off
On November 4, 2011, the Doug Polk vs Daniel Negreanu heads-up challenge finally started. To up the drama, they decided to play the first session in a live setting, with PokerGO gladly accommodating.
Daniel managed to win $116,500 over the first 200 poker hands of the $200/400 challenge, with many fanboys starting to talk about how DNegs is going to sweep the floor with the online poker legend.
Yet, Doug managed to win it all back in the first online session, taking down over $218,000 over the first 424 hands of online play.
As Doug later commented, Negreanu was making many mistakes in those early sessions, and his game was definitely not on par with Polk's.
The pair exchanged blows, and Daniel managed to find himself in the lead of about $200,000 after a few sessions, but that would not last very long.
As he initially promised his fans, Doug started backing the truck up and had a series of winning sessions, ramping up close to a million in winnings before the halfway mark.
Once the challenge reached that halfway point, where the losing player had the right to quit, Polk was winning about $800,000, as Negreanu managed to pull some of the losses back.
No Quit in Kid Poker
To the surprise of many in the poker community, Kid Poker refused to quit and announced that he would continue the challenge shortly after New Year's Eve.
Very sure that his game had improved dramatically, Daniel wanted to keep going and see if he could recoup his losses and potentially still win the challenge.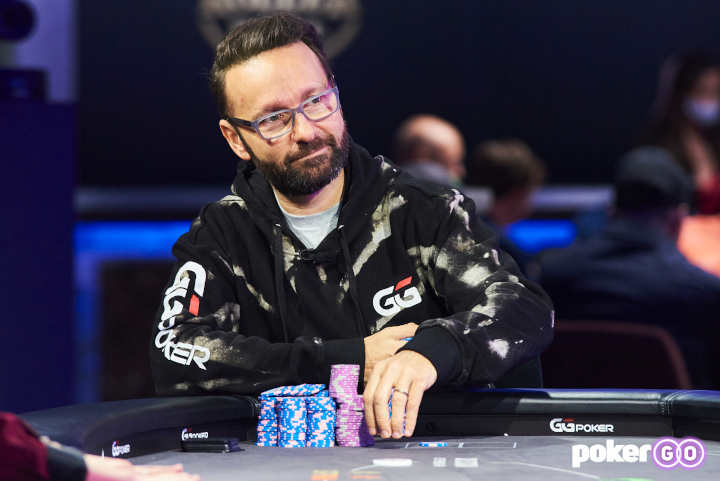 The Polk vs Negreanu challenge continued on January 4, 2021, with Daniel managing five consecutive winning sessions, bringing the dream back to life.
It was now Doug's turn to crush, and after a few consecutive winning sessions, Doug booked a win of $298,000 on January 20, once again crossing the $1 million mark.
Yet, just two days later, Negreanu came back strong and pulled back $390,000 of his losses, showing that he had no intention to give up and let Polk take him down.
As February came and the challenge was down to some 3,700 hands left, Polk had a $750,000 lead and was looking to close strongly.
He did just this, as the players played only two sessions in February, both being marathon ones.
In those two sessions alone, Doug managed to book close to $500,000 in winnings over the 3,700 hands, and the Polk vs Negreanu challenge was finally over.
To the disappointment of all who were in Daniel's corner, Polk took home just over $1.2 million in profits and proved once and for all that he was a better heads-up player than Daniel was.
The Poker World Enjoys the Challenge
While the Polk Negreanu challenge was certainly very genuine and an actual heads-up battle of two professional poker players, it was also amazing poker TV.
The challenge was so popular that it had three separate live streams on YouTube dedicated to it, and each of them was getting plenty of traffic.
Both Daniel's and Doug's official poker channels had live streams of the match, with the commentators on these being heavy supporters of the pro whose channel they were streaming on.
Poker personality and media master Joe Ingram decided to start up a third, impartial stream, and this one got the most traffic and probably had the best commentary overall.
Thousands of poker fans and players would come together to watch the match every time a session was played, showing that even online poker could be fun to watch with proper commentary and incentives.
All things taken into consideration, the Polk vs Negreanu challenge generated more media traffic than most live poker tournaments or televised cash games out there, even though it was fully played online.
It is safe to say that a challenge like this, involving big names like Phil Hellmuth or Phil Ivey, could easily repeat the success of this one, and the poker world would gladly jump at the opportunity to watch more similar action.
Doug Polk vs Daniel Negreanu Post Match Reactions
The Negreanu vs Polk challenge ended with the online grinder winning by a massive 30 buyins and close to 10bb/100 hands, a result that exactly matched his expectations.
The truck was backed up, and the victory was surely sweet, so now the poker world expected Doug to absolutely destroy Daniel on social platforms.
Yet, this was the time for Polk to show his class and be a gracious winner, and he stepped up to the plate and probably surprised many of his fans.
Instead of going the "told you so" route, Polk proceeded to make several videos and interviews in which he spoke highly of Daniel and the speed at which he improved at heads up throughout the challenge.
Polk stated that he was impressed with Daniel's play in some of the late sessions and that he believed he no longer had as big of an edge over him.
While a part of this was possibly just Doug trying to be classy, his post-match reactions, as well as some of the things he did and said during the challenge, caused Negreanu to change his tunes as well.
By the time the dust had settled, the Negreanu vs Polk feud was over, and the two proceeded to become somewhat friendly, with Doug hosting Negreanu on his podcast after the match.
The challenge was an amazing catalyst for poker content, as popular poker streamers and content creators like Joe Ingram and Jonathan Little proceeded to make videos explaining hands and talking about the challenge for months after it was over.
The Polk vs Negreanu challenge also triggered Daniel to get involved with more similar endeavors later, although his matches against Phil Hellmuth finished in defeat as well, as he lost three consecutive televised heads up Sit & Goes against the 16-time bracelet winner.
Is a Rematch in the Cards?
Individual sports are the ideal staging area for grudge matches, and if we have learned anything from boxing, it is that the loser usually wants a rematch sometime after being defeated.
Yet, in the case of Polk vs Negreanu, it seems like neither of the two would be too keen on a rematch, which makes it highly unlikely to happen.
Doug has once again retired from poker (until he started playing regularly at The Lodge), while Daniel is busy playing on the tournament circuit almost non-stop.
A rematch could happen at one point down the line if the two decide that they had had enough truce and re-start their feud, which could possibly trigger another challenge that had to be accepted.
Yet, as things stand, Polk and Negreanu are friends, and it is unlikely that another Polk vs Negreanu grudge match or heads-up challenge will happen in the near future.
Latest posts by Ivan Potocki
(see all)