Poker Sites Traffic: Top 5 Online Poker Rooms in Player Traffic

There are many factors that define an online poker room. Software quality, variety of stakes, and range of games on offer are a few things that come to mind right away.
However, there is one factor that stands above all others, and that's poker sites traffic. Without enough active poker players, it's virtually impossible for a room to be competitive in the modern ecosystem.
A poker rooms' traffic is an interesting variable. Sites that have a big player base tend to attract users, boosting their numbers further. Small rooms continue to struggle, even if other factors, like software and game variety, are very good.
The simple fact is that players don't like to wait around. They prefer sites with a lot of active poker players because this guarantees they'll have no problems finding games whenever they want to play poker.
The poker sites traffic is also the defining factor in what kind of tournaments the operator can offer. Rooms with large player bases can afford to put up big guarantees, which, in turn, attracts even more players.
In this article, I'll go over the top five rooms in terms of traffic and give you some ideas on where you can find action at any time of day or night.
1. PokerStars – Poker Sites Traffic Leader
Although it's been struggling a bit as of late, PokerStars still remains the number one site in terms of player traffic.
The global poker giant has been the leader in the online poker world for a long time now, and it's one of the rooms that you can expect to always offer good action across various stakes, poker buy-ins, and game formats.
It is true that PokerStars has seen a drop in interest in recent years due to their decision to lower player rewards and turn more towards recreational players. Because of this, GGPoker, their closest competitor, has been hot on their heels, even taking over as the poker rooms traffic leader at one point.
All this prompted the operator to revamp their rewards program and come up with a new solution, where players can get up to 65% in rakeback.
Even with all the struggles, the number of active poker players on the site remains very high. According to the latest information from PokerScout, the 7-day average for PokerStars is 5,600, with numbers peaking at around 10,000.
The most active time of the day is around 8 p.m. GMT, which is when you'll find most active players across the room. This probably has something to do with the fact that the best tournaments also start around this time.
The rich MTT schedule is probably the biggest reason why player traffic on the site remains strong. No other room can compare to PokerStars in this regard, although things are starting to change in that department as well.
The game variety is another important factor. The room offers a great range of game variations beyond Texas Hold'em and PLO.
On PokerStars, players can find cash games and tournaments featuring Omaha 8, Seven Card Stud, Short Deck Hold'em, Razz, Badugi, and all sorts of mixed games tables and events.
All these things have helped the room stay on top of the poker sites traffic leaderboard over the years. The new loyalty program should help bring back some players and keep the existing ones around.
2. GGPoker – Fighting Hard for Poker Rooms Traffic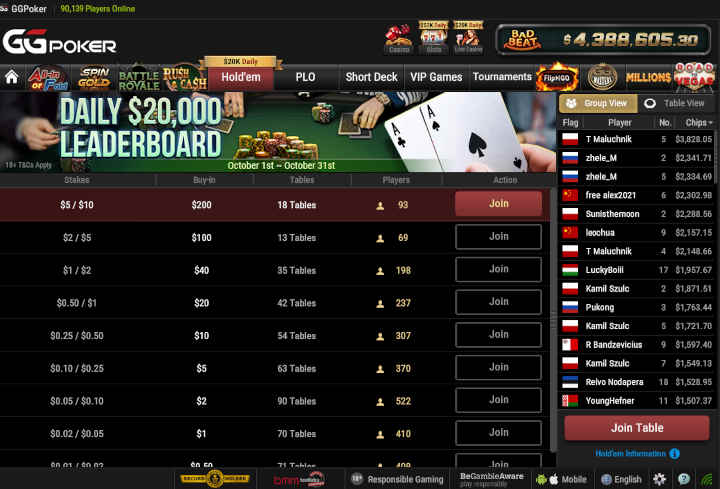 GGPoker came almost out of nowhere and conquered the online poker world. The site started off focusing on recreational players, but these days they are the premier destination for recs and hardcore grinders alike.
Over the years, GGPoker continued to build its base of active poker players. They did so with interesting promotions, quality software, and everything else one could ask for.
The came 2020, and the operator snatched the opportunity to host the ROW leg of the first-ever iteration of World Series of Poker to take place fully online.
Tournaments with big prize pools and offering a chance at winning coveted WSOP bracelets did the trick. The room saw a massive surge in poker sites traffic, bringing serious and amateur players alike from all over the world.
Today, GGPoker is arguably second in terms of poker sites traffic, although they've managed to come ahead of PokerStars on a few occasions recently.
The room features a weekly average of 5,400 active poker players, with peaks of around 8,000. These numbers are slightly worse than those of PokerStars, but the operator seems to have more active players on cash tables.
GGPoker doesn't offer as much in terms of game variety, and the main action is focused on Texas Hold'em and PLO tables. However, the operator does give back a lot back to the players.
Their regular Fish Buffet loyalty program is coupled with a variety of promos that run around the clock. Players can get involved with all sorts of leaderboards for cash games, tournaments, and sit and goes to bolster their returns.
Lately, thanks to its partnership with WSOP, GGPoker has been doing very well in the tournaments' department, too.
All in all, the room is a serious contender for first place on the poker rooms traffic charts. Recent moves by PokerStars might make things a bit more difficult, but if you're looking for a site with plenty of action and good rewards, you can't go wrong with GGPoker.
The only caveat here is that the list of restricted countries is pretty long. If they operated in more markets, it's easy to see GGPoker topping the poker sites traffic leaderboard by a decent margin.
3. IDN Poker Network – Good Player Traffic but not Easy to Join
If you're a recreational player and only play for fun, it's possible you don't know much about IDN Poker. This is a network of sites featuring many different skins but combining the same player pool across the network.
IDN Poker is an Asia-facing network with very solid numbers. In terms of poker sites traffic, it sits firmly in third place, and this doesn't seem likely to change any time soon.
The average number of active poker players is 3,900, with numbers peaking at around 7,000. Most action is concentrated on cash game tables as the MTT schedule isn't that rich, and the tournament poker rake tends to be quite high.
At first glance, this is a very solid option, especially since the player base consists mostly of recreational players from Asia with big bankrolls who like to gamble.
There is a caveat, though. IDN Poker only accepts players from Asian countries, so European users can't just go and register for an account. The network has built its player base and reputation by ensuring looser games that aren't infested by grinders.
This isn't to say it's entirely impossible to play from Europe, though.
Wherever there is a good action, players look for and find ways to jump in. There are many "agents" out there offering European players a chance to get involved, helping them with setting up an account, and providing rakeback deals.
Of course, you should know that these agents, regardless of what they might promise, are operating against the network's terms and conditions. You're not supposed to have an account there, so they're finding different workarounds to make it possible for you to play.
This means that if you get caught, you risk having your entire poker bankroll confiscated. Whether or not the action is good enough to justify the risk is up for debate. I'd say that sticking with other options on this poker rooms' traffic list is probably the better option.
4. Winamax – Doing Well in Terms of Active Poker Players
Winamax is another interesting poker room not that many players are familiar with, yet it manages to perform very well in terms of poker rooms' traffic.
This is essentially a French poker site, which is why many people from other countries don't think it's possible to play here. However, that's not the case, as the room welcomes players from the European Union and the European Economic Area.
The registration procedure is a bit more complicated than with most other sites. Players will need to go through a few extra steps to verify their accounts, but once that's done, Winamax represents a very solid option.
It has always performed well in terms of poker sites traffic. As of right now, it sits in fourth place, according to PokerScout.
The 7-day average of active poker players isn't nearly as good as with the sites listed up to this point. It stands at around 1,300 players, peaking at around 3,000. While these aren't numbers to leave you speechless, they indicate the action on the site is quite healthy for the most part.
Of course, action is best during European evening hours, between 9 and 10 p.m., especially on weekends.
Winamax is a great option for players who prefer tournaments. The MTT action is very strong on the site, with some big guarantees and large fields around the clock. This is especially true during weekends when all major events take place.
Cash games are decent at lower stakes, and Hold'em players should be able to find action up to NL200. Winamax also offers quite a few other variations, but the number of active poker players isn't really big enough to sustain these.
All in all, while not the largest sites, this room is definitely a very good option with solid traffic and some tasty MTTs worth checking out.
5. WPN (Americas Cardroom) – Leading Poker Sites Traffic for US operators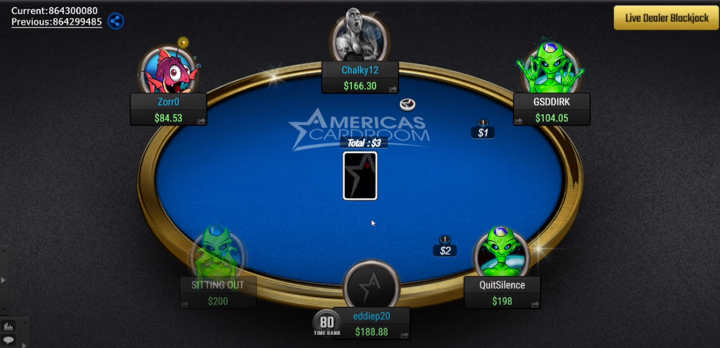 Wrapping up this poker rooms' traffic overview is the Winning Poker Network (WPN) and its best-known representative – Americas Cardroom.
The Winning Poker Network is the only US-facing network on this list, and it represents one of the best unregulated options for American players.
While regulated poker is slowly entering the US market, it is still only available in a handful of states like New Jersey, Nevada, Michigan, and Pennsylvania. For others, sites like Americas Cardroom remain one of a few viable options.
The 7-day average of 950 players pales in comparison to other rooms on this list. The network peaks at around 1,500 players, so it's not always easy to find action.
The operator offers a mix of cash game tables and tournaments around the clock, including a nice selection of freerolls for those looking to start their bankroll without an investment.
In terms of game variety, you'll find Texas Hold'em, PLO, Seven Card Stud, and even Five Card Draw featured on the site. While Hold'em and PLO lead the way in terms of active poker players, you can find some action for other games, too, especially at lower stakes.
Americas Cardroom has had its fair share of problems over the years, including poker bots' allegations, server problems, and withdrawal delays. But, the traffic still continues to be solid, albeit comprised mostly of players who don't really have other options.
Poker Sites Traffic Summary: Where to Play?
This list of top five operators in terms of poker rooms' traffic should give you a solid idea of where to play. For international players, PokerStars and GGPoker are easily still the best options out there when all things are considered.
Winamax is an interesting option, but if you want to put in a big volume, especially at cash tables, you'll probably need to play at an additional room.
While the number of active poker players isn't the only thing to consider when signing up for a poker room, it's definitely a big factor. Sites with more players offer you more options and give you more flexibility to set up your playing schedule and put in more poker hands.
As things stand right now, it's not likely that anyone can challenge the top two sites in the foreseeable future. Likewise, both operators seem devoted to keeping and improving their player traffic, so there's no reason to think there'll be any sudden drops.
Latest posts by Ivan Potocki
(see all)