Why Is Blackjack So Popular Among Players Worldwide?
Blackjack has been around for centuries and is one of the most popular gambling games and card games in general.
With the invention of online casinos, blackjack has managed to reach all corners of the globe and become the go-to gambling game for many players worldwide.
But, what does this 21-game owe its popularity to? On this page, we'll take a closer look at the most significant reasons why blackjack is so popular among players.
Simple Rules and Straightforward Gameplay
It's no secret that most players prefer playing blackjack because it comes with the excitement of an actual card game but with reasonably simple rules.
Within just a few minutes, you can master the fundamentals of the game and start playing.
Of course, it'll take you much longer to hone the more advanced aspects of blackjack. But, once you learn when to hit, split, or stand, you can jump into the game.
Moreover, blackjack is one of the very few casino games that allow you to use helpful manuals while you play. Naturally, we're talking about the famous blackjack strategy charts.
You can use the chart while playing to determine whether you should take certain actions depending on the specific situation.
Aside from all of this, blackjack is one of the simplest casino card games. The card values and combinations are easy to remember, and the gameplay itself doesn't involve many complex elements.
More importantly, blackjack is one of the most consistent casino games in the world. No matter where you play, as long as you play the same variation, you'll always play under the same rules.
It Comes In Many Variations
If you're a blackjack player, you can enjoy as many variations as you like, as this game is one of the most varied casino games.
From blackjack switch and blackjack perfect pairs to European blackjack and countless other variations, blackjack you'll find almost limitless options at Gammix Casinos.
Best of all, all of these games stick close to blackjack's fundamental rules but provide a unique twist that makes them exciting and engaging to play.
Social But Individual
Blackjack offers a unique combination of being a casino game that you can play with other players, but not against them.
This is because you're only playing against the dealer. It doesn't matter what cards other players get. As long as you beat the dealer, you win the round.
At the same time, the players around you add to the casino atmosphere and make the entire gambling experience much more exciting. If you're playing with a good group, fun interaction and an overall great time are guaranteed.
Your Decisions Are Impactful
In many casino games, you don't have much control over the outcome. Once you make your bet, all you can do is watch the roulette wheel or slot reels spin until they produce a particular outcome.
This is certainly exciting, but you're merely a spectator at this point and not a direct participant.
In blackjack, this is significantly different. From the moment the cards are dealt to the very end of the round, you have to make impactful decisions.
You decide whether you want to hit, stand, split or double. Of course, there's still a certain luck element, but you're still heavily involved in the action.
It Comes With a Very Low House Edge
It's common knowledge that the house always has the edge, no matter which casino game you play or how well you play it.
That said, some games come with higher house edge percentages, while others offer more favorable numbers. And blackjack undoubtedly falls into the latter category.
With a basic blackjack strategy, you can lower the house edge to below one percent, giving yourself the best chances for long-term profits. If you can also count cards, you can even turn the tables around.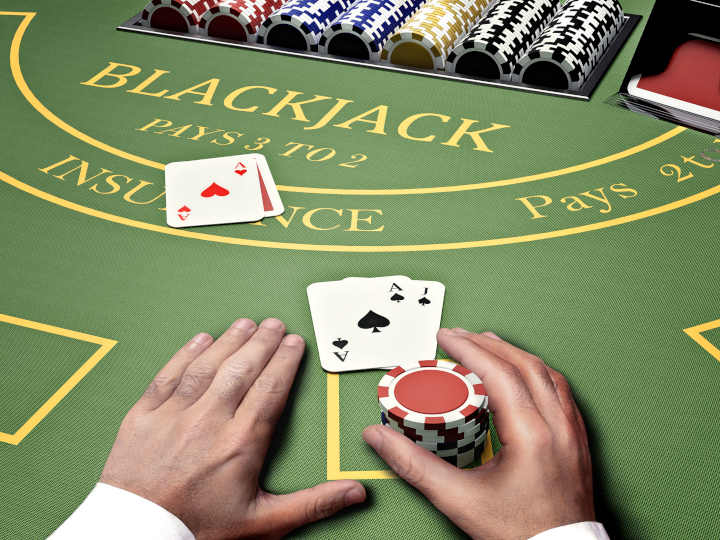 In comparison, slots can have a house edge of anywhere between five and ten percent, which is significantly more unfavorable than blackjack.
So, regardless if you're playing in a land-based casino or primarily gambling online, your winning chances in blackjack will generally be much higher than in other casino games. When you play this game, you'll always feel like you have a fair opportunity to win. This is one of the biggest reasons why many players return to the game time and time again.
Great Payouts
Blackjack is one of the best-paying casino games in the sense that you get the fairest payouts based on how much you've bet.
For example, in games like roulette and slots, you'll often only win a small percentage of your initial bets, or you win an amount significantly larger than your bet. However, the latter only occurs on rare occasions.
In blackjack, especially if you play a 3:2 version, you stand to win very fair payouts. Even if you don't get a blackjack, you still have a chance of doubling your money as long as you beat the dealer's hand.