Poker Tournaments in Las Vegas Guide: The Best Tournament Action in Sin City
Poker may be a worldwide phenomenon these days, but there is one city on the planet where more poker action takes place than anywhere else, and that's Las Vegas.
The number of poker hands played every day in the Sin City is probably greater than all other cities combined. That number only goes up during major poker festivals like the World Series of Poker.
If you are a poker player, visiting Las Vegas at least once should definitely be on your bucket list, whether it's to participate in the WSOP or play one of the many Las Vegas poker tournaments that are on offer every single day.
For those who are thinking about visiting Vegas, I have compiled a rough Las Vegas poker tournament schedule that focuses on all the major tournament locations you and festivals you could participate in.
Keep reading and find out what the best places are to play poker in Vegas, what kinds of buyins you could play in, and what prizes you can hope for if you get lucky.
Of course, I have to start it all off with the obvious choice and make my way down the list from there, so let's get started with the World Series of Poker.
1. The World Series of Poker (WSOP)
There are poker tournaments in Las Vegas every single day, but the city never comes alive for poker players as much as it does during the World Series of Poker.
The WSOP is by far the greatest poker festival in the world. It spans over the course of more than a month and features dozens of poker tournaments.
In the past, the WSOP used to be a smaller affair designed with professional players in mind. However, every year since Chris Moneymaker won it in 2003, the Series has been getting bigger and more comprehensive.
The WSOP takes place in the summer, typically starting in late May or early June and going on until mid-July, which is exactly when it will be taking place in 2022.
The Series hosts many different tournaments, with buyins ranging from just a few hundred dollars all the way up to $100,000 in a normal year, and even $1,000,000 when special One Drop events are added to the schedule.
The World Series has something in store for everyone, and some of the most iconic Las Vegas poker tournaments happen during this period.
For many years, WSOP was hosted at the popular Rio but will be switching over to Paris and Bally's starting this year.
The popular Horseshoe brand is also coming back to make WSOP more similar to what it used to be in the past.
Whether you want to try your luck at mixed games in one of the many $10,000 Championship events, compete over a whole week of poker in the Main Event, or grind out the smaller Texas Hold'em events, there are tournaments of all shapes and sizes available.
Without going into too much detail, I would say that if you are a tournament poker player, you should make your way down to Sin City at least once in your life during the WSOP and experience the thrill of playing at the world's most prestigious poker festival.
2. The Wynn Classic Poker Tournaments in Las Vegas
The World Series of Poker may be the biggest series on the Las Vegas poker tournament schedule, but it is certainly not the only one.
The Wynn Classic is a seasonal tournament series that takes place during all seasons of the year. It usually hosts a couple of dozen tournaments with buyins ranging from $400 to $3,500.
The Wynn Classic is a massive affair, with tournaments guaranteeing as many as 1,000 buyins each, attracting players from across America and beyond.
Playing poker at the Wynn is an absolute pleasure, and the Wynn Classic series offers amazing blind structures, great staff, and lucrative prizes to fight for.
If you are an emerging tournament professional looking for live tournament action or a recreational poker player simply looking to compete, the Wynn Classic is an affordable alternative to the WSOP
Here, you can hone your skills playing at reasonable stakes, improve your game, and still compete for some serious cash.
3. The Deepstack Extravaganza
The Deepstack Extravaganza is another poker series that is hosted by one of Las Vegas's most popular hotels and casinos, the Venetian.
The first Deepstack Extravaganza was hosted back in 2007, and ever since then, the series has been recurring several times a year, with very few breaks between.
Depending on the time of the year, the Deepstack Extravaganza tournaments come with different buyins and guaranteed prize pools. The one thing that's always static is the great structure of these tournaments.
Typically, Deepstack Extravaganza events cost a few hundred bucks to enter into and feature prize pools of up to $500,000, with million-dollar events on the schedule on occasion as well.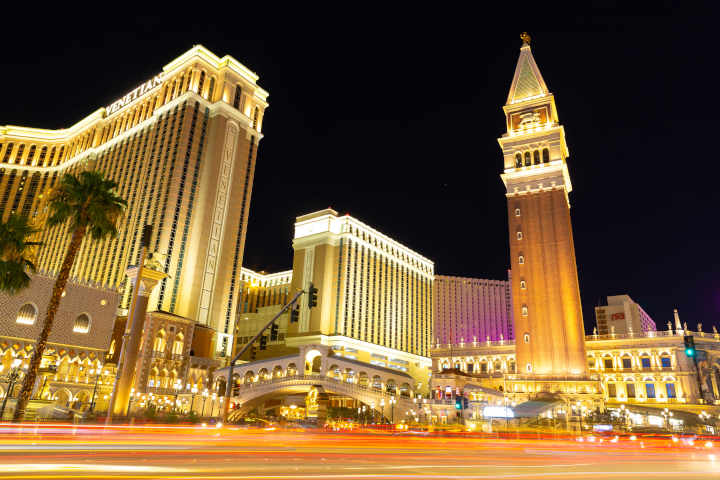 The relatively low buyins, the appealing guarantees, and the deep stack tournament structures are just some of the things that bring hundreds of players down to the Venetian to play in the Extravaganza.
If you are visiting Las Vegas, you should check out the Venetian website for current events, as it is more likely, there is a Deepstack Extravaganza happening than not.
If even these buyins are slightly above your bankroll, you can also look to play the numerous satellite tournaments that the Venetia hosts during the festival and win your seat for just $100 or less.
4. Wynn Millions Las Vegas Poker Tournaments
Another major poker series hosted by the popular Wynn, the Wynn Millions, is one that caters to both low-stakes and high-stakes players alike.
With buyins ranging from just $400 to as high as $10,000 for the Main Event, the Wynn Millions is a series that appeals to all types of tournament players out there.
In 2022, the Main Event of the Wynn Millions featured an incredible $10,000,000 guaranteed prize pool, something that not just any poker series out there can achieve.
What's more, a couple of dozen other events are hosted during the series, with recreational players welcome to enjoy the small $400 tournaments with massive prize pools and the pros given a chance at multiple $3,500 buyins.
The Wynn Millions is one of the great poker tournaments in Las Vegas that you will want to attend if you are serious about tournament poker, and a fantastic opportunity to get some momentum going before the World Series of Poker
5. March Mania at The Orleans
The Orleans may not be one of the most popular places among tournament players in Vegas, but it is a casino that hosts poker tournaments on the regular.
This includes an interesting series that I wanted to mention on the Las Vegas tournament poker schedule.
The March Mania is a low-roller tournament series with buyins in the $100 – $500 range with an $800 Main Event.
This means that the series is open to pretty much everyone.
As the name suggests, March Mania happens during a few weeks of March each year. The tournaments featured here are not as competitive as those in the bigger series, and there is certainly a very friendly atmosphere going around.
Yet, the Main Event features a $500,000 guaranteed prize pool, which is more than satisfying for anyone ponying up the $800 buyin and hitting the felt of a major poker tournament for the first time.
March Mania is an excellent opportunity to get involved with tournament poker if you are just starting out on the live Circuit.
The events won't cost you much, but they will give you just the kind of experience you will need moving forward.
Playing the entire March Mania will cost you several thousand dollars and will give you the experience to remember a lifetime, especially if you can final table one of the tournaments here at The Orleans.
6. U.S. Poker Open Poker Tournaments in Las Vegas
Moving away from the tournaments made for an average Joe, I want to mention the U.S. Poker Open, a series dedicated to professional players in particular.
If you are looking for the toughest competition out there, want to play on TV, and don't mind losing more than $100k during a hectic couple of weeks of tournament poker, then U.S. Poker Open is ideal for you.
This series is a relatively new addition to the Las Vegas tournament poker schedule. It brings the best of the best together once a year to compete in a series of tournaments that really test the limits.
The U.S. Poker Open offers a series of $10,000 poker tournaments, with formats such as PLO, 8-Game, Short Deck, and Big Bet Mix played in addition to NLH.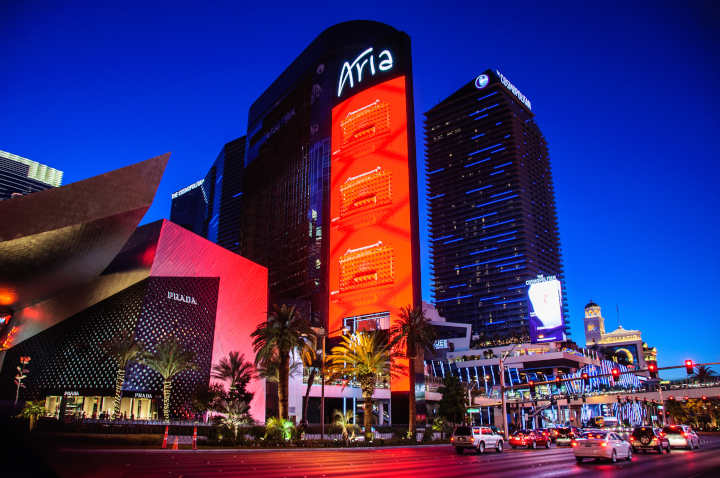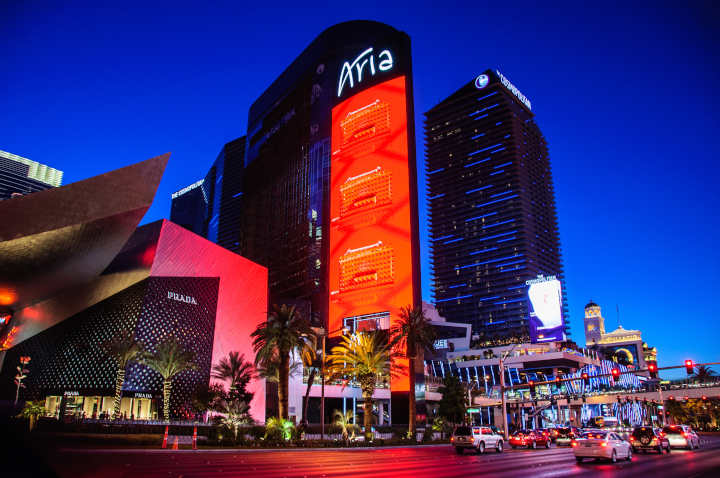 Professional players see this as a great opportunity to compete in mixed games and not only Hold'em, apart from the WSOP.
The U.S. Poker Open is currently hosted by the Aria Resort & Casino, the unofficial home of the poker high rollers, which hosts the amazing PokerGO Studio where all the magic of modern TV poker actually happens.
One thing to keep in mind is that U.S. Poker Open may just be the toughest poker tournaments in Las Vegas, so don't go there expecting to win or be better than anyone.
If you can afford to play in the U.S. Poker Open, see this as an opportunity to play with the best and improve your game, not one to print money.
7. World Series of Poker Circuit (WSOPC)
The World Series of Poker Circuit (WSOPC) is the other brand of the World Series which hosts a series of lower-stakes tournaments throughout the year all over America.
As expected, Las Vegas is not exempt from the list of locations, with places like Bally's hosting stops of the popular tournament series a few times a year.
The difference between the WSOP and the WSOPC is that the buyins are not as high on the Circuit, which attracts even more recreational players and keeps some of the very best pros away.
Don't get me wrong, though, as there are many extremely good tournament pros playing the WSOPC, and they will be more than likely to show up at every stop.
Yet, if you are looking to play some great Las Vegas poker tournaments, the WSOPC will give you an opportunity to compete at a high level, play in a great tournament structured by the WSOP, and even win some silverware.
You read that right, the WSOPC awards WSOPC Rings, which may not be as cool and shiny as the WSOP bracelets, but are still an amazing piece of poker memorabilia that not everyone gets to have in their cabinets.
The WSOPC is a fantastic introductory arena for those looking to play the WSOP, build their bankroll, and become professional poker players. I would highly recommend playing some stops before you consider playing at the actual Series.
8. Venetian $25k Guaranteed
Tournament poker series are ample in Las Vegas, but if you are living there or not in a mood to wait around for the calendar to call your name, you can also compete on a more regular basis.
The Venetian $25k is a great weekly tournament that you can compete in every Saturday. This one comes with a $340 buyin, and it provides a great opportunity to play cards in a solid tournament structure without waiting for a particular series.
The Venetian $25k has been part of the Las Vegas tournament poker schedule for the longest time, and it is one of the staple tournaments for the locals to compete in.
One thing I can guarantee about this one is that it will offer some great action, plenty of soft spots, and the kind of tournament action an amateur player would feel more comfortable with.
9. The $25k at the Wynn/Encore
If you aren't patient enough to wait for the actual weekend to play the Venetian $25k, a similar tournament is hosted every Friday at the Wynn/Encore.
The Friday morning $25k at the Wynn/Encore starts at 11 a.m. every Friday and allows rebuys for the first 6 levels at the price of just $230.
You would be hard-pressed to find a more affordable poker tournament in Las Vegas with a bigger prize pool on a regular basis, and the atmosphere in this one will be just as relaxed.
The weekly tournaments on the Strip are far from the reg-fest of the major tournament series. If you are just looking to enjoy some cards without being stared down every hand, you will definitely want to play in this one.
10. Daily Poker Tournaments in Las Vegas
I have talked about all the major events on the Las Vegas tournament poker schedule and some of the major weekly events, but this does not mean that there isn't even more tournament action going on in Sin City.
In fact, there is a poker tournament happening in one of the Vegas casinos at all times, even the wee hours of the night. You will be able to get non-stop action if that is what you are looking for.
Daily tournaments start in the early morning in places like Aria, Wynn/Encore, Rio, Sahara, Bellagio, and more, and there is action to be had around the clock.
Buyins for Las Vegas daily tournaments range from as low as $50 to $300, and each one of them comes with a guaranteed prize pool that ensures at least a few dozen players will show up, or everyone involved will be in for a treat with some overlay.
Some fun tournaments you may want to try each day include the $60 morning tournament at the South Point, which guarantees $3,000 in cash prizes, or the $150 at The Orleans with a $25k guarantee.