Being a winning poker player in today's competitive environment is not easy. The average skill level of an online player has increased dramatically, making it very hard to beat the games.
In this situation, there are two things an aspiring poker player can do – give up or try to improve.
The latter category gave rise to numerous poker training sites, offering lessons by some of the best poker players.
Although there are many training sites out there, Upswing Poker is a clear leader in this niche.
Established by Doug 'WCGRider' Polk, once the best heads-up player in the world, Upswing Poker is the most comprehensive poker coaching platform in existence.
The site gathers some of the greatest poker minds to produce training courses on a range of concepts, from the strategy for beginners to advanced strategies for high-roller tournaments – and everything in-between.
You get to learn about tournament strategy from some of the biggest winners, cash game lessons from experienced crushers, and a heads-up course from the man who reached the level at which no other players would sit him.
In this extensive Upswing Poker review, we're bringing you descriptions of all the courses available on the platform. This information should help determine if Upswing has what you're looking for!
Upswing Poker Lab
Upswing Lab is one of the best resources for those new to the game to get your foundations and learn all the basics. The Lab is divided into several main sections, namely:
Cash Games
MTTs
Live Play
Heads Up
Depending on what type of poker you're interested in, you can pick the correct module and get started. Inside each module, you'll find a fairly extensive lesson portfolio, consisting of videos explaining the basic concepts and slowly progressing to more advanced stuff.

In addition to video lessons, the Upswing Poker Lab membership will give you access to several valuable preflop charts for live and online cash games, as well as online MTTs and heads-up play.
These aren't your static charts, though. You can actually pick different options and see the correct ranges. For example, what to do facing a raise from UTG when you're on the button?
You can pretty much select any position and configuration, and charts are available for:
Raise First In (RFI)
Against RFI
Against a 3-bet
As a bonus, you'll also get access to some advanced solver ranges and a private strategy group where you can discuss the game with other players and coaches.
Unlike most other Upswing courses, the Lab works on the subscription model. You can get monthly access for $99, 6-month access for $399, or a full-year package for $699.
This isn't the cheapest training program for beginners out there, but it certainly is the most comprehensive one, and if you're serious about becoming better, you'll easily get your money's worth.
---
Road To Victory by Nick Petrangelo
Tournament poker is easily the most popular game format out there. Those looking to take their tournament game to the next level have many resources they can turn to, but none are as comprehensive as Upswing's Road To Victory course.
Created by Nick Petrangelo, one of the best MTT players around, this course covers the entire strategic plan for MTTs, starting with a general introduction, to preflop play, to deep dive into the postflop strategy.
Petrangelo's course is entirely based on poker solvers, which means it is aimed at serious students of the game.
There are dozens of video lessons, and you'll have to focus and pay attention to get the most out of them.
That said, Nick does a great job of explaining things in a fun and easy-to-follow manner, given that the course focuses heavily on numbers and percentages.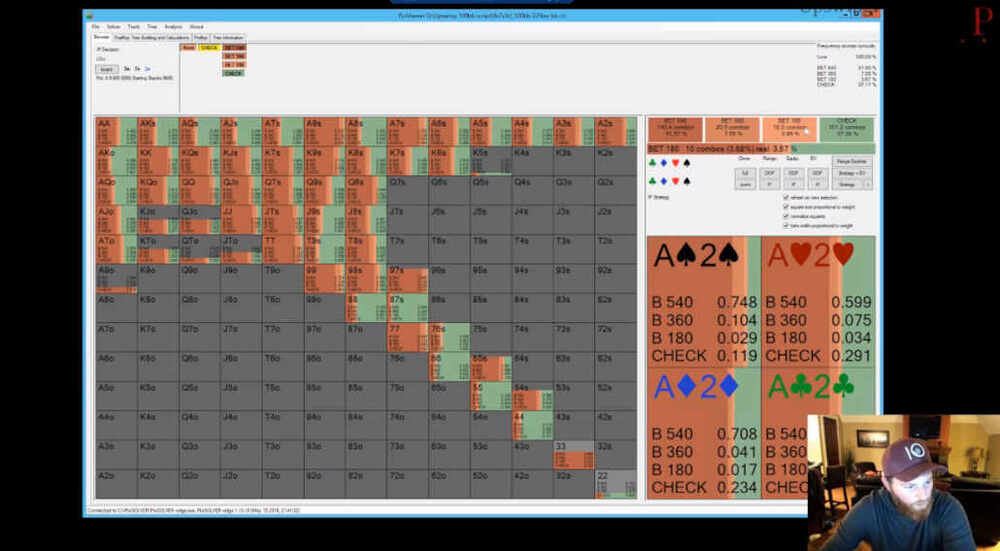 If you're new to poker software, there is nothing to worry about since the intro section of Road To Victory explains PioSOLVER, the tool used throughout the course, in detail. This makes it much easier to keep up with the content.
Lessons inside cover a wide array of topics, such as:
RFI at different stack depths
Blind defense strategies
C-betting different board textures
Turn probes
3-bet pots in and out of position
And much more
At the price of $999, this is a fairly costly course, but Road To Victory gives you the full roadmap to becoming a winning MTT player. If you apply yourself to the lessons, it is easily worth the money.
---
Advanced Cash Game Strategy by Alex 'Kanu7' Millar
A serious course for serious players, Advanced Cash Game Strategy by Alex Millar was created by an online cash game crusher going under the alias 'Kanu7'. One of the most feared opponents on the virtual felt, Alex won over $4.5 million in tracked cash games on PokerStars and Full Tilt Poker.
As the name of the course itself suggests, this one isn't intended for beginners.
This is a high-level course for those who already have a very solid grasp of the fundamentals and are looking to develop further and thrive against tough opponents.
The Advanced Cash Game Strategy course largely relies on the knowledge coming from Millar's private solver, so you can be pretty sure that this isn't a widely available strategy.
Alex takes the time to explain how his solver works in introductory videos, so you'll have no problems keeping up with the lessons.
What you'll get inside is 36 hours of high-level coaching videos, access to almost 300 solver-generated preflop ranges, and access to a private strategy group.
Video lessons cover every aspect of the games, from the theoretical discussion on GTO vs. exploitative play to all the different preflop and postflop spots such as:
Raising First In (RFI)
Blind vs. blind
3-bet and 4-bet pots
C-betting & delayed c-betting
Probing and more
It's fair to say that this course isn't for the faint of heart. Alex takes a very scientific approach to the game, and you have to be ready to go "back to school" for this one. But, the knowledge inside is guaranteed to take your game to a new level.
Like the rest of the courses, this one will set you back $999, but considering its target audience, the price equates to few buy-ins or less, so it's really a bargain.
---
Elite Cash Game Exploits by Uri Peleg
One of the more recent Upswing Poker courses, Elite Cash Game Exploits by Uri Peleg, is a very interesting watch for cash game players playing at higher levels and looking to find an edge in the games where finding an edge can be very tricky.
The course focuses on shortcomings of the GTO strategy in multi-way spots and finding adjustments and exploits that go beyond GTO. Lessons cover topics such as:
GTO in multi-way spots
Hard vs. soft exploits
Importance of preflop play
Player archetypes
3-betting
Bet sizing
Adjusting against different player archetypes
By taking this out-of-the-box approach, Peleg opens your eyes to some very interesting concepts and provides the rationale behind them. He doesn't try to dismiss the GTO approach; on the contrary, he emphasizes its importance but then builds upon it.

This Upswing course teaches you how to look at the players differently, putting them in larger archetype groups and creating an effective exploitative strategy for each different type. It shows you how to properly analyze player stats and ignore white noise.
Elite Cash Game Exploits relies heavily on the solvers, but instead of trying to stick blindly to computer-suggested solutions, Peleg gives you a way to look beyond those numbers on the screen and make full use of what you know about the game and the player to maximize your EV.
---
High Stakes MTT Sessions by Nick Petrangelo
Another Upswing Poker course by Nick Petrangelo, High Stakes MTT Sessions, could be observed as a sequel to the original Winning Poker Tournaments course.
While you don't necessarily have to watch the first one, it makes a lot of sense to do it before jumping into the second one.
As the name suggests, this Petrangelo's course is focused primarily on MTT sessions, i.e., actual play reviews.
Of course, there is still a lot of theory, but that theory is explained through real-life examples from some of the toughest tournaments.
It represents a compilation of action-packed poker hands from Nick's sessions over the years. He prepared the footage that covers interesting spots from the tournaments, cutting the mundane and boring parts out of the picture.
Some of the concepts that this particular course focuses on include:
Multi-way spots
ICM
Blind vs. blind play
For anyone looking to improve their poker tournament strategy, High Stakes MTT Sessions provides heaps of value. The ability to watch one of the best tournament players in the world dissect and explain his own play doesn't have the price.
Or, in this particular case, it does, as it will cost you $999 to see and hear Petrangelo do exactly that, covering, among other things, his win in a $2,100 PKO tournament and a $1,050 High Roller.
---
Heads Up Mastery by Doug Polk
Heads-up poker is arguably the most skillful format of them all, pitching two players one against the other without any other opponents to worry about.
If this format appeals to you and you want to get better at it, Upswing's Heads Up Mastery contains all the information you could possibly need.
Created by the site owner and one of the best HU players of all time, Doug Polk, this is an in-depth course that focuses exclusively on the one-on-one play.
Being the first full course on the Upswing Poker site, Heads Up Mastery doesn't have as good of a structure as the rest. What I mean by this is that all the lessons are contained in a single module, which makes navigation a bit harder.

But that's really the only downside of this course.
As far as the content goes, Polk has done a great job covering a wide array of topics, starting from the introduction to the format, over standard small and big blind spots, 3-bet scenarios, check-raises, value bets and bluffs, and much more.
What's more, with this Upswing Poker course, you'll get to learn how Polk went about solving heads-up poker before poker solvers were a thing. Some particular lessons you can expect inside include:
Intro to heads-up
Small blind play (RFI)
Big blind vs. RFI, 3-bet, and 4-bet
Small blind vs. 3-bets and 4-bets
C-betting
Bluff combos and much more
There are other heads-up courses, each of which takes a different approach. The one by Doug Polk is quite interesting, though, as it is provided by a person who understood the game enough to figure out a lot of math on his own, which is impressive, to say the least.
---
Advanced PLO Mastery by Chris Wehner and Dylan Weisman
After No-Limit Hold'em, Pot Limit Omaha is the second most popular poker variation. It's been gaining a lot of traction lately as players search for new games where they can have a bigger edge over their opponents.
If you're in this group and are looking for a quality resource to help you learn everything there is to know about PLO, Upswing Poker's Advanced PLO Mastery is the course you need.
What's particularly interesting about this course is its extensiveness.

In addition to breaking down the theory of the game in minute detail, it also talks a lot about playing poker professionally and some general aspects of the game that every player should be aware of.
Fundamental tools you'll need
Preflop ranges and strategies
Single-raised & 3-bet pots
How to think about turns
Delayed c-bets
Common river spots
Professional fundamentals
Wehner and Weisman join forces to bring you one of the most comprehensive courses in the market. Weisman focuses more on the general side of things, such as tilt control, bankroll management and downswings, awareness, and more.
He also offers a crash course on how to use solvers.
On the other hand, Wehner performs his role by breaking down the technical side of things, giving you a comprehensive blueprint for your PLO strategy.
From preflop fundamentals, over postflop strategies for c-bets, 3-betting, bluffing, and value betting, to some very specific spots that tend to show up in PLO hands, he teaches you everything there is to know about playing this game well.
It's hard to say if this is the best Pot Limit Omaha course out there, as there are a few other solid candidates. However, the additional content about creating a successful poker career and avoiding some of the common pitfalls provides a lot of extra value.
Advanced PLO Mastery is easily worth $999, as it is guaranteed to make you a better poker player, not just in PLO but in any format you play in addition to it.
---
Short Deck Mastery by Kane Kalas
Short Deck Poker, or 6+ Hold'em, whatever you prefer to call it, is a relatively new poker format that has its fundamentals in regular Hold'em but features some interesting twists and turns. The game gained tremendous popularity in nosebleeds games in Macau and has spread like wildfire.
Whether you want to learn Short Deck just for your own satisfaction or there are actually some juicy games that you want to hop in, Short Deck Mastery by Kane Kalas is easily the best course in the market.
Kalas has the experience of playing and winning in these high-stakes games, and, like the rest of the coaches at Upswing Poker, he has the track record to back him up.
The knowledge he shares inside is guaranteed to help you become a much better Short Deck player.
Short Deck Mastery isn't as comprehensive as some other courses, but it provides a very solid blueprint for everyone, whether you're just starting with the game or have been playing for some time but are looking to fix some leaks and improve in certain spots.
Lessons are divided into four large modules, namely:
Fundamentals – covering the rules, fundamentals, and some specific topics such as the importance of certain blockers;
Preflop – rules, 100 and 50 big blind play, heads-up pots
Postflop – evaluating hand strength on the flop, river play, and adjustments
Play & explains
Kane Kalas presents the lessons in a fun and easy-to-follow way, making the Short Deck Mastery course a great pick for experienced players and novices alike. You won't find a better resource if you want to learn how to play 6+ Hold'em well.
---
Mixed Games Mastery by Jake Abdalla
Another course that's fairly unique to Upswing Poker and that you just won't find on other training sites is Jake Abdalla's Mixed Games Mastery.
As the name suggests, this is the course for those wanting to learn other non-Hold'em games, which makes it more targeted at veteran players. However, it's also great for those players who simply want to expand their knowledge beyond just the most popular variations.
Games covered inside are:
Seven Card Stud 8
Omaha 8 or Better
2-7 Triple Draw
Each module covers the particular game in detail, starting with rules and basics and then moving on to starting hand selection, play by the streets, and heaps of real-life examples.
Jake Abdalla is a mixed games specialist with a natural talent for teaching, making this Upswing course hands-on the best resource for anyone interested in learning winning strategies for the games covered inside.
Even if you're not ready to go completely all-in on this course, just watching some of the introductory lessons will help you tremendously improve your play and avoid many of the common beginners' mistakes.
That said, as you start to watch, you'll have a hard time stopping, as each new lesson helps further build your knowledge and understanding of the game.
If you give yourself enough time to go through all the materials and make an effort to understand the lessons, you'll be ready to take on almost anyone in the mixed games format.
---
Upswing Poker Mini-Courses Selection
In addition to the full-scale courses described thus far, Upswing Poker also offers a series of shorter courses, usually designed to accompany one of the main courses. That said, these can certainly be watched on their own and bring a lot of value, whichever way you look at it.
Red Line Rocketship by Uri Peleg – $499
From the creator of Elite Cash Game Exploits, Red Line Rocketship is a mini-course designed to help you improve your non-showdown winnings.
Inside, Uri covers some of the most common mistakes that cause players to lose money (divided into two large categories) and adjustments you can make to eliminate these mistakes and recognize and exploit them in your opponents' play.
Red Line Rocketship covers concepts such as:
The red line philosophy (theoretical fundamentals)
Over-betting
Bet-check-bet strategy
This Upswing Poker course is certainly quite valuable on its own, but its full potential is unleashed when you combine it with the knowledge from Peleg's Elite Cash Game Exploits.
Just like the main course, this one is aimed at more experienced players looking to devise effective strategies against tougher opponents.
---
Play Like 'LLinus' by Alex Millar – $299

Another cash game course by Alex 'Kanu7' Millar, Play Like 'LLinus', was created for the players looking to really take their game to the next level.
Millar takes a somewhat different approach from his main course and instead focuses on breaking down the strategy of 'LLinus,' one of the most feared online cash game players around.
There is about four hours' worth of video content inside, covering spots such as:
C-betting strategies (broken by different board types)
Delayed c-bets
Turn probes
Exploits
Clearly, this course isn't nearly as comprehensive as the big ones we described earlier. However, it is perfect for the players looking to improve a specific area of their game as they get to see what one of the game's best does, and Alex Millar is there to help and explain the why.
---
Live PLO Dominance by Chris Wehner and Dylan Weisman – $499

A majority of courses on Upswing Poker are geared towards online poker. However, Live PLO Dominance is a small gem you'll find on the site that focuses on strategies for live play of Pot Limit Omaha.
Once again, this isn't a full-scale course, and it's meant more as an addition to Wehner's and Weisman's main course, but there is over six hours' worth of lessons covering numerous adjustments that will help you win more money in the live environment:
Maximizing winnings against soft competition
Playing multi-way pots
Thought-process to help keep you in the game longer, and more
Like Advanced PLO Mastery, Live PLO Dominance combines strategic lessons with more general ones, designed to help build you up as a fully-rounded player ready to take whatever comes your way.
For anyone playing live PLO games, we can wholeheartedly recommend this course. It alone won't give you everything you need to be a winner, but if you already have solid fundamentals, tips, and advice contained inside will certainly see your bankroll increase.
---
ICM Unmasked by Nick Petrangelo – $299
Nick Petrangelo is one of the busiest Upswing Poker coaches, and he clearly enjoys sharing his knowledge with the world.
Petrangelo's ICM Unmasked course represents a great asset for any tournament player out there, regardless of their skill level, as it focuses on one very particular and hugely important aspect of MTTs – ICM.
In the introductory 30-minute video, Petrangelo goes over the basics of ICM – what it is, how it works, and why it plays such an important role.
The rest of this mini-course is divided into two large groups:
Practical application
ICM theory
In the practical application videos, you'll find numerous hands from high-stakes tournaments where ICM considerations are at play. You'll get to hear Petrangelo talk through his thought process in these spots, which is really valuable.
Theory videos cover some theoretical examples and calculations to help you really understand how ICM works and how you can incorporate it into your own play.
---
Brains vs. AI by Doug Polk – $499

Another course by Doug Polk himself, Brain vs. AI: Libratus Analysis, features an in-depth analysis of the heads-up match between the supercomputer Libratus and four Texas Hold'em heads-up specialists.
Libratus certainly took humans by surprise during the match, pulling some unexpected plays and adjustments that pros didn't see coming.
In this Upswing Poker mini-course, Polk takes on the difficult task of going through the match history and breaks down the computer's strategy in minute detail.
Analyzing bet sizes & the game tree
AI-based adjustments
Libratus 4-betting range
Hand history examples
While this one isn't as instructional as the rest of the courses on offer, you can still learn a lot.
Doug goes through many interesting hands and analyzes different tricky spots, trying to figure out why the AI decided to go with certain plays that aren't exactly "solver-approved."
---
How Tom Dwan Plays Short Deck Poker by Kane Kalas – $299
For those interested in Short Deck, this small course by Kane Kalas is another great resource they can combine with the main one to up their game.
The course consists of Kane's analysis of hands played by Tom 'durrrr' Dwan during one of the Triton Series of Poker editions.
This is probably one of the most interesting courses in the mix as it offers plenty of in-game footage, coupled with commentary from Kalas.
That said, there is plenty of valuable knowledge to be found inside, as Kane Kalas does a great job picking up some of the most interesting and trickiest poker hands to break down and explain, focusing primarily on Dwan's decisions.
---
Is Upswing Poker Worth It?
As you can probably conclude from this comprehensive Upswing Poker review, this training platform offers courses for players of all shapes and sizes.
From NLHE tournaments and cash games, over PLO and mixed games, to some specialized courses covering very specific strategic aspects, there is hardly a poker topic not covered on Upswing.
When it comes to prices, it's fair to say that this isn't the cheapest option out there, but for a good reason.
All coaches featured on Upswing Poker are players of the highest caliber.
They are experts in their respective fields, so you can rest assured the information they provide is correct, useful, and up to date.
All in all, if you're looking to become a better player, no matter what your preferred game might be, you simply can't go wrong with Upswing. It is the richest, most comprehensive poker knowledge database available on the internet!
Latest posts by Ivan Potocki
(see all)