Cash games are often considered the most competitive form of poker, requiring players to learn the intricacies of playing with deep stacks, where every decision is simply more important.
Learning how to beat good cash game players consistently is a tall order, but that's exactly what Upswing's Advanced Cash Games Strategy course sets to do.
Created by Alex' Kanu7′ Millar, one of the most-feared high-stakes crushers, Advanced Cash Games takes you on a journey that promises to end by making you a much better player.
'Kanu7′ has certainly proven his worth over the years, consistently winning in some of the toughest lineups against the likes of Viktor' Isildur1′ Blom, Phil Ivey, Patrik Antonius, and many other big names.
In this review, you'll find out what to expect inside the course to help you decide whether it is the right one for you.
Advanced Cash Game Strategy Overview
This Upswing Poker course by Alex Millar consists of over 36 hours of video lessons, and those purchasing it will also gain access to valuable preflop charts.
As suggested by the name, the course targets more advanced players who already have a good grasp of the fundamentals.
It is designed to help those already playing at a fairly high level boost their skills further.
While every player can certainly find a lot of value inside, Advanced Cash Game Strategy is not the best pick for beginners.
Inside, Millar discusses some fairly high-level concepts, and the assumption is that you are already well familiar with basic poker strategy concepts.
The course is divided into four main segments, namely:
Fundamentals
Preflop Strategy
Postlop Play
Play & Explains
Each of these individual sections is further broken down to cover a particular segment of play, starting with your hand selection before the flop and going down to turn action.
The river strategy isn't covered in the Advanced Cash Game Masterclass. 'Kanu7' decided not to include this section as it is way too complex.
There are so many considerations and calculations to account for that he didn't feel he could do it justice. That said, this seemed a bit strange to us.
The good news is, if you master other parts of the course, you will usually have a good idea of your plan by the time you get to the river.
Advanced Cash Games – Fundamentals

The introductory part of Alex Millar's course is the one you'll want to see, even if you have very solid fundamentals.
He begins by explaining what GTO poker is all about but also takes the time to emphasize that GTO isn't always the only way to go.
This only goes to show why 'Kanu7' has been as successful at the highest level.
While he is someone who fully understands GTO and is capable of applying it to the fullest extent, Millar is open to thinking outside of the box.
He wants you to be able to develop this mind-frame and understand the reasoning behind your actions.
A few videos in this section are devoted to the general underlying concepts behind betting. In them, 'Kanu7' talks about how things have changed over the years and how some ideas no longer apply.
For example, range advantage has become more important than initiative, and Millar does a fine job of explaining how this shift came about.
The final few videos of the Advanced Cash Games Fundamentals are the ones you'll want to watch even if you decide to skip the first few.
In them, Alex goes on to explain his private solver, which is used extensively throughout the course. Watching these few videos will make it much easier to keep up with the content later, as numerous hand examples are pulled out from this poker software.
Kanu7 Preflop Strategy
After covering some basics, Millar naturally moves on to talk about the preflop strategy. What you get inside this section includes:
250+ preflop charts
Almost three hours of video lessons on preflop play
The preflop charts were created using MonkerSolver, one of the best available tools in the market. You get presolved charts for differing stack depths as well (50, 100, and 200 big blinds), allowing you to learn properly for somewhat non-standard situations.
Videos in this section cover some general concepts like the importance of adjustments and then cover more specific situations such as:
Playing in the blinds facing an open
Handling 3-bets & 4-bets
Playing in position facing an open
While the video lessons are certainly very valuable, the biggest value in this segment resides with preflop charts.
These are not easy to come by and, on their own, cost a lot of money, so Advanced Cash Game Strategy justifies its price with these charts alone, even if the rest of the content contained inside is not considered.
Advanced Cash Game Mastery Postflop Section
The postflop section of Alex Millar's course is the most extensive one by far. This makes sense, given that the postflop strategy is much more complicated and includes many more variables to worry about compared to preflop.
In total, there is over 25 hours' worth of study materials, divided into several main sections:
In position vs. big blind
Turn play
Small blind vs. big blind
3-bet pots after the flop
The way 'Kanu7' approaches the analysis of these individual sections is a very interesting one. For example, when talking about playing against the big blind, he breaks the lessons down by different board structures, like:
High and low-connected boards
Monotone boards
Paired boards
Disconnected boards, etc.
There is a lot to take in, but Millar does a great job of highlighting and summarizing the most important takeaways. It's also worth noting that his approach is fairly easy to follow.
The Turn section covers some of the most important concepts like delayed c-bets, probes, barrels, and donk betting.
Examples from 'Kanu7' personal solver are used quite extensively throughout the Advanced Cash Games Postflop section, so if you at any point find it difficult to keep up, it might be worth going back to the initial videos, where Millar explains the basics of the software.
The blind vs. blind section is also very interesting, and it will help you further build on some concepts discussed in earlier videos.
With more than one full day's worth of video lessons contained in this chapter, it goes without saying that taking on the postflop section of the course will be a challenge.
It is an advanced course, so the only way to get the full value out of it is by taking the time required to digest the information and slowly incorporate it into your game.
Play & Explain Section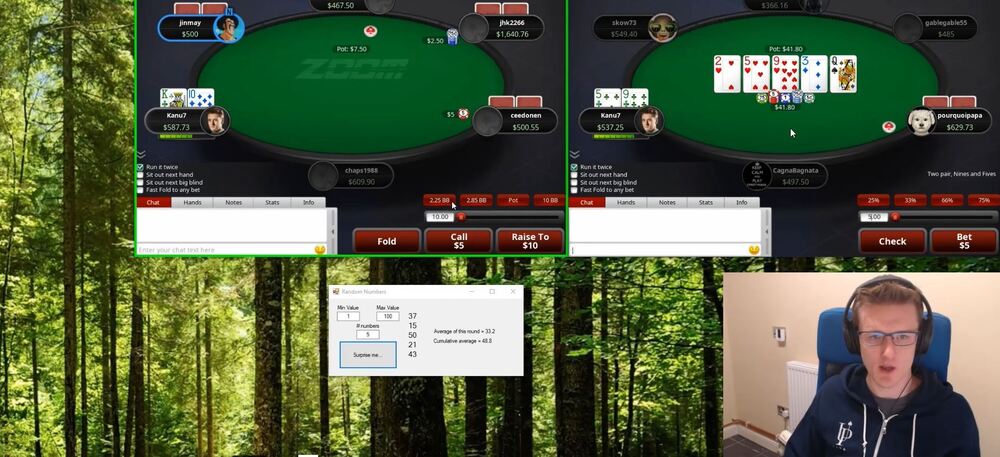 The Advanced Cash Games Masterclass by 'Kanu7' wraps up with a nice Play & Explain section, showing Millar playing NL500 Zoom on PokerStars.
The videos show Millar playing online poker in real-time and putting his theoretical concepts to work.
These play and explain videos represent a valuable addition to the course and will help answer some questions that you may need answers to after watching the course.
Is Advanced Cash Games Mastery Worth Your Money?
Every review of this kind tries to answer whether a particular poker training site is worth investing your money in.
With so many options out there, this isn't always the easiest question to answer.
It's hard to compare Advanced Cash Games Strategies with other cash game courses because it targets advanced players and makes that fact very clear right from the get-go.
If you are not in this particular group and are rather someone just starting and playing at low stakes, this is probably not the kind of course you need.
There are other options more suitable for your level of play.
For the players looking to take on NL500 and above, Advanced Cash Game Strategies might be the best resource currently available.
Alex Millar deeply understands the game at the highest level and teaches you the strategies he's been applying successfully for years to beat the toughest competition out there.
Like any other learning tool, it's not a magic pill that will make things happen on its own.
You'll need to put in the study time to go through the lessons with focus and then do some work away from the tables to actually implement these strategies.
But when you do, you're virtually guaranteed to see your win-rate increase significantly, easily justifying the $999 price tag.
So, to sum it up, Advanced Cash Games Strategy by Alex Millar is an excellent course for advanced players looking for an edge against tough competition.
As long as you have solid fundamentals and have been playing at medium stakes for a while, this course will help you reach that next level!
Latest posts by here2play
(see all)