Phil Ivey Net Worth – How Rich Is the Tiger Woods of Poker?

Phil Ivey is often considered one of the best all-around poker players ever. This explains why his estimated net worth is somewhere in the $100 million range.
If true, this massive fortune would place Ivey at the very top of the richest poker players' list.
But, how close is this number to the truth? If it is, how did Phil Ivey manage to amass such an unbelievable net worth through poker?
If you want to find out how much is Phil Ivey worth, we've done extensive research to bring you all of the details.
Phil Ivey Net Worth – How He Made His Winnings Over the Years
To better understand how Phil Ivey built his estimated $100 net worth, let's start with the basics, career path, and successes at the poker table.
Here's how Ivey's life vocation evolved from his early poker years to the later stages of his superstardom.
Getting Into Poker & WSOP Success
Compared to most poker legends, Phil Ivey got into poker relatively late. He started playing poker more seriously against his co-workers in one of New Jersey's telemarketing firms he was working in during the late 90s.
Soon after, he decided to test his skills on a professional level.
He didn't wait long to see his first poker success on the world's biggest stage, the World Series of Poker.
His first WSOP bracelet came in 2000 when he became the first person to defeat the legendary Amarillo Slim heads-up at this competition.
Impressive as this was, it was just a small career step compared to his career-defining success that came two years later.
In 2002, Ivey won three WSOP bracelets, becoming only the fourth person to do so. This sudden and massive success earned him the nickname "The Phenom."
The Phenom's WSOP Run Through the Years
From 2002 to 2014, Phil Ivey went on to win six more WSOP bracelets and climb up the ladder to take joint second place with Doyle Brunson and Johnny Chang.
But, Ivey's success carries even more weight, as he managed to achieve all of this by the age of 38, making him the youngest poker player to win ten WSOP bracelets.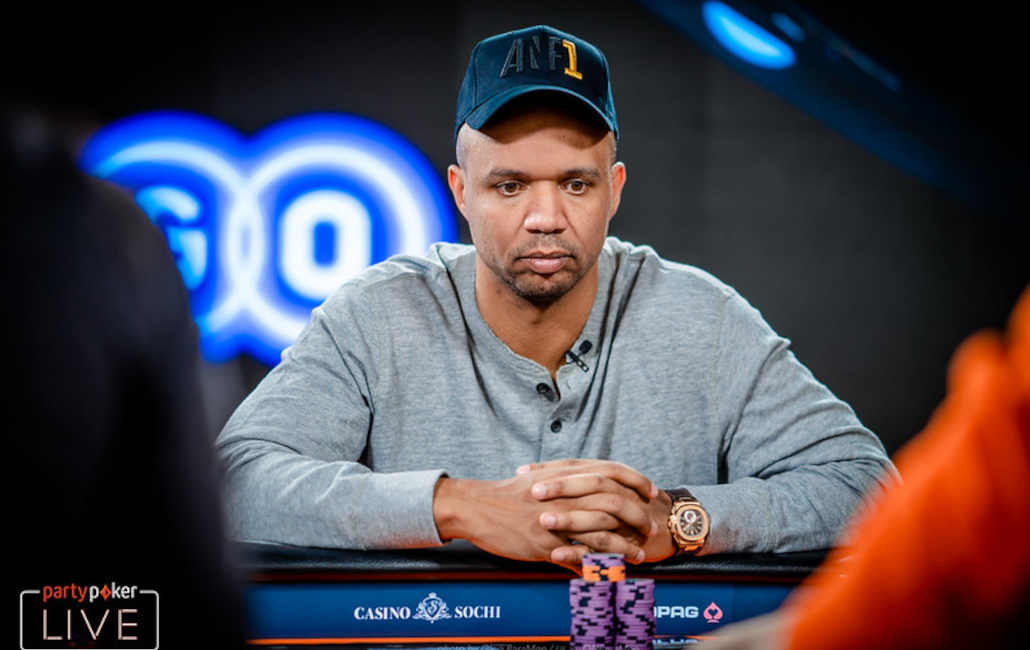 Images courtesy of PokerGO
If this isn't impressive enough, Ivey is the fastest player to get to ten bracelets. It only took him 14 years, while the next fastest player, Phil Hellmuth, achieved this milestone in 17 years.
He also holds the record for most bracelets won in non-Texas Hold'em events, as all of his ten bracelets come from such events. To this day, his biggest WSOP win was the 2005 $5,000 Pot Limit Omaha event, in which he won $636,603.
Phil Ivey's Five Biggest Career Prizes
Phil Ivey has seen his share of $1+ million wins. But, a handful of them stand out as his biggest successes, money-wise. With that in mind, here's a highlight of Phil Ivey's five biggest career prizes:
5. $1.5 Million – LA Poker Classic, Los Angeles
Starting off the list of Ivey's biggest career wins, this one came in 2008, after a couple of years of bad results.
The $1.5 win was the perfect way for Ivey to bounce back and get on the track of winning more WSOP bracelets in the next few years.
4. $1.6 Million – Triton Poker Super High Roller Series, Budva
The No Limit Hold'em event at the Triton Super High Roller Series in Budva, Montenegro, has seen some massive wins over the years.
And, while Phil Ivey only took third place in the 2018 event, this was enough to win him $1.6 million.
3. $1.7 Million – Aussie Millions Poker Championship, Melbourne
The least lucrative of his three Aussie Millions first-place positions, this win at the 2015 installment netted Ivey over $1.7 million.
To achieve this, he defeated a star-studded final table that included Mike McDonald, Eric Seidel, Scott Seiver, and Doug Polk.
2. $2 Million – Aussie Millions Poker Championship, Melbourne
Ivey's second-biggest career win is his first Aussie Millions win in 2012. Beating Patrick Antonius and Gus Hansen at the final table, Ivey won just over $2 million in the $250,000 No Limit Hold'em Challenge.
1. $3.5 Million – Aussie Millions Poker Championship, Melbourne
To top off his amazing successes in Melbourne, Ivey's biggest career win also came in the same city, this time in the 2014 Aussie Millions.
Like in the previous two cases, he finished in the first place. In this particular competition, he bested several well-known poker pros, including the celebrated Canadian pro Daniel Negreanu.
Other Activities That Boosted the Net Worth of Phil Ivey
Before we get deeper into the profits Phil Ivey didn't win at the poker table, let's go over the amounts he did win playing the coolest gambling card game.
Looking at his poker winnings alone, Phil Ivey ranks in the top ten list in terms of total career winnings among poker players.
His total career winnings made from live poker games surpass $35 million. This also makes him one of a small number of poker pros that have managed to pass the $35 million mark.
But, this makes up just around a third of his total net worth. The rest came from many different outlets.
For example, as one of the most marketable poker players globally, Ivey has frequently partnered with different poker rooms and casinos to promote their offers.
While there's no public information on how much he earned from these partnerships, the low estimates still range in millions of dollars.
Besides this, Ivey has also partnered with Masterclass, a popular website that features courses on many different topics.
Alongside Daniel Negreanu's poker course, Phil Ivey's Masterclass course is arguably the best one you'll find on this platform.
Apart from proving his skills as a poker player and influential personality in his line of work, Ivey has also conducted business behind the scenes in this industry.
Most notably, he founded Ivey Poker, a play-for-free app that allows players to compete against him and other poker pros.
He also founded a poker training site called Ivey League in 2014. And although this website stopped producing new video content, at one time, it was a super-popular site for those wanting to learn poker.
Ivey even onboarded famous poker players like Patrick Antonius and Jennifer Harman as instructors, alongside himself.
Baccarat Wins and Scandals
A portion of Phil Ivey's net worth could also be owed to his successful baccarat career. While he doesn't consider himself a professional baccarat player, Phil Ivey has certainly seen some massive wins playing this game over the years.
He recorded several multi-million dollar wins at baccarat tables around the world.
However, not all have been scandal-free. Several casinos accused Phil Ivey of cheating at baccarat by using edge sorting.
The famous Borgata Casino even sued him for over $10 million that he won playing this game. The parties eventually agreed to a settlement that undoubtedly dented Ivey's net worth.
Phil Ivey's Poker Style – Mindset and Intimidation
Phil Ivey shares second place on the all-time WSOP bracelet winners list, with ten bracelets. Moreover, he has won these ten bracelets by playing many different poker variations.
This is a true testament to his greatness and versatility as a poker player.
So, what helped Phil Ivey achieve so many successes over such a long period that spans from 2000 to today?
Many poker professionals agree that Ivey has an uncanny understanding of poker fundamentals. He just understands the game, a talent that is very challenging to master with training.
Additionally, it's hard to dissect Ivey's game compared to other poker pros, as he still keeps it hidden even after many years.
This is due to his impressive ability to adapt and zone in on his opponent's weaknesses. So, no matter who he's facing, he always manages to develop a counter-strategy.
For this reason, Ivey is considered the best all-around player by many of his contemporaries.
Lastly, Ivey is often described as an intimidating player. Most poker players who faced him say that playing against Ivey can often be a scary experience. This isn't in the sense that he's hostile or unpleasant.
But, he's often so calm and collected at the poker table that he seems out of this world. Plus, Ivey's poker face is legendary, and many poker players, particularly less experienced ones, are intimidated by his larger-than-life appearance.
Phil Ivey – The Tiger Woods of Poker
While you should always take some numbers with a grain of salt when talking about what is Phil Ivey net worth, the sheer successes at the poker table and beyond make his $100 million net worth believable.
After all, Phil Ivey has been one of the best poker players in the world for two decades. He was even elected into the Poker Hall of Fame in 2017 and is rightfully nicknamed "The Tiger Woods of Poker".
With all of that said, Phil Ivey also doesn't shy away from sharing his wealth with the less fortunate.
Over the years, he has given his money to countless charitable organizations. This includes donating money directly and organizing various philanthropic events that collect money for different causes.
Latest posts by Ivan Potocki
(see all)