How to Play Online Poker With Friends – Free Options for You

Online poker has developed significantly over the past few years. There are now countless options available for players to enjoy this game from the comfort of their home.
With modern online poker rooms and live casinos, you can experience the thrill of poker against real opponents.
That said, most players usually play against strangers in online rooms and don't know how to set up things to play online poker with friends. If you're one of them and want to go head to head with your buddies in Texas Hold'em, you've come to the right place!
On this detailed page, we'll help you choose the best online poker site and guide you through the setup process so you can finally play poker online with friends.
How to Play Online Poker with Friends
Playing poker online with friends is simple and doesn't take much effort to set up. The first thing you have to decide is what game format you want to play. When playing poker with friends, you'll have two formats to choose from. They are:
Online Cash Games – More suitable if you and your friends are primarily playing for fun and don't want to make the games very serious or competitive. In online cash games, no one can get eliminated, as players can simply rebuy if they lose all of their chips.
Online Tournaments – If you and your friends have played poker together for a while, online poker tournaments can elevate your sessions to a completely different level. They are competitive and exciting, and everyone takes games more seriously during tournaments. Plus, there's nothing better than busting your friend out of a game with a big poker hand.
What option you'll go for is entirely up to you. Both are very easy to set up, so it really boils down to what format you enjoy more. Of course, there is nothing preventing you from mixing things up as well between cash games and tournaments.
Is it Legal to Play Poker Online With Friends?
One of the most common questions many players have before they start playing online is if it's legal to play online poker with friends in the country they live in.
While the legal aspect of the game may deter some from playing online with their friends, there's really no reason for this.
A simple rule of thumb for playing on major poker platforms is that if the site is available in the country you live in, you can play without legal implications. Reputable and regulated poker sites provide their services only in areas where they're licensed to do so.
With this in mind, there's no reason to worry about the legality of the game, especially when playing free online poker with friends.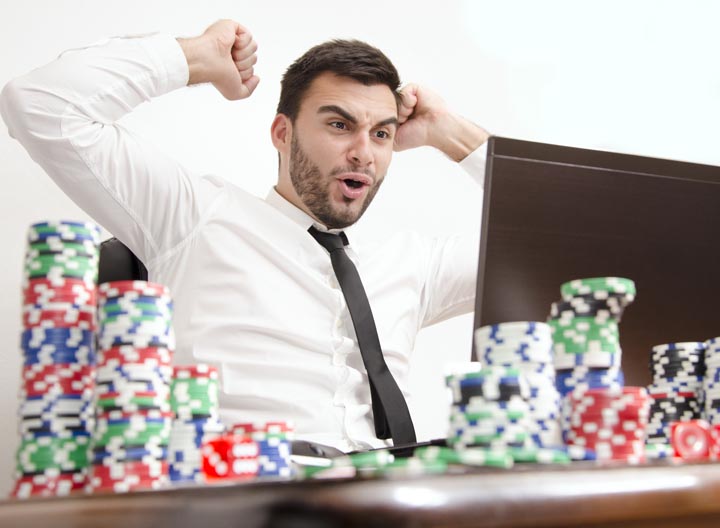 You can even do it for real money, as long as you're playing on a legal and licensed site, like the ones we'll talk about in the next part of this guide.
Best Places to Play Free Online Poker With Friends
The online poker industry is massively popular in all corners of the world, and there are countless free and real money online poker platforms available on the Internet.
That said, two top options stand out from the crowd – PokerStars and 888poker. Let's take a detailed look at what both have to offer and how you can play poker with friends at each of the two:
Play Poker With Friends on PokerStars
PokerStars is by far the most popular poker platform in the world and the best choice for everyone who wants to enjoy online poker with friends. It's a robust and complex site with tons of great features that ensure the ultimate online poker experience.
The website has a section called PokerStars Home Games. It allows you to create a private members' club with your friends and organize cash games and tournaments.
To enjoy everything PokerStars has to offer, you'll first need to set up PokerStars Home Games. We've created a detailed step-by-step guide you can follow to make sure everything goes without a hitch. Here's how to set up PokerStars Home Games on your device:
1. Download the PokerStars App
The first thing you need to do is download the appropriate PokerStars app for your device and register an account with the platform. If you're a first-time customer, you'll also likely be up for a nice welcome promotion.
2. Create Your Poker Club
Once you've registered an account and opened up the app, navigate to the PokerStars Home Games section. Choose the option "Create a Poker Club." Think up a unique club name and a strong password.
3. Invite Your Friends
When you have everything set up, it's time to invite your friends by sending them an invitation and any extra necessary information.
You can also manage your poker club in many different ways, customize it with different colors and themes, and give out admin positions to your friends.
4. Pick Your Games and Start Playing
The last thing you need to set up before you can start playing is the game itself. When creating the game to play with your friends, you'll have a ton of options to tailor and customize.
The most significant ones include the type of game you want to play, format, number of players, payout structure, starting stacks, game speed, and even currency.
An important thing we want to highlight is that not all PokerStars Home Game features are available cross-platform.
For example, if you're playing on your mobile phone, you will be limited in your experience to create new clubs and games. However, you'll still be able to join existing private clubs and play games in the clubs you're already a part of.
Play Online Poker With Friends on 888poker
Besides PokerStars, 888poker maintains a reputation of being one of the biggest online poker providers worldwide.
If you're looking to try out their poker platform, check out this simple and easy-to-follow setup guide. Here's how to play poker online with your friends on 888poker:
1. Download and Register
To create a poker room for your friends, first, you'll need to download the 888poker client or the appropriate mobile app based on your mobile OS. You also have to register an account with the service, which you can do entirely for free.
2. Log In and Open the App

Once you've created an account with 888poker, you can log into the service and proceed with the setup process. Navigate to the "Extra Games" tab and choose the "Play with Friends" option.
When prompted, choose to create a new game. Alternatively, if one of your friends has already created a game, you can just jump in and start playing.
3. Choose a Type and Create a Game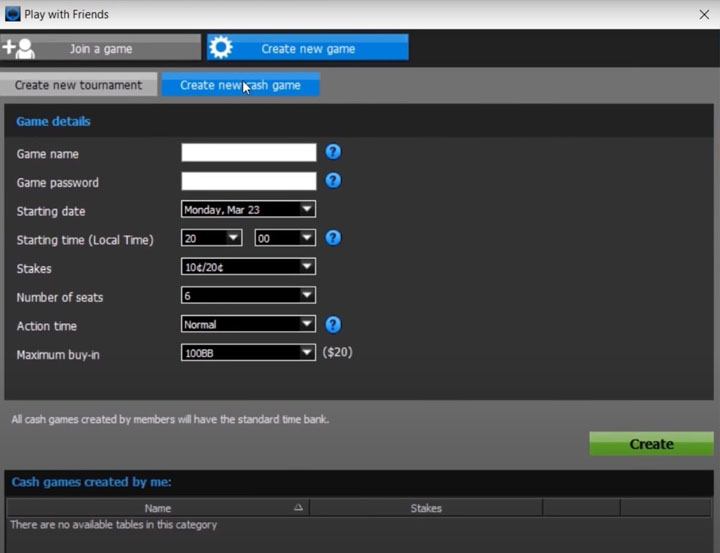 In this step of the process, you'll need to decide whether you want to create a tournament or a cash game. Depending on which option you go for, you can tailor a number of different settings and criteria to make your private game unique.
You'll also find a "More Options" tab to set specific conditions like rebuys, add-ons, blinds levels, and more.
Once you've created the settings you want to play the game under, click on "Complete" to finish making the game.
4. Invite your Friends and Start Playing!
Your created game will appear in the lobby. All that's left now is to invite your friends and start playing. You can do so through several methods. The most convenient one is to type in your email address, as you can see from the screenshot above. 888poker will send you the game info, and you just need to forward it to your friends' email so they can log in.
Another option is to copy the room info and paste it into your friends' inbox on one of the social media platforms they're using.
Start Playing Poker With Friends Right Away!
With the setup information we've shared with you on this page, you now know everything you need to enjoy free online poker with friends.
Both PokerStars and 888poker are very flexible, and you can play poker even with only one friend. Both services are free, so all you need to do is complete the quick sign-up process without any hidden costs or fees.
Moreover, you can play both free online poker with friends or do it for real money. Playing poker online with friends has never been more enjoyable or convenient than it is now.
Both sites are safe, reliable, and proven to offer high-quality content to poker enthusiasts. Sign up with PokerStars or 888poker today, hit up your friends, and let the fun begin!
And, if you want to be ready and take your friends by surprise with some new skills and strategies, check out these top Hold'em tips from the best players.
Latest posts by Ivan Potocki
(see all)