Bravo Poker Live – How to Use This App to Find Poker Games

Have you always wondered if there was an easy way to find poker games and tournaments near you without having to actually go to the casinos and check for action?
If so, Bravo Poker Live is the best mobile app you will want to have installed on your phone. The app allows you to find live poker games but also do a lot more.
Bravo Poker Live is available as a website as well, but for ease of use and convenience, downloading the Bravo Poker app is probably the best way to go about it.
Let's take a look at what Bravo Live Poker is, how it works, and how you can use it to get access to the best poker tournaments and cash games around.
What Is Bravo Poker Live?
Bravo Poker Live is a mobile app developed by Genesis Gaming Solutions and available for both iOS and Android devices.
Once you have the app installed on your phone, you will be able to browse through dozens of the biggest poker rooms across the US and find a variety of details on them.
Most importantly, this live poker app gives you a full rundown of cash game action in real-time, with the operators updating the number of tables across the stakes.
With the app, you will be able to assess the situation at any given casino and decide which poker room is the best to make a trip to for some quick action.
While this may be the most commonly used function of the app, it also offers detailed insight into daily and special scheduled tournaments that the casinos and poker rooms are running on any given day.
The best thing about Bravo Poker Live is that, unlike many other internet resources, it offers up-to-date and accurate information that you can rely upon.
This is especially the case when we are talking about the bigger poker rooms that have a lot of action, which will probably be the most interesting to you anyway.
Getting Started with Bravo Poker Live
Bravo Poker Live is available as both a mobile app and a website, which means you can access it from your desktop computer or your mobile phone.
If you visit the Bravo Poker website, you will be able to enter any ZIP code and search for poker rooms near it.
On the other hand, the Bravo Poker app will give you a bit more convenience in that it will automatically find the poker rooms nearest to you.
Once you have downloaded the app from the respective app store, you will be asked to enable your geolocation while using the app. When you have done this, the app will know where you are and be able to list the rooms in the right order.
After you refresh the app, you will be shown a list of all the nearest poker rooms you can play at, along with the number of live poker tables running.
What You Can Use Bravo Poker App For
Now that you know how to get and set up the Bravo Poker Live app let's talk a little about how you can use this app to help you with your poker career.
There are a few very useful features that the app offers that will help make your life as a live poker player a lot easier, so let's take a look at what they are.
Live Cash Game Tables
The most prominent feature of Bravo Live Poker is the ability to list all the nearby poker rooms and see all the live cash game tables running there.
On the home screen, you will immediately see the number of cash game tables running at the poker room in question, telling you if there is a lot of action in a particular place.
Once you click on one of the rooms, a new window will open up, detailing the games running at the moment.
Since the poker rooms update their lists frequently, you will be able to see the exact games and stakes that are running, as well as the number of games running at each level.
For instance, you may see that there are 10 tables of $1/3 Texas Hold'em in a particular room, meaning there will be action waiting for you upon arrival.
If you are looking for a more specific game or stake, you will have to look around a bit. Either way, the app will help you find exactly what you are looking for.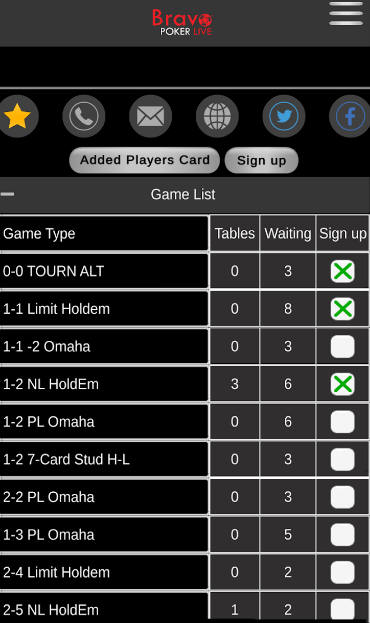 Poker Tournaments
If you are looking for some live tournament action instead of cash games, Bravo Poker Live can still help you quite a bit.
For each poker room listed, the app offers insight into the daily poker tournaments running there, as well as any scheduled series or special events coming up.
The app displays a variety of details about the tournaments, such as starting time, buyin, guaranteed prize pools, level duration, and much more.
With the Bravo Poker app, you will be able to find a live poker tournament near you at any time of day or night. You won't need to guess or visit dozens of websites to find out what's happening at which casino.
Poker Room Promotions
Another useful feature of Bravo Poker Live is the ability to see what promotions each poker room is running at any time.
Many of the listed casinos and poker rooms list their promotions in details, allowing you to quickly understand what's up for grabs.
Special promotions such as leaderboards, bad beat jackpots, added money tournaments, and more are all listed in this section.
If you are someone who loves some extra value and always wants to find the best deal, Bravo Live is one of the best assets you can get.
Live Tournament Clock
For many of the poker rooms out there, Bravo Poker Live also displays the tournament clocks of the events currently going on.
If there is a poker tournament going on at the casino, you will be able to see the tournament clock in more or less real-time.
The tournament clock will show you the number of players entered into the tournament, the remaining players, the prize pool, and other relevant information, as well as the current level, the time remaining until the next break, etc.
With this feature, you will be able to get full insight into the live poker events going on at nearby casinos and jump into play at just the right time.
Search and Filters
If you are looking to play a very specific poker game, you will be able to use the search function and filter out the games you don't want to see.
For instance, if you are looking to play $5/10 PLO, you will be able to only display casinos that actually have such a game running at the time.
This will save you some time of going through casinos with the wrong games and allow you to get right into the game you want to play.
The search function saves time and allows you to quickly and effectively find the games you want without much hassle.
Bravo Poker Live Design & Coverage
Bravo Poker Live is certainly one of the best mobile apps of its sort, but it is not without its faults and downsides.
Primarily, the app's design is quite outdated and could easily be updated to make the app much more intuitive and simply nicer to look at.
While the actual usability of the app is not hampered by the poor design and the ugly color scheme, redesigning it to make it look more modern would make the app a lot more appealing to players.
What's even more, the app hardly covers any poker rooms outside the USA. This is quite a big drawback considering the international nature of poker these days.
To make the app even better, the folks behind Bravo Poker Live could add a number of European poker rooms, namely the ones in London, Rozvadov, Prague, Bratislava, Malta, and more.
Allowing players from other parts of the world to get the same kind of service would be a great innovation and is one we can only hope to see in the near future.
All that said, Bravo Live Poker remains one of the best poker apps live poker players can have on their phones, provided they live in the right part of the world.
Do I Need Bravo Poker Live?
If you are a poker player living in the US and playing in live poker games or tournaments, Bravo Poker Live is a must-have app for you.
No other app offers as much insight into the live poker action across the country as Bravo, making it something you should definitely look into.
The app is not without its downsides, but it can't really hurt to have it on your phone. The one big upside of the app is that the information found there is nearly always right and up to date.
Whether you live on the west coast, east coast, or Las Vegas, plenty of poker rooms near you are available through Bravo Poker Live and could be at your fingertips within minutes.
Download the Bravo Poker Live app now to try it out and give yourself the best chance of finding the right poker game for you tonight.
Latest posts by Ivan Potocki
(see all)