Top Female Poker Players of All Time – Do You Know It All?

The popularization of the game among the female audience has given rise to many talented women who have shown that they can hold their ground against even the most experienced male poker players.
No longer is poker looked at as a strictly male game.
Many ladies have helped shape a different stage in the years behind us, and with tools like Poker Tracker 4 and others available to anyone looking to learn, we are bound to see more and more women into this game.
From veteran female players who have been in the game since the 70s to young up-and-coming talents, female poker's landscape has never been healthier or looked more promising than it is today.
That said, few women stand out at the very top of the game.
This may be due to their earnings, tournament wins, or due to the importance of their role in molding the poker industry into what it is today. Here are the top ten best female poker players of all time based on their success in the game and total career winnings.
Joanne Liu – $3,295,124
Starting our list of the most successful poker women of all time, Joanne Liu is also the most successful female poker player to come from Taiwan.
Born in this small East Asian country, Liu came to the US to study computer engineering at Bradley University. After finishing college, she took a job as a software engineer, during which time she first experienced contact with poker.
After falling in love with the Texas Holdem poker game, she started playing it professionally in 1996 and has never looked back since.
During her long and prosperous poker career, JJ Liu, as she's also known, has garnered 59 total cashes. Forty-two of these have come from the World Series of Poker events.
Her biggest live cashout came in 2007 when she took second place in the World Poker Tour in San Jose. This achievement netted her exactly $600,000 and pushed her to second place on the Taiwan all-time money list, right behind the legendary James Chen.
JJ Liu won many poker tournaments during her career. Her most notable wins include the 2008 Deep Stack Extravaganza IV, the 2016 Goliath Phamous Poker Series, and the 2005 World Poker Challenge in Reno. She is also a World Poker Tour Main Event winner.
Aside from a very rewarding career in poker, JJ Liu is also a successful real estate investor. She leads a very private life outside of poker and likes to travel frequently. She's also a gifted piano player.
Maria Constanza Lampropulos – $3,377,914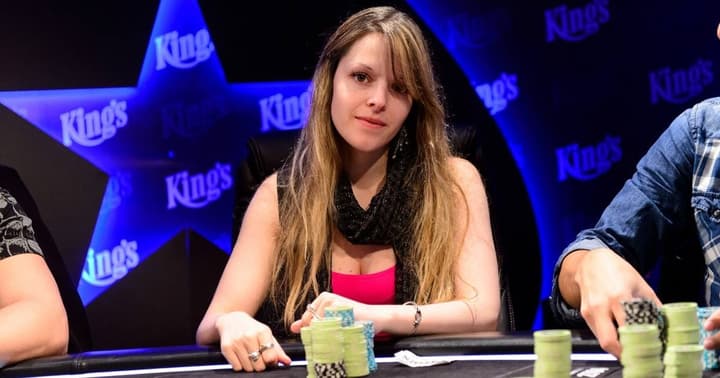 Maria's life and career path are very different from what most people go through. Born in Greece, of Argentine nationality, and living in England, Maria Constanza Lampropulos is undoubtedly one of the most exciting and successful female poker players of all time.
With total career winnings surpassing $3.3 million, she is the top-earning female player from South America.
She is ranked in third place among the most successful Argentinian poker players of all time.
She spent most of her early life in Argentina, where she met fellow poker professional and her now ex-boyfriend, Ivan Luca. Luca is the most successful Argentinian poker player of all time and a big reason why Maria got into the game in the first place.
She frequently traveled to poker tournaments with him and began her poker career in 2014. Her first earnings from poker came at the end of 2014 when she won a little less than $3,000 for finishing 188th in the Brazilian Series of Poker.
Over the years, she's built up a reputation of being very successful in high stakes games and has recorded two very notable wins. The first one came in 2017 when she won the partypoker Millions Dusk Till Dawn in Nottingham, for which he earned over $1.2 million.
Her second-largest win came a year later when she took 1st place in the PokerStars Caribbean Adventure and over $1 million. Maria is also the 2018 GPI National Player of the Year award winner.
Vanessa Rousso – $3,554,327
Nicknamed Lady Maverick, Vanessa Rousso is a perfect example of a jack of all trades. Besides being a professional poker player, she is also a successful attorney, DJ, and television personality.
Although some of these things don't go together in the slightest, Vanessa has proven that she can be successful in all of these fields simultaneously.
With total career earnings topping $3.5 million, Vanessa's single biggest win came in 2009 when she finished 1st in the European Poker Tour Monte Carlo Grand Final.
Thanks to this win, she went home with $700,000, by far the most profitable win of her career. Although she hasn't managed to win a World Series of Poker bracelet so far, she currently has 17 money finishes in WSOP tournaments, alongside one final table in the World Poker Tour. It looks like she knows much more than just hand selection or how to interpret VPIP poker stats of her opponents.
Regarded as one of the sexiest female poker players in the world, Vanessa has enjoyed lucrative sponsorships during her entire playing career.
She was sponsored by PokerStars, appeared in Sports Illustrated, and had a promotional deal with GoDaddy during her career.
She's worked with American Poker Player and Forbes. Except for her poker activities, Vanessa has been extensively present in the public light during her playing career.
She appeared on the Million Dollar Challenge in 2009 and was a celebrity judge on Bank of Hollywood. She's also participated in season 17 of the Big Brother show, finishing in 3rd place.
Liv Boeree – $3,852,996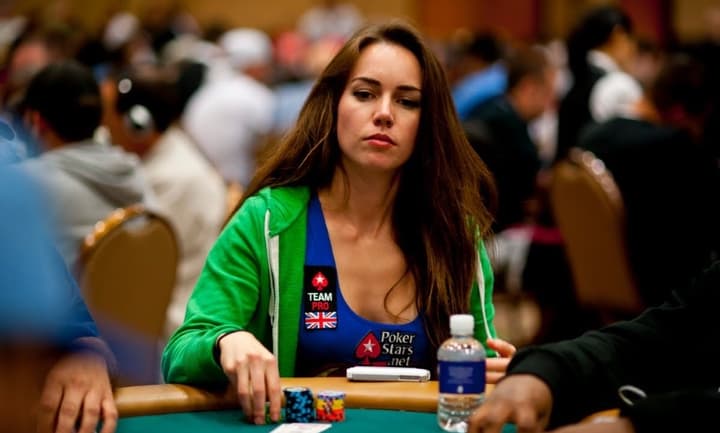 Liv Boeree is a science communicator, television presenter, and, lest we forget, one of the best female poker players of all time.
Born in Kent, England, she studied at Ashford School and received a First Class Honours degree in Physics and Astrophysics at the University of Manchester.
Boeree never planned to become a professional poker player until the autumn of 2005.
During that period, she was selected as one of the reality television show participants show Ultimatepoker.com, during which she met and was coached by noteworthy poker players such as Phil Hellmuth, Annie Duke, and Dave Ulliot.
She is a World Series of Poker champion, having won her bracelet at the 48th WSOP tournament in the Tag Team No-Limit Hold'em Championship Event. Aside from this win, she has a total of 20 money finishes in World Series of Poker events.
However, money-wise, her career's biggest win came in 2010, when she took 1st place in the European Poker Tour in Sanremo. For this remarkable achievement, she won the first prize of € 1,250,000 ($1,698,300).
During her super prolific career, she has earned the intimidating nickname the Iron Lady.
Boeree has won numerous accolades. Most notably, this includes three Global Poker Index awards for European Female Player of the Year. She's also been a Team PokerStars Pro member from 2010 to 2019 when she announced her retirement from the game.
Annette Obrestad – $3,942,232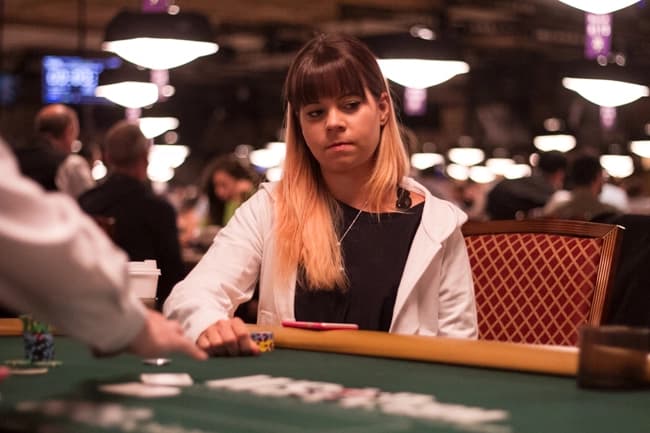 Born and residing in Norway, Annette Obrestad started playing poker when she was only 15 years old. She started in online poker rooms using the nickname "Annette_15".
Since her playing at this age would be illegal, Annette claims she never deposited any money into any poker site at that time. Instead, she was raking profit only by taking maximum advantage of freeroll poker tournaments.
After turning 18 years in 2006, Annette immediately jumped into the pros.
She didn't wait long for her first successes. Between September 2006 and February 2007, Annette has already banked over $500,000 on PokerStars and over $200,000 on UltimateBet.
Her best live cash win came when she was only 19 years old, in 2007. She took home a little over $2 million for winning the 2007 World Series of Poker event in London.
This massive win amounts to over half of her total career earnings. For this win, she also received the 2007 Tournament Performance of the Year award.
Although she hasn't officially retired from the game, it's clear that she's not that much interested in pursuing poker earnings, as she has seldom participated in any tournaments over the past few years, especially since 2018. She is currently at 2nd place on the all-time Norwegian poker money list, right behind Felix Vincent Stephensen.
Aside from her illustrious poker career, Annette also runs a YouTube channel called Annette's Makeup Corner, where she uploads makeup advice and tutorials and enjoys a relatively large following of over 41,000 subscribers.
Even though her poker career has taken a backseat to other ventures that interest her, we all know that underneath the makeup is one of the best female poker players of all time.
Maria Ho – $4,074,271
Maria Ho was born in Taipei but moved to Los Angeles, USA, when she was only four years old, where she still lives.
She started playing poker reasonably late, only when she began studying at UCSD. But, unlike most of the best poker players who have developed a passion for the game, Maria didn't quit college to pursue a professional poker career. She finished college and started building up her bankroll slowly before embarking on her poker pro path.
Although among the top five all-time female poker earners, Maria Ho hasn't managed to win a World Series of Poker bracelet, recording 63 money finishes and five final tables at WSOP events.
The closest she came to clinching a WSOP bracelet was at the 42 World Series of Poker tournament, when she came in second, behind Allen Bari. This placement also earned her her biggest career win, totaling a little over $540,000.
Aside from WSOP competitions, she saw the most success in the World Poker Tour, where she won one title and recorded four total finals tables. She's been a celebrity spokesperson and poker commentator for several broadcast teams and stations.
Most notably, she worked as a break desk commentator on ESPN's coverage of WSOP from 2017 to 2019, working alongside fellow poker player Kara Scott.
Outside of poker, Maria has pursued her passion for television and has participated in many primetime shows. Most notably, she was in "Hollywood Week" on season 3 of American Idol. She also participated as a celebrity guest in the game show Deal or no Deal.
Much like Annette, she also runs a YouTube channel, but not one revolving around makeup, and isn't as active on the platform as Annette. She occasionally posts poker-related content and streams her online poker games. She is also a 2018 Global Poker Awards winner.
Annie Duke – $4,270,548
Annie Duke hasn't played poker until she was 22 years old and moved into the pros only at age 27. Despite the reasonably late entry, she managed to climb the ladder and become one of the most successful female poker players of all time during her two-decade-long career.
Although she's seen success in many different tournaments, two major wins have marked her professional poker career.
The first came at the 2004 World Series of Poker, during which she won the No-Limit Hold'em Tournament of Champions. This achievement won her first and only WSOP bracelet, as well as the most significant career money prize, totaling $2 million.
The second most important win of her career came six years later, in 2010. Playing the $20,000 No-limit Hold'em event at the NBC National Heads-up Championship in Las Vegas, she beat Erik Seidel and several other notable players to win first place. This win earned her $500,000.
Annie Duke hasn't played poker professionally since 2012, but the mark she made on the female poker landscape during her long career still stands strong.
During her poker career, she was known as a strong advocate for online gambling's legality and the poker players' rights to control their image on major online platforms. She's also the co-founder of the Epic Poker League, of which she was the executive VP and commissioner from 2011 to 2012.
Annie is a recognized writer, having published several instructional books for poker players, including her two best-known ones, Decide to Play Poker and The Middle Zone. She also does speaking engagements for businesses.
Outside of poker, her notable work includes the Ante Up for Africa non-profit organization, which she co-founded with famous Hollywood actor Don Cheadle.
Kristen Bicknell – $5,098,014
Born in Canada, Kristen Bicknell drew inspiration from one of the biggest legends of the female poker scene, Jennifer Harman. She is a two-time Global Poker Awards winner, having won the award in 2018 and 2019. She is also the 2017 Female player of the year and the 2018 GPI National Player of the Year.
During her prolific poker career, Kristen has been more known for her consistent performances in tournaments rather than huge one-off wins.
Her biggest live cash win came only a few years ago, in 2019, when she won the 2019 Poker Masters in Las Vegas. For this win, she got a little over $400,000, less than ten percent of her total career earnings.
In terms of World Series of Poker bracelets, Kristen is one of the most successful female players of all time. She has three WSOP bracelets, and, considering that she's still at the height of her career, it wouldn't be a surprise if she collects a couple of more along the way.
Her first WSOP bracelet came in 2013 and her second one in 2016. She also won a bracelet in the 2020 WSOP Online tournament.
In total, she has 33 money finishes in the World Series of Poker. Her consistency isn't only limited to WSOP tournaments, as Kristen has been a solid performer in the other two major tournaments as well. She has four money finishes and two final tables at the EPT, and five money finishes with one final table at the WPT.
Kathy Liebert – $6,309,851
Although Kathy Liebert isn't one of the firsts ladies in the professional poker world, she has played a significant role in pioneering the game for all other female players that came after her. In a career that spans nearly three decades and with total earnings surpassing $6.3 million, Kathy Liebert experienced her first win in 1994.
Known for her professional and calm demeanor around the felt table, Kathy Liebert has garnered the nickname "Poker Cat".
She's recognized for her excellent ability to defend her chips and read her opponents.
She started her career in poker as a prop player in Colorado. To her admittance, she never saw her as a pioneer and wasn't trying to pave the way. Instead, she played the game because she loves it, and that's why she persevered through the years and achieved such great successes in it.
Kathy's first and only World Series of Poker bracelet came in 2004 when she topped Kevin Song in the $1,500 Limit Hold'em Shoutout. She has also recorded several wins totaling over half a million dollars.
The biggest win of her career money-wise came in 2002, at the Party Poker Million Cruise, for which she took home $1 million for coming in 1st place.
During her career, she recorded over 350 cashes, an impressive confirmation of her longevity. She still continues actively participating in poker tournaments.
Vanessa Selbst – $11,906,247
By far the most successful female poker player in terms of earnings, Vanessa Selbst is genuinely a master of the game and is known for her ability to read poker hands.
With career winnings totaling almost twice as much as the next female poker player on the list, Vanessa managed to top the all-time leaderboards at age 28 and has held the position firmly ever since.
Selbst has won three World Series of Poker bracelets, having won the tournament in 2008, 2012, and 2014.
Along with this, she's the first and only family poker player to win three World Series of Poker bracelets in open field events.
During her rich career, Selbst has recorded several wins upwards of one million dollars. The most recent one came in 2015 when she won the Super High Roller Celebrity Shootout for a prize of $1 million.
Two years before that, she won the PokerStars Caribbean Adventure and went home with over $1.4 million. Her first win of this nature and the biggest one came in 2010 when she won the Partouche Poker Tour in Cannes, for which she took a prize of over $1.8 million.
Selbst is the first and only person to win two consecutive NAPT Main Events, having done so in 2010 and 2011. She was also the first woman to ever play in a Super High Roller event, taking third place at the PokerStars 2014 Caribbean Adventure. She has four money finishes on the European Poker Tour and three money finishes with two final tables on the World Poker Tour.
Venesa is known for an ultra-aggressive paling style and is used to playing much more than just pocket aces when trying to win. Selbst was a coach and executive producer for DeucesCracked, an online poker training site.
Besides being the most successful woman ever to play this game, Vaness Selbst has recorded many other achievements in her life apart from poker, especially in the business world.
She graduated from Yale University with a degree in political science, where she later received her J.D. degree. After graduating and traveling the world on a Fulbright scholarship, she worked as a consultant at McKinsey & Company. She currently works for Bridgewater Associates investment management firm.
Other Notable Female Poker Players
The ten prolific and highly-successful ladies we talked about above have secured their place as the top female poker earners to date, but career winnings aren't everything that matters when talking about the best of the best.
Some female poker players have made their mark by pioneering the game for other women.
Others by the many successes they achieved during their long careers. Whatever the case may be, these female poker players deserve to be mentioned when talking about poker's most successful women. Here are a few notable names worth remembering:
Jennifer Harman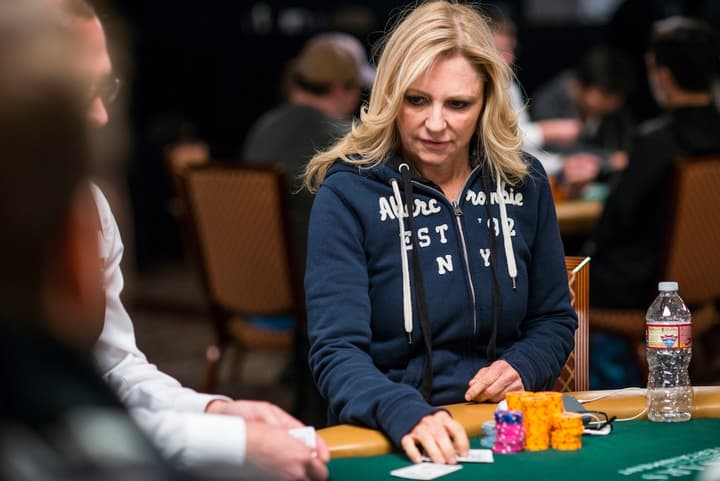 Although not in the top ten list of all-time female poker players in terms of earnings, Jennifer Harman deserves a lot of recognition when talking about the best women poker players of all time.
She held several prestigious poker records and was instrumental in popularizing the game among female players in the early 2000s.
She won two World Series of Poker bracelets, in 2000 and 2002. What's particularly interesting about her 2000 WSOP No-Limit Deuce-to-Seven Draw win is that she never played that game before the event and has only received a five-minute tutoring session from Howard Lederer before playing.
Harman was the first female poker player to hold two WSOP bracelets and is currently one of only four female players who have managed to do so.
Most of her earnings and biggest wins come from high stakes cash games.
She's the only female poker player who's a regular in the "Big Game" at Bobby's Room, a famous high-stakes game at the Bellagio. Her biggest live cashout came in 2005 when she finished in 2nd place in the Rio Las Vegas Poker Festival, for which she won a little over $383,000.
Although she's still an active poker player, she saw her best success in the 2000s and hasn't recorded any notable wins in the past decade. Her total career poker winnings stand at over $2.7 million. In 2015, Jennifer Harman was inducted into the Poker Hall of Fame.
Aside from a successful poker career, Harman is also an active supporter of various charities. She is a fundraiser for the Nevada Society for Prevention of Cruelty to Animals organization and frequently hosts charity poker tournaments for various causes.
Jennifer Tilly
Jennifer Tilly is a successful actress and poker player, one of the most iconic and famous female poker players of all time. She first started playing poker when she moved to Hollywood to begin her acting career, even garnering an Academy Award Nomination for her work. However, despite her success as an actress, especially in the 90s, she strayed more and more from acting to pursue a poker career as time went by.
Jennifer Tilly has been in a relationship with fellow WSOP bracelet winner Phil Laak since 2004. As a professional poker player herself, she has seen the most success playing in Las Vegas.
Her two biggest wins include a bracelet at the 36th WSOP event in 2005 and the win at the Bellagio Cup VI in 2010.
A highly tactical player, she is also known for her outfits, often wearing low-cut tops and push-up bras. As a recognizable screen personality, Tilly appeared in numerous poker shows. The two most notable ones include the Celebrity Poker Showdown and Poker After Dark. She has also appeared in the World Series of Poker Tournament of Champions 2007 poker game, alongside Phil Laak.
In December 2008, she announced her retirement, only to come back to the game in January 2010, and she has remained active since. Her total career winnings from poker stand at a little over $1 million.
Kara Scott
Much like Jennifer Tilly, Kara Scott has built up an envious career in the entertainment industry before moving into poker. The only difference between the two is that Kara wasn't an actress but a journalist and TV personality.
She hosted the first-ever World Series of Backgammon and was also one of the popular Poker Night Live Show hosts in the mid-2000s.
She's also written for numerous poker platforms and was one of the 2008 European Poker Tour and Sky Poker face.
During this time, she immersed herself in the world of poker and started participating in poker tournaments.
Kara Scott doesn't have any wins in major poker tournaments. She has four money finishes in WSOP events and one money finishes in the European Poker Tour. Her career's biggest win came at the PaddyPower Irish Poker Open in 2009, when she took 2nd place and over $413,000 with it.
She is the only female poker player who cashed in both 2008 and 2009 WSOP events and the second woman ever to have cashed in back-to-back WSOP Main Events. She's still very active on the media side of the game. In 2016, she signed with 888poker as their brand ambassador and had held similar roles during her poker tenure.
Barbara Enright
Born in 1949, Barbara Enright has been playing poker professionally since the mid-70s. What's even more interesting is that she began playing the game at home when she was just four years old. Fast-forward to 2020, she's still playing poker and in love with it. The only difference between now and then is that she has managed to build up an envious career during her long poker tenure.
As one of the female poker industry pioneers, Barbara Enright holds many "firsts" when it comes to female poker records.
Her most notable records of this kind include being the first woman to win at least two World Series of Poker bracelets, the first woman to win three WSOP bracelets, and the first woman to win an open event in the World Series of Poker.
She is also the only woman to have reached the final table of a WSOP No-limit Hold'em event, which she achieved in 1995.
Her total career poker winnings currently top $1.7 million, and the best live cash prize she won came in 1996 when she took her third WSOP bracelet and won $180,000 for this achievement.
Although she's still an active poker player, the crown of her successful career came in 2007, when she was inducted into the Poker Hall of Fame, along with Phil Hellmuth.
Speaking of which, she was also the first woman to be included in the Poker Hall of Fame. A year later, she was also inducted into the Women in Poker Hall of Fame. Truly a pioneer of the game and an excellent example for all aspiring female poker players.
If you feel inspired by this, make sure to check the best poker movies where you can find some real stories behind female poker players and much more than that.
Latest posts by Ivan Potocki
(see all)