Barry Greenstein Net Worth – How Rich Is The Robin Hood of Poker?

Most poker players often seem overconfident, flashy, and brazen. But, Barry Greenstein doesn't fall into this typical poker player mold. He maintains an unassertive, silent, and calm presence at the poker table.
And, while he might not be known to many casual poker fans, his style has made him into one of poker's low-key legends many up-and-coming players look up to.
Moreover, it has also amassed him a net worth of around $10 million, according to many estimates.
But, more important than the subject of "what is Barry Greenstein net worth" is how he uses his wealth.
And, in this guide, we'll go into this topic in-depth, in addition to exploring his biggest career winnings and path as a professional poker player.
Barry Greenstein Net Worth – An Overview of a Veteran Career
Due to Barry Greenstein's charitable activities (which we'll get to later) and his work life outside of poker, it's impossible to precisely say what his net worth is.
Some guesses range between $1 and $5 million, while others say he is worth up to $25 million.
While only Barry knows the exact number, most assessments put Barry Greenstein's net worth at around $10 million. And, seeing that his live earnings are just shy of $8.5 million, this number seems like the most realistic one.
So, let's go over his professional and personal career path to see how he built up this impressive net worth.
Early Life and Poker Beginnings
Barry Greenstein was born in 1954 in Chicago, Illinois. From his early days, he showed great love for card games and started playing poker for real money when he was in his early teens.
However, as he grew up in a traditional home, Greenstein was encouraged to pursue a traditional career path and continue his formal education.
He earned a bachelor's degree from the University of Illinois. He also studied for a Ph.D. in mathematics.
In the next fifteen or so years, Greenstein excelled in his professional career. He founded a startup and made a great living in an emerging field. But, he was still very passionate about poker and would play it every night he had free time.
In 1991, at the age of 36, he left his startup and decided to dedicate his time to the game he was passionate about.
His first in-the-money finish at WSOP came just a year later. He finished 22nd in the 1992 WSOP Main Event, earning his first big poker win along the way.
First WSOP Bracelet and Continued Success
For Barry Greenstein, the 90s marked a period of steady growth. While he recorded solid results and slowly climbed up the professional ladder, he didn't notch any notable wins in any big tournaments that would make him a household name in the poker world.
But, his first big WSOP triumph came in 2004. After more than a decade of playing poker professionally, Greenstein won his first WSOP bracelet in the $5,000 No-Limit Deuce to Seven Draw.
Just a year later, at the 2005 WSOP, he won another bracelet in the $1,500 Pot-Limit Omaha event.
In 2008, he won his third WSOP bracelet in the $1,500 Razz event. Moreover, this was arguably his most successful WSOP, as he cashed in six different events, taking home more than $768,000 in total.
Strengthening His Place in Poker History
By the start of the 2010s, Barry Greenstein already solidified his place among the poker greats. He created a magnificent resume comprising three WSOP bracelets and two WPT titles.
What's more, he recorded over a hundred money finishes with 17 final tables at WSOP, and 19 money finishes with 5 final tables at WPT events.
He didn't participate in many European Poker Tour tournaments and didn't record any notable results on this front.
That said, in 2011, all of these achievements opened the door for Greenstein to be accepted into the Poker Hall of Fame.
While he recorded great successes at the world's most prestigious poker competitions, some of his biggest wins came outside these tournaments.
Barry Greenstein Five Biggest Career Prizes
Although Greenstein's career spans over thirty years, he logged his biggest winnings in a relatively short span.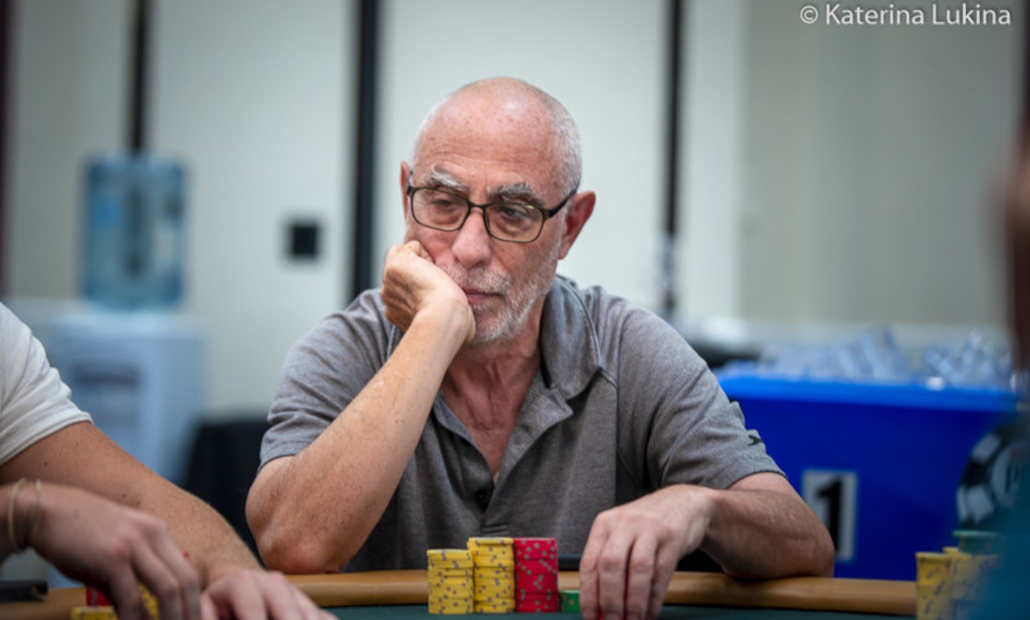 Player images courtesy of WSOP.com
His biggest wins came all within a period of five years when Barry Greenstein seemed simply unbeatable at some competitions. Here's a closer look at the biggest career prizes Barry Greenstein recorded:
5. $296,000 – World Series of Poker, Las Vegas
Greenstein's fifth-biggest career win came as a result of his first WSOP bracelet capture in 2004. He bested then five-time bracelet winner Chris Ferguson to collect his first WSOP bracelet and propel himself into poker stardom.
4. $316,000 – North America Poker Championships, Niagara Falls
The only Canada-based poker tournament Greenstein ever participated in netted him a profit of over $300,000.
In a star-studded event made up of mostly Canadian and US poker players, Greenstein finished in fourth place, after David Cloutier, Jonathan Little, and Scott Clements.
3. $355,000 – World Series of Poker, Las Vegas
Looking at the long list of legendary players that participated in this $50,000 H.O.R.S.E. event at the 2009 WSOP, Greenstein's sixth position is a notable accomplishment not many poker pros can boast with.
In an event won by Scotty Nguyen, Greenstein placed better than Daniel Negreanu, Phil Ivey, and Doyle Brunson, among many others.
2. $770,000 – Larry Flint's Poker Challenge Cup, Gardena
This was Greenstein's biggest win at the time. More importantly, it was an achievement that boosted his confidence and enabled him to go on a winning run in the next few years.
In a Million Dollar Seven Card Stud tournament with only eight entries, he beat Larry Flint in his Hustler Casino in 2003.
1. $1,278,370 – The Fifth Annual Jack Binion World Poker Open, Tunica
Less than a year after recording his biggest career win, Greenstein won almost double the amount at the Fifth Annual Jack Binion World Poker Open.
In a prestigious tournament event with a whopping 367 entries, Barry Greenstein took first place. As this tournament was a part of the World Poker Tour, this also marked Greenstein's first WPT title.
Barry Greenstein Poker Style
If you've ever watched Barry Greenstein play, you'd agree that he's not the flashiest or most entertaining poker player to watch.
He is famous for his tight style of play and has a very unassuming table presence.
Another factor that has allowed Greenstein to make a very nice living out of playing tight is his ability to read the shifting table dynamics.
His excellent perception enables him to read overcallers and fish out for opportunities through patience and self-awareness.
To add to this, poker pros agree that Greenstein is very difficult to read. The way he maintains his composure during and after poker hands makes it challenging for opponents to predict his moves and get into his head.
How Barry Greenstein Uses His Poker Wealth for Good
Barry Greenstein has one of the most flattering and coolest nicknames among the poker pros. And, we think you'll agree with this, especially when you hear the background and reasoning for the nickname.
Throughout his career, he has carried the nickname "The Robin Hood of Poker" because he often uses his poker winning to help those less fortunate than him.
Greenstein has a tremendous interest in various philanthropic and charitable organizations.
For example, when he won a Seven-Card Stud event in 2003, he donated $440,000 out of his $770,000 payout to Children Incorporated.
He intended this money to be equally distributed among 440 employees as a gift for their efforts in helping the children.
What's more impressive, from 2006 onwards, Greenstein is regularly donating his net earnings from tournaments to different charities. He only keeps enough to keep himself going and donates everything else.
So, when answering the question of how much is Barry Greenstein worth, it's crucial to consider that his net worth would undoubtedly be significantly higher if he wasn't so philanthropically oriented.
Legacy and Net Worth of Barry Greenstein Summarized
Already in his late 60s, Greenstein has slowed down his poker tempo. Nowadays, he enjoys spending time with his family and his husky Penny.
Still, he hasn't stepped away from the game entirely. Greenstein still occasionally plays high-stakes games and doesn't miss out on the opportunity to play select WSOP events.
Penny at 5 months. pic.twitter.com/IDwZ9f2Fgp

— Barry Greenstein (@barrygreenstein) February 3, 2022
But, even if Greenstein decides to announce his retirement from professional poker, we can only appreciate the legacy that he built for himself since the early 90s.
He is deservedly a Hall of Famer and one of a small number of poker pros who have managed to win three WSOP bracelets.
More importantly, Barry Greenstein presents a shining example of how people can use their net worth to not only better their own life, but the lives of others.
By giving away a significant part of his winnings over the years, Greenstein proved that he's not only a poker legend but a very admirable person.
Latest posts by Ivan Potocki
(see all)