Daniel Negreanu Net Worth – One of the Richest Poker Players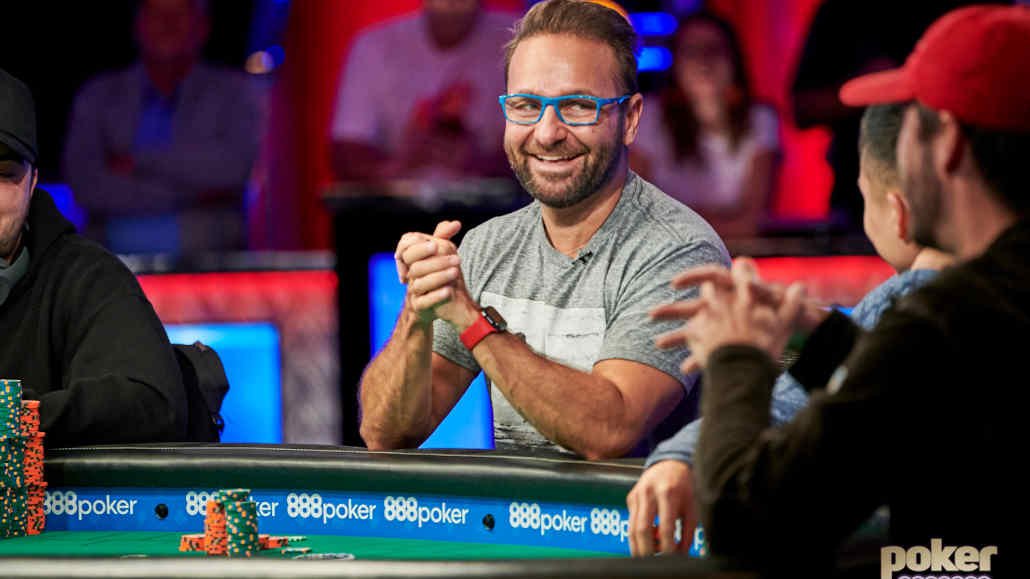 If you've ever watched a big poker event, the high chances are that you've seen Daniel Negreanu in action.
He's undoubtedly one of the most recognizable poker faces of the 21st century and a professional that accomplished many impressive achievements over the years.
Of course, being so popular and successful, Negreanu has also built up a huge net worth very few professional poker players can boast.
On this page, we'll make a thorough overview of his career, successes, and biggest wins to see how he became one of the richest poker players ever.
What Is Daniel Negreanu Net Worth – An Overview of the Career
Most estimates say that Daniel Negreanu's net worth is around $60 million. That said, some outlets claim that Daniel Negreanu has up to $200 million to his name.
While this amount is a bit of a stretch, the $60 million estimate seems more than realistic.
That said, it's important to understand not just how much is Daniel Negreanu worth but how he got there.
Because of this, we want to go over his impressive career and see the results and successes that brought Daniel Negreanu the net worth he has today.
Early Gambling Years
Daniel Negreanu was born in Toronto in 1974. As a child, he was ambitious and set on becoming rich but troublesome in school.
As a teenager, he dreamt of becoming a professional snooker player. He spent his teen years playing snooker, gambling, and playing cards.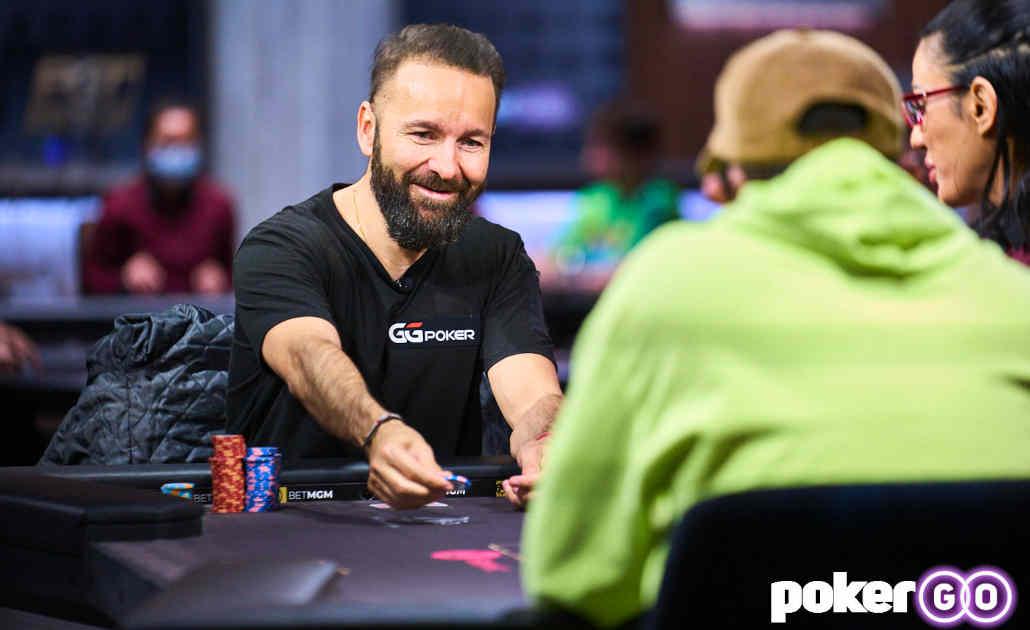 Player images courtesy of PokerGO
In his late teens, he dropped out of high school and began his life as a rounder. At 22, he moved to Las Vegas to pursue his poker career.
However, he quickly lost his entire bankroll and was forced to move back to Toronto to build it from scratch again.
WSOP Successes and Burst to Popularity
Negreanu's first few poker years were bumpy, but when he achieved success, it came differently compared to many poker legends.
Specifically, the first time he ever managed to cash at a WSOP event was also the first time he won a WSOP bracelet. This came in 1998, when he took down the $2,000 Pot Limit Hold'em event.
In the following years, he won some tournaments but had to wait for his next WSOP bracelet until 2003.
The year after, he captured another WSOP bracelet. By this time, it was clear that Negreanu was well on his way to a path to stardom.
He almost exclusively focused on No Limit Hold'em events, which would also bring him the most success in his career.
In 2004, he was named the WSOP Player of the Year. The same year, he recorded two of his biggest wins at the time, both of which came as a result of a first-place position.
In September 2004 he won a WPT event, bringing home over $1.1 million. He followed up on this by winning the Five-Diamond World Poker Classic, for which he received a $1.7 million prize. This still remains one of the biggest wins in Negreanu's career.
Steady Growth to Superstardom
By 2008, Negreanu was one of poker's biggest stars. He won several more awards, including for Favorite Poker Player. That year, he added another WSOP bracelet to his collection.
He played both tournaments and big cash games on the side, becoming the most popular player in the game. Already a superstar and a feared opponent, he recorded one of his best years in 2013.
That year, he won two WSOP bracelets and another WSOP Player of the Year award. Still, he sought new challenges and won multiple prestigious tournaments.
From a financial perspective, even after such successes, the following few years were the most profitable for Negreanu.
On the side, he continued playing the renowned Big Game in Bobby's room, a high-stakes cash game only reserved for those with deep pockets.
If you look at his recent results, you'd see that he still plays most months of the year, primarily participating in high roller events.
Daniel Negreanu Five Biggest Career Prizes
As one of the best (if not the best) poker players of his generation, Negreanu has recorded some mind-boggling wins over the years.
Surprisingly, most of these haven't even come as a result of WSOP or WPT wins, but lower tournament positions. With that in mind, here are Daniel Negreanu's five biggest career prizes:
5. $1,119,000 – Aussie Millions Poker Championship, Melbourne
Despite his many career wins, the Aussie Millions Poker Championship was never Negreanu's place of great success.
However, his $1.1+ million fourth-place position in the 2014 edition of the tournament still stands as one of his most lucrative prizes.
4. $1,725,000 – WSOP, Las Vegas
This $1.7+ million profit was Negreanu's most recent result topping one million dollars. He obtained this prize by finishing in second place in the 2019 WSOP $100,000 No Limit Hold'em event.
He finished behind a then fairly unknown player Keith Tilston, who won his first WSOP bracelet.
3. $1,770,000 – Five-Diamond World Poker Classic, Las Vegas
The 2004 Five-Diamond Poker Classic was one of Negreanu's first major wins and still stands as a top-five prize nearly twenty years later.
In an event with 376 entries, the rising-star at the time impacted the poker scene and secured a massive payday.
2. $3,000,000 – Super High Roller Bowl, Las Vegas
In a star-studded Super High Roller Bowl in 2018, Negreanu finished in second place out of 48 total entrants.
He was only behind Justin Bonomo and better-placed than big players like Jason Koon, Nikita Bodyakovskiy, Christoph Vogelsang, and Stephen Chidwick, among many other poker stars.
1. $8,288,000 – WSOP, Las Vegas
With six WSOP bracelets, Negreanu ranks as one of the most successful poker pros to play in this competition.
Ironically, his biggest prize win by far came as a result of a second-place position in the massive $1,000,000 Big One for One Drop.
He finished behind Daniel Colman, who went home with a gigantic payout of $15 million and his first WSOP bracelet.
Daniel Negreanu's Poker Style
Most poker enthusiasts that have been following Negreanu for at least some time probably know that he thrives the most when playing small ball poker.
This is a strategy he's been using for the longest time, and that has brought him the most success.
In layman's terms, small ball poker is a pretty straightforward strategy, despite its fancy-sounding name.
It involves focusing on a wider range of poker hands and being more aggressive with them.
Another important aspect of small ball poker is to find opportunities that provide the best value and make small bets most of the time.
This strategy is especially efficient in the early tournament stages, which explains Negreanu's success in achieving many money finishes in his career.
To add to this, Negreanu is also very proficient in playing mind games and reading his opponents.
To be fair, he seldom seems unpleasant and aggressive at the table. But, his specific way of chatting up other players often seems to provide him with the necessary information he needs to get the edge.
Other Poker Activities Boosting the Net Worth of Daniel Negreanu
Daniel Negreanu has been one of the most popular poker players for almost two decades. So, it's easy to understand that a big part of Daniel Negreanu's net worth comes from advertisers and sponsors.
Right after opening, the Wynn Las Vegas resort signed him up as a poker ambassador. He has also appeared in numerous poker shows over the years.
He also made guest appearances in various mainstream shows and movies. For instance, he made a cameo appearance in the movie X-Men Origins: Wolverine.
Moreover, he even starred in a poker video game called Stacked with Daniel Negreanu. This game is commonly regarded as one of the best poker video games ever and certainly earned Negreanu some nice change that boosted his net worth.
Negreanu has also written hundreds of articles and several well-received poker books. His Poker Hold'em Strategy is his most popular one, and also a piece that outlines his small ball poker strategy.
Daniel Negreanu Net Worth and Legacy
Daniel Negreanu firmly ranks as one of the wealthiest professional poker players to ever play this game.
Moreover, with six WSOP bracelets, two WPT titles, and countless money finishes in the biggest poker competitions, he has also built a significant legacy that will stand long after he stops playing.
Looking at his accolades, Negreanu has accomplished more than many poker pros can dream of.
He is the only player to be crowned WSOP Player of the Year twice and is the first player to both reach a final table and win a bracelet in each of the three WSOP bracelet-awarding locations.
All of this not only helped build Daniel Negreanu's massive net worth of $60 million but also helped him gain recognition as one of the best to play the game.
He was inducted into the Poker Hall of Fame in 2014 and is still going strong years after all of these recognitions and successes.
Latest posts by Ivan Potocki
(see all)