Stu Ungar Story – From Poker Champion to a Tragic Demise
Few poker players have made as deep a mark in the history of the game as Stu "The Kid" Ungar. Coming up as a gin rummy player, Stu grew up to be a dominant figure in the poker circles of the 1980s and 90s.
Poker champion Stu was a colorful character with incredible charisma, whose brilliant intellect and eidetic memory allowed him to crush poker players left and right.
The rise of Stu Ungar in the poker world was stellar, and his performances were unprecedented.
Ungar won more than $3.5 million in poker tournaments alone, and this was all by 1997 when high-roller tournaments didn't even exist.
While his success in tournament poker was great, he was widely known as a big winner in poker cash games and gin rummy games, where he possibly won as much as ten times more than he did in tournaments.
In the end, none of this was enough for Stuey, who could not resist the allure of drugs and other vices.
The tragic fall and eventual death of Stu Ungar were somewhat of a shock for the poker community, although those who were close to him were not shocked to see it happen.
This is the story of Stu Ungar, the man who could have lived to become a poker legend of Doyle Brunson's stature if only he hadn't left us prematurely.
Where Did Stu Ungar Come From?
Stu Ungar was born in 1952. His full name was Stuart Errol Ungar, and he was raised in Manhattan in a Jewish family of Isidore and Faye Ungar.
His father, Isidore, owned a bar and worked as a loan shark, which meant Stu would meet quite a few unsavory characters at a very young age.
Even at a young age, Stu was fascinated by playing cards, and his extremely high intellect allowed him to prevail over opponents who were much older and more experienced.
He started winning at gin rummy when he was only ten years old.
Being surrounded by mobsters and shady characters, he quickly got caught up in the world of underground gambling.
By the time he was 18, Stu Ungar had dropped out of school, which he had found boring, and was crushing the underground gin rummy games in New York.
Stu was playing these games under the protection of Victor Romano, a famous mobster who had taken "The Kid" under his wing. Romano made sure nothing ever happened to him as he crushed everyone at rummy left and right.
Stu's intellect was incredible, but his ego and arrogance were just as rare. In the end, young Stu would have probably gotten into a lot of trouble for his temper if not for Romano's protection and patronage.
Stu Ungar's Poker Beginnings
By the time he was a young man, Stu was known around New York as the absolutely best gin rummy player around.
When his father died, Stu used these skills to support the family and was able to do so for quite a while.
Yet, after a few years, no one would play Ungar for serious money as no one could beat him.
Since the action all dried up, Stu was forced to look for it elsewhere. He moved to Miami for a short period, before finally finding his way to the world's capital of gambling, Las Vegas, in 1977.
Vegas was definitely the right place for Ungar, who could find more gin rummy action and was able to compete for real money once again.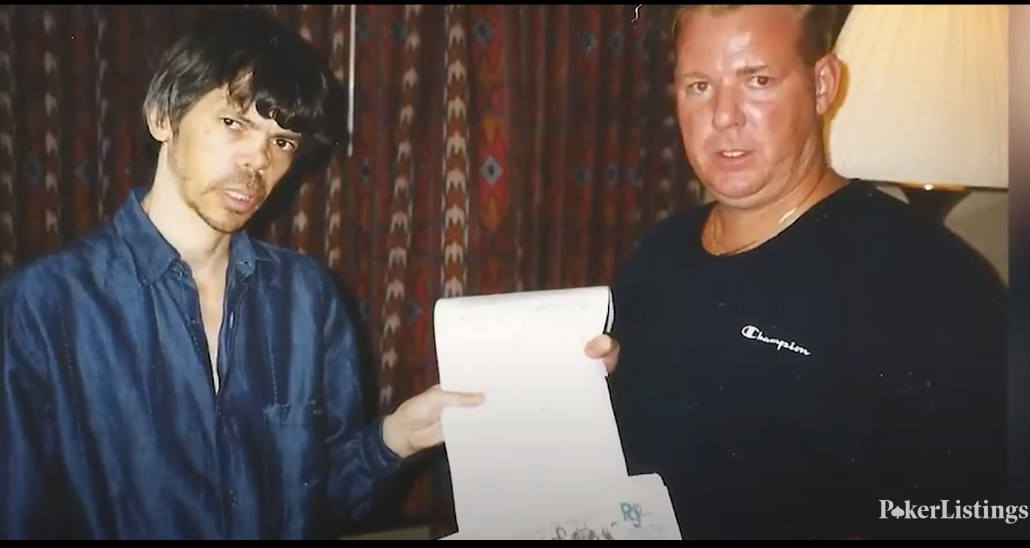 Yet, the Vegas rummy community also quickly realized that Stu was too good, and he was even barred from entering many gin rummy tournaments.
Stu needed a new source of income as the rummy action once again dried up, which is when he realized he could probably do well in other card games as well.
In 1980, Stu Ungar started playing poker at the World Series of Poker. He came second in his first WSOP tournament for $45,000 before winning the No Limit Hold'em Championship event for $365,000 that same year.
In 1982, Stu got married to his New York girlfriend Madeline Wheeler and had a baby girl named Stefanie with her. Madeline's son Richie also became part of Ungar's family.
My handsome daddy doing what he loved most ❤️ So young and so smart. So funny and so kind. So generous and loyal to a fault. Forever my inspiration. pic.twitter.com/ul8FucjcEP

— Stefanie Ungar (@ungar_stefanie) October 25, 2021
Stu was now a professional poker player and on his path to becoming the poker champion Stu Ungar that we all know today.
Stu Ungar's Professional Poker Career
After his incredible success at the 1980 WSOP, Stu knew there was a lot more for him to win at poker. The very next year, he came back to the WSOP and crushed once again.
He won the $10,000 Deuce to Seven Draw event for $95,000 and then went on to repeat his success in the Main Event, taking home another $375,000.
Throughout the 1980s, Stu was a dominant force in poker, winning many of the tournaments he would enter.
In 1983, Stu added a fourth WSOP bracelet to his cabinets, winning the $5,000 Seven Card Stud tournament just days after coming second in another Seven Card Stud event.
In 1984 he was able to take down his first Amarillo Slim's Superbowl of Poker, a tournament that had a similar status to that of the WSOP Main Event.
He went on to repeat this feat in 1988 and 1989, which didn't sit well with many of the big-time pros who could not understand why Stu was always the one coming out on top.
The truth is that Stu was playing much more aggressively than everyone else, was able to remember any physical tells he spotted on his opponents for years, and was a genius in his own right.
Looking at things from today's perspective, Ungar also probably ran very well in his limited tournament poker career and won the crucial coin flips at the right time.
This doesn't take anything away from his skills, which were legendary.
Stu also played in many cash games and often did well in those, too, although some pros at the time loved to play cash games when Stu was in the mix.
His aggressive style of play was dominant in tournaments where everyone's tournament life was at stake at all times, but it often cost him dearly at cash game tables where reloads were readily available for his opponents.
Over the 1990s, the legend of poker champion Stu Ungar was truly alive, but the man himself could hardly be seen.
The reason, of course, was that he was too busy wasting his years away. The story had it that he was deep into cocaine abuse and living a hedonistic lifestyle that would not allow him to play cards at a high level.
In 1997, Stu decided to prove everyone wrong. He came back to the WSOP, bought into the Main Event, and, incredibly, won it once again, for the third time in his career.
Stu walked away with a cool $1,000,000 in cash, his fifth WSOP bracelet, and a name forever etched into the poker history books.
What Went Wrong for Stuey Ungar?
In 1979, Stu's mother passed away, and he started using cocaine as a way to escape from reality. As he started to play poker in the early 80s, Stu realized that cocaine could help him with his performances there as well.
Stu Ungar was not the only poker player of the era who used cocaine recreationally. It was quite common for players to use cocaine to stay up and play poker for days at a time.
Stu was no different in this regard, except for the fact he allowed things to go too far. His cocaine use turned into heavy addiction, and he was left needing cocaine at all times.
This led to troubles with his marriage as well, as Stu was unable to live the normal lifestyle that his wife and family required of him.
According to Madeline's testimonies, Stu only ever carried around cash, would forget to pay the bills and buy supplies, and had generally become very irresponsible.
The only thing that interested Stuey was action! He would play cards, bet on sports and horse races, and look for any bet that anyone wanted to make where he could feel the blood pumping through his veins.
While Stu was exceptionally good at gambling, combined with cocaine and other substances, it was a recipe for disaster.
By 1986, he had divorced Madeline, and his body was handling cocaine worse and worse. His diminutive stature was not ideal for substance abuse either, and many believed that drugs would be the end of him at that time already.
After his divorce, Stu fell on really hard times. His financial situation would go up and down daily, and he could be found sleeping in a penthouse one week and in a cheap motel room the next.
Stu's return to the 1997 WSOP had many people fooled that he had turned his life around and was finally on track to recovery. He was staked for this event by another poker legend, Billy Baxter.
Like everyone else, Baxter thought that perhaps Stu could get better, and he offered to stake him again for the 1998 WSOP Main Event.
Yet, little did anyone know that Ungar's substance abuse had gotten worse than ever before and that the end was closer for "The Kid" than anyone could assume.
Poker Champion Stu Ungar's Demise
Stu had originally accepted Baxter's offer to be staked for the WSOP again, as the money he got for his 1997 win was long gone.
Yet, as the event approached, Ungar said he was not feeling well and could not play. The truth, however, was that he was worried about embarrassing himself with TV cameras rolling as his cocaine abuse had reached its peak.
Following that year's WSOP, few people ever saw Stuey. He would borrow money from anyone who would give it to him, but he never used it to play poker anymore.
Instead, Stu went from abusing cocaine to smoking crack as his nose could no longer handle snorting the drug.
On November 20, 1998, Stu Ungar was found dead at the Oasis Motel in downtown Las Vegas, where he was renting a cheap room to stay in.
His body was found on the bed and fully clothed, but no drugs or evidence of drug use were found on the scene.
The autopsy reports found trace amounts of drugs in his system, but it appeared as if he had not used any for some days.
Instead of an overdose, Stu Ungar died because his body could no longer tolerate the stress that he was putting it through.
Many years of substance abuse had made his frail body even weaker, and his heart eventually gave out.
Stu's funeral at the Palm View Memorial Park was covered by Bob Stupak, as only $800 could be found of Ungar's possessions at the time of his death.
Stu Ungar – Forever Remembered as a Poker Champion
While Stu Ungar definitely had his demons to fight in life, there is no denying that he was one of the most talented card players who ever lived.
While Stu was an aggressive poker player and often an unpleasant person to be around at the poker tables, he was very generous with his friends and many who crossed path with him throughout his life.
In 2003, a movie was released about his life under the title "High Roller: The Stu Ungar Story." Just two years later, Stu Ungar's biography was also released by Nolan Dalla and Peter Alson.
The book was published under the title "One of a Kind: The Rise and Fall of Stuey "the Kid" Ungar, the World's Greatest Poker Player."
This biography also inspired ESPN to create a documentary about his life, in which many who knew Stu in his life told stories about the great poker champion.
None were as friendly with Ungar as Mike Sexton, who always had some great anecdotes to share about "the Kid," many of which remain some of the most retold stories in poker to this date.
Stu Ungar was inducted into the Poker Hall of Fame in 2001, three years after he departed, where he joined the ranks of other elite poker players.
Today, Stu Ungar is remembered as a man who marked a whole generation of poker players, one of only two people who won the WSOP Main Event twice, and a true legend of the game.
Latest posts by Ivan Potocki
(see all)