Phil Hellmuth Net Worth – How Rich Is Popular Poker Brat?
If you've followed poker at least for a bit, you've probably heard of Phil Hellmuth. Nicknamed the Poker Brat for his often volatile behavior at the table, Phil Hellmuth is one of the best-known poker pros ever.
This is largely due to his massive success in the game, as Phil holds a record of a whopping 16 WSOP bracelets.
These successes brought him a nice paycheck, some bigger than others. So, considering that, how much is Phil Hellmut worth?
In this overview of his career, biggest wins, and successes, we'll answer what is Phil Hellmuth net worth and highlight some of his biggest wins over the years.
Phil Hellmuth Net Worth – An Overview of His Poker Career
While it's impossible to say for sure how much a celebrity person is worth, the majority of online platforms and media outlets agree that this figure is around $20 million for Phil Hellmuth.
Since Hellmuth has been poker professionally since the late 80s, this number is very realistic.
With that in mind, let's go through Phil Hellmuth's career and biggest achievements to see how he managed to build up such an impressive net worth playing poker.
Phil Hellmuth's Poker Beginnings
Phil Hellmuth was born in Madison, Wisconsin in 1964. From his early school years, he always struggled in school and wasn't even particularly interested in studying.
But, he managed to finish high school and went to the University of Wisconsin-Madison.
However, after three years in university, Hellmuth decided that this wasn't the right career path for him. He decided to drop out and pursue his dreams of being a professional poker player.
Player images courtesy of PokerGO
Although Phil was always a good poker player and played the game for years before pursuing it professionally, he struggled in the initial period.
His first in-the-money finish came in 1988 when he came in 33rd in the 1988 WSOP tournament.
The First WSOP Win and After
Hellmuth's big break came just a year after his first in-the-money finish. In 1989, he became the youngest poker player to win the WSOP Main Event.
He was only 24 years old when he defeated the reigning two-time champ, Johnny Chang. This record stood for nearly two decades when Peter Eastgate won the Main Event at just 22 years of age in 2008.
The next few years saw Hellmuth bring in win after win. His next WSOP bracelet came in 1992.
But, this was just an introduction to what was to come the year after. In 1993, he became only the second poker player to win three bracelets in one WSOP event.
He achieved three event wins in three consecutive days. This further solidified his reputation as one of poker's biggest talents.
Steady Success
Hellmuth waited for four years to add a fifth WSOP bracelet to his resume, which he finally did at the 1997 World Series of Poker.
This win also made him the most successful poker player of the 90s in terms of overall bracelet wins.
In the following ten years, he won a WSOP bracelet every few years, on average. His biggest WSOP career win money-wise came in 2012, when he won WSOP Europe Main Event.
For this achievement, he went home with just over $1.4 million. He also became the first player ever to win the Main Event at both WSOP and WSOP Europe.
Even after so many successes, Phil Hellmuth hasn't lost his drive to pursue greatness and chase more WSOP wins.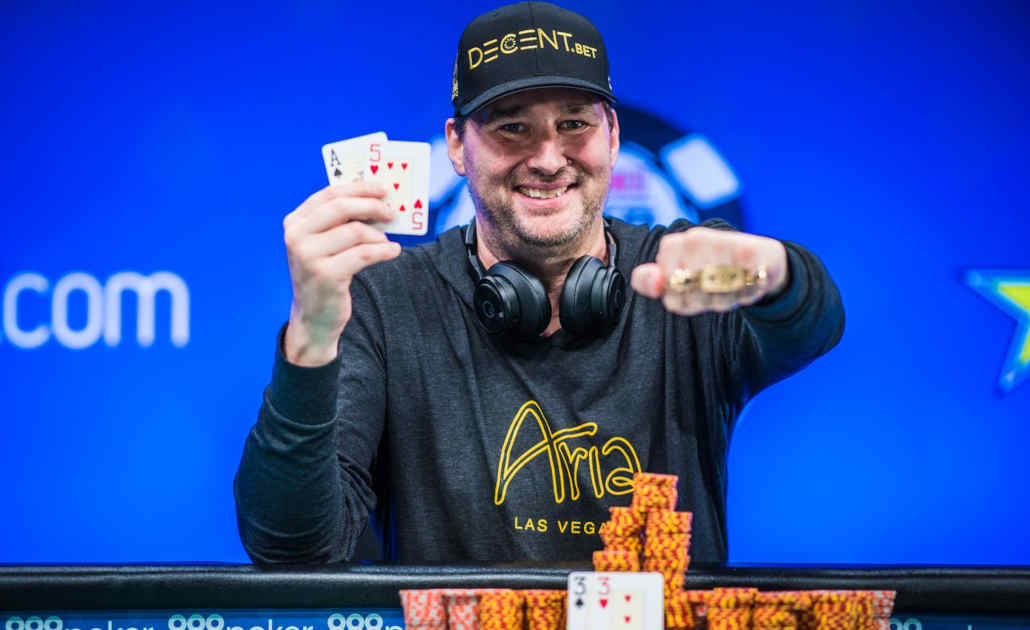 In 2021, he cemented his record by winning his 16th WSOP bracelet, distancing himself even more from his biggest rivals.
What's interesting is that Hellmuth heavily focused on Texas Hold'em during his career. SO much so that 13 of his 16 bracelets were won by playing this game.
He also holds records for most cashes and most WSOP finals tables, which he keeps improving almost every year.
Phil Hellmuth's Five Biggest Career Prizes
While Phil Hellmuth holds the distinction of being the player with the most WSOP bracelets, he is far from first place in terms of overall career winnings.
What's more, he's not even in the top ten earning poker players in history.
This might be surprising for casual poker fans, but most of Hellmuth's bracelet wins got him prizes of around several hundred thousand dollars.
This isn't to say that he hasn't recorded a few big wins over the years. Here's a closer look at Phil Hellmuth's five biggest career tournament prizes:
5. $800,000 – Poker GO High Stakes Duel, Las Vegas
Hellmuth's fifth most lucrative prize is also one of his most recent ones, as it came on May 17th, 2022. It came at the exclusive Hellmuth vs. Seiver High Stakes Duel III, in which these two opponents played each other in a game of $400,000 No Limit Hold'em.
This was Hellmuth's third great result in the High Stakes Duel poker television program after winning High Stakes Duel I and High Stakes Duel II in 2020 and 2021, respectively.
4. $1 Million – 42nd World Series of Poker, Las Vegas
Many were surprised when Phil Hellmuth lost to Brian Rast at the $50,000 Poker Player Championship event of the 42nd WSOP.
But, Brian Rast played a fantastic poker tournament, winning two of his first five career bracelets. Undoubtedly a tough loss for Hellmuth, but this second place position won him just over $1 million.
3. $1.3 Million – World Series of Poker Europe, Cannes
The $1.3 million win at the WSOP Europe competition was a massive landmark for Hellmuth and this isn't just because of the big paycheck.
By winning WSOP Europe and WSOP this year, Hellmuth became the first player in WSOP history to win multiple bracelets in three different decades.
2. $1.6 Million – 2016 Super High Roller Bowl, Las Vegas
In 2016, Hellmuth finished in fourth place in the Super High Roller Bowl No Limit Hold'em tournament.
This was the most profitable tournament result in which he took such a low place since the 46th WSOP tournament, in which he won close to $700,000 by finishing in sixth place.
1. $2.6 Million – 43rd World Series of Poker, Las Vegas
Just like his second-best result, Hellmuth's most rewarding win came as a result of a fourth-place position.
At the 43rd World Series of Poker in 2012, Hellmuth finished below other well-known players like Antonio Esfandiari, who won the event.
Still, this position in the $1 million event was enough for a cool profit of $2.6 million and his biggest win in a career marked by massive achievements.
Phil Hellmuth's Poker Style – How He Became One of the Best Ever
Phil Hellmuth is one of the top-earning and most successful poker players of all time. All of these achievements certainly aren't the result of luck.
So, what skills did Phil Hellmuth have to master, and how has his strategy evolved throughout the years?
Firstly, Hellmuth is famously known for using a tight-aggressive strategy in most tournaments he plays.
Hellmuth has even written a poker book on how to play like him, titled: "Play Poker Like the Pros". So, we don't have to speculate and analyze his play and instead just go by the words he shared with the world.
What's particularly interesting is that Phil Hellmuth openly divulges how he approaches each poker tournament depending on the stage.
In the early stages, Hellmuth emphasizes patience over everything else. He avoids getting caught up in big pots and avoids stealing blinds.
When he reaches the middle stage of a poker tournament, Hellmuth takes more chances with small stacks but is still reasonably patient with big stacks.
However, unlike in the early stages, his strategy shifts to looking for more opportunities to steal or trap more aggressive opponents.
In the latter stages of a poker tournament, Hellmuth often raises on the bubble. He also looks to steal more blinds for small pots and prepare for the final table.
Lastly, when he gets to the final table, Hellmuth usually looks for chances to double up. Of course, he also fully utilizes his mastery of short-handed play.
Career and Net Worth of Phil Hellmuth Summarized
With a record of 16 WSOP bracelets, Phil Hellmuth has every right to consider himself one of, if not the best, poker player of all time.
With an estimated net worth of $20 million, he is one of the top poker earners ever.
What's more, we think that this number is a lowball estimate and that Hellmuth could be worth a lot more.
This is because his total live poker earnings alone top $27 million. Moreover, Phil has had successful ventures away from the felt table.
He is a successful entrepreneur and writer. He published a number of books, owns a publishing company, a real estate company, and even a casino games company.
Whatever Phil Hellmuth net worth is, he definitely deserves it. He is one of the most talented and entertaining poker players and has made a lasting impact on the game.
Latest posts by here2play
(see all)